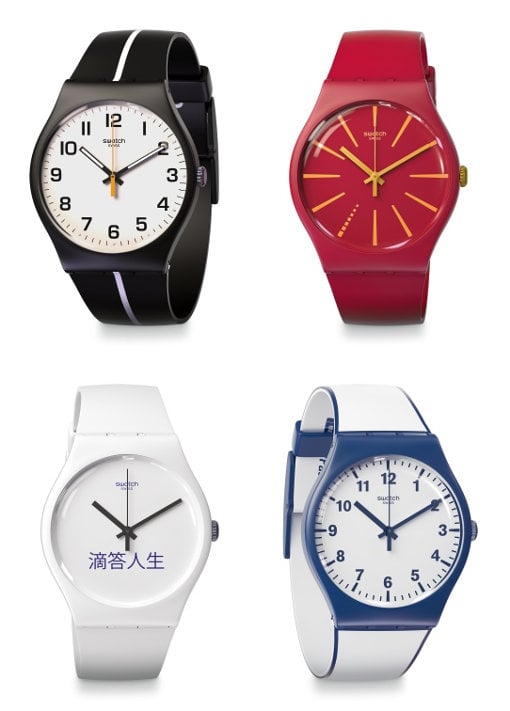 Visa cardholders in the United States will soon be able to wirelessly pay with their Visa cards using the "tap and pay" feature of Swatch's upcoming analog watch, the Swatch Bellamy. Instead of swiping your credit or debit card at the checkout register, you need only tap your watch against the payment terminal.
The pay-from-the-wrist feature makes shopping without cash or a stack of credit cards convenient and safe. All you need to pay is the Swatch Bellamy. You can use it to pay for items wherever contactless, NFC-based Visa payment terminals are available.
The Swatch Bellamy is an analog timepiece, not an electronic smartwatch — there's no chipset, RAM, Android or iOS operating system or LED screen. The Bellamy's NFC chip enables it to handle mobile payments.
The Bellamy's payment feature works similarly to the Apple Pay feature on the Apple Watch. The electronic transaction between the smartwatch and the payment terminal occurs via near-field communication (NFC), a contactless form of payment. The technology uses high-frequency radio waves to securely, rapidly and wirelessly communicate at a short range (usually about 10 centimeters).
Unlike other smartwatches or smartphones with tap-to-pay features, the Bellamy's pay-from-the-wrist feature doesn't require an Internet connection. Payments don't use a single unit of power from the watch's battery, so even if you're a hardcore shopper and you pay for lots of items in succession, your shopping spree won't cost you your watch's battery power.
The new watch is named after Edward Bellamy, American author of the 1888 novel "Looking Backward 2000-1887," in which he describes an ideal world where credit and debit cards have taken the place of cold cash. The Bellamy was announced Monday by Swatch and Visa, in a partnership that will also cover Switzerland and Brazil.
The Swatch Bellamy will reportedly come with a price tag of about $100 when it hits U.S. stores in early 2016.
[Image credit: Swatch]