Review of the Apple Watch
Techlicious editors independently review products. To help support our mission, we may earn affiliate commissions from links contained on this page.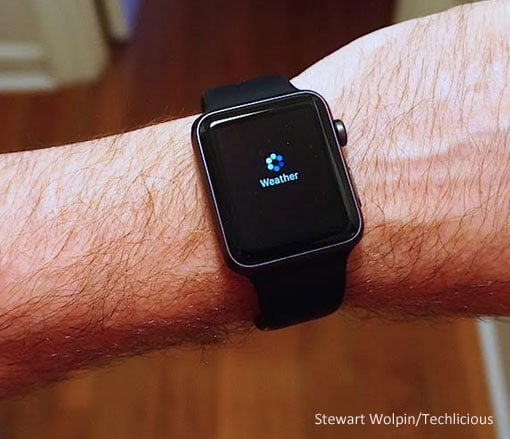 Apple Watch: You want it, but do you need it?
It's hard to justify purchasing an Apple Watch, considering how redundant a device it really is. In most cases, the Watch costs more than the iPhone is it designed to complement. Imagine paying more for a full-featured remote control than your actual TV.
And yet here is an Apple Watch adorning my left wrist as I type this. And even though I've not worn a watch since high school, there it will remain. Why?
For one thing, wearing a Watch keeps me from having to dig my iPhone out of my pocket every time I want to check the time, see what song I'm listening to, answer a text or check my email. But mostly, as has been the case with previous new Apple gadgets, I'm anticipating the future. The Apple Watch is ripe with future potential, a bit of which will be realized in the next update of the Watch operating system, watchOS 2, announced earlier this week and due this fall.
Design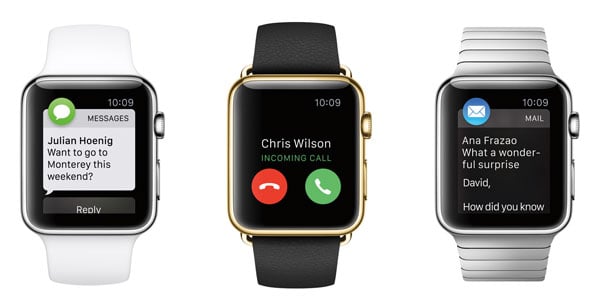 All models in all three editions of the water-resistant Apple Watch — the aluminum Watch Sport ($349 – $399), the confusingly named stainless steel Watch ($549 – $1,099) and the you-have-too-much-money, 18-karat gold Watch Edition ($10K – $15K) — come in two face sizes, 42mm and 38mm. Neither version is as heavy or awkwardly large as I or my wife had expected, and neither will feel uncomfortable to anyone who regularly wears a watch.
You can upgrade from the included band to a fancier, more colorful wrist wrap. Changing out the bands is easy — just a matter of pressing a button.
Instead of a single control button like an iPhone or iPad, the Watch uses two buttons. Most prominent is the crown, a button similar to the stem used to wind a watch. Push in the crown to navigate between apps, or turn it to scroll, which helps avoid blocking the screen with your finger as you touch scroll.
A second button flush with the surface of the Watch just below the crown handles just two functions (for the time being): accessing your Friends contacts and activating the Apple Pay function.
Apple Watch adds one additional navigational aid it calls Force Touch, where you hard-press on the screen –– it feels as if you're pushing the screen in, but you're not –– to activate secondary functions. For example, a Force Touch on the clock face activates customization features, and on some apps Force Touch activates some additional functions. Unfortunately, there's no indication on an app if there's more to see if you Force Touch. You'll have to push and find out.
Sensors on the rear of the Watch measure bio-data such as your heartbeat. The battery charging terminals also are located on the back of the Watch, which comes with a six-foot USB charging cable terminating in a small button pad where the Watch magnetically sticks to inductively charge. With watch OS 2, laying the Watch on its side on your night table as you charge it overnight activates the Nightstand mode –– the time display reorients itself horizontally, you'll be able to set an alarm and the crown/button array become the snooze/alarm off controls.
Set-up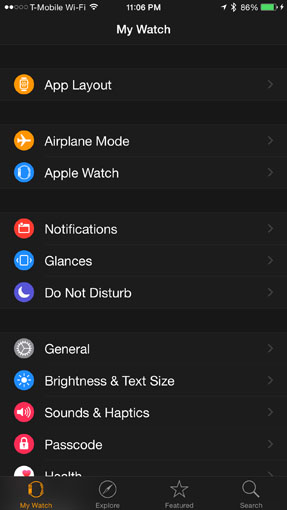 To perform most of its most useful functions, the Watch needs to be Bluetooth-paired with your iPhone. As a result, everything you are able to do with the Watch is customized via the Watch app on your iPhone. Make sure you've downloaded the latest iOS version to your phone before downloading and pairing your Watch with the Watch app.
When you first pair your Watch to your iPhone, the Watch mirrors the available Watch versions of your iPhone apps. You decide which apps you want available on the Watch and in the Glances feature. Sliding up from the Watch face shows you the status of the Glances apps you've chosen, such as what song is playing, your Calendar, maps, news and so forth.
Set-up is a matter of going through each of the mirrored apps and telling each how to behave on the Watch. The process is fairly intuitive but time-consuming; you'll have to make decisions and conduct trial-and-error experiments to test your Watch usage assumptions.
For instance, do you want to be alerted about every email that comes in or only those from specific groups? Which people will you include in the Watch's call circle? You can only include a dozen, although watchOS 2 will let you add a second screen with a second dozen contacts. When you put your arm down and then lift it again to automatically wake up the Watch, do you want the Watch to resume the activity it was last doing or revert to the default Watch face? If you choose to resume a suspended activity, it will take several taps to get back to your default Watch face.
Nearly every Watch app and function requires some fussing with, and that takes time. It took me around 45 minutes to go though all the set-up options. As I've used the Watch, I've continued to tweak the customization.
Apps and functions
Almost everyone is aware that the Watch buzzes or taps to alert wearers to incoming notifications or phone calls. In my opinion, the most useful Watch apps (other than the time) are text messaging, music controls and news updates.
Generally speaking, the Watch's app functionality is strangely hit or miss, as if many of the apps were rushed out not fully cooked for wrist use. Let me show you what I mean.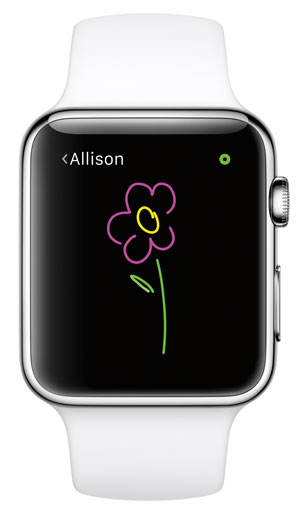 There are only 11 customizable Watch faces, many of them remarkably similar; you can add "complications" –– small status indicators such as temperature, Watch battery life, time in a second city, upcoming calendar events and more –– to most faces. Given Apple's connection to Pixar/Disney, I expected more licensed character face options than just Mickey Mouse — c'mon, what Star Wars nerd wouldn't want a Boba Fett Watch face? watchOS 2 will allow you to use your own photos as Watch face backgrounds and Apple will add some location-specific Time Lapse animated faces displaying that reflect the time of day, but I'm hoping for more imaginative faces from Apple or third parties (it's too obvious a profit center), or maybe we'll get an iPhone or Mac app or tool to let us create our own customized Watch faces.
You can use the Watch to create audio or dictate text messages or responses –– but slow connections, since Siri has to reach the cloud to translate your dictation into text, often thwarted these attempts, or choose from canned or customized text responses or employ some cool animated emojis to conduct text conversations. But you won't be able to respond to emails until watchOS 2 this fall. And it often took me several tries to tap and choose the text messaging option from a Friend's screen.
You can store music playlists on the Watch for listening, but the Apple music Guided Tour video tutorial doesn't say how to pair the Watch to a Bluetooth speaker for listening to these playlists when the Watch is already Bluetooth-paired with your iPhone. And if you have your iPhone with you, which is required in order for the Watch to work, why would you need a music playlist stored on your Watch? Confusing.
Even the whole Dick Tracy wrist phone capability mystifies me. Unless you're in a quiet, private place, its tiny, tinny speaker is useless unless you hold it up to your ear. After holding the Watch to your ear to listen, you have quickly reposition your wrist by your mouth so your caller can hear you talk, then snap Watch back to your ear to hear the response. This is no way to hold a conversation, especially when you have an actual iPhone in your pocket. You're better off using earphones with an in-line mic. And with no camera, front facing or otherwise, there's no video calling, even though there is a Skype Watch app.
Most annoying, the connection relay of Bluetooth from the Watch to the iPhone then the iPhone to the Internet then back via Bluetooth to the Watch was often poor or slow, creating data loading delays. I'd often have to hold my arm up in Watch viewing position for several minutes, often waiting in vain for requested information to appear on screen.
Biometric features
The Watch's most ballyhooed (at least by Apple) functions are its workout, health and exercise features. Because I am by nature a rather sedentary writer, the whole fitness wristband wave has sort of bypassed me. But in the spirit of this review, I tried out the two exercise apps on my Watch.
The Activity app lets you know if you've exercised enough on a daily basis. The default goals for calories burned, minutes spent moving and minutes spent standing seemed rather modest, even to me. Any day I spent briskly strolling about on my daily Manhattan errands on foot fulfilled them. During a deskbound day, Activity gently reminded me to get up and move around. I found the chiding quixotically entertaining.
Within the Workout app are tracking options for Outdoor Walk, Outdoor Run, Outdoor Cycle, Indoor Walk, Indoor Run, Indoor Cycle, Elliptical, Rower, Stair Stepper and Other. Since I do few of these activities on a regular basis, I leave to the more active amongst us to judge their veracity versus the cheaper Fitbit or a similar fitness tracker.
Once Apple's HealthKit is fully implemented, the Watch's ability to collect bio-data could become far more important in health monitoring and treatment testing.
Finally, the Watch lets your transmit your heartbeat or tiny scrawls to fellow Watch-wearers — silly functions barely worth this brief mention.
Killer apps
Apple Watch's two killer apps may well be Siri and Apple Pay.
Instead of holding down a button to activate Siri as you would on your iPhone, you activate the Watch's Siri by simply saying "Hey, Siri" while raising your arm to the usual wristwatch viewing position, which awakens the Watch. You can now ask Siri whatever she can look up on the Web or apps such as the song identification app Shazam. Siri isn't as knowledgeable or quick to comprehend as she should be, but the Watch does make her more accessible.
In case you need to be referred to a more extensive resource, Siri and the Watch employ Apple's Handoff function to make your answer available on your paired iPhone. But when I was told the answer to my question "Is Joni Mitchell in a coma?" would be available via Handoff on my iPhone 6 Plus, it wasn't. (She isn't.)
The Watch's easy Apple Pay functionality may be its long-term draw. Pulling out your iPhone, tapping the point-of-sale payment terminal with it and then adding your fingerprint is actually more complicated than pulling out your wallet, taking out a credit card and sliding it through the terminal. The Watch simplifies the entire paying process. Now all you have to do is double-tap the second Watch button to activate Apple Pay, and then hold the Watch face to the payment terminal. That's it.
watchOS 2 will add support for loyalty cards.
Battery
The Watch completely upends usual wristwatch usage behavior. You don't normally need to recharge a regular watch as often as you do the Watch. The good news is, you don't have to charge Watch every night, even though you're better off getting into that habit. I have yet to burn more than 65 percent of its battery life even over an 18-hour day of constant use. On most days, I removed the Watch in the evening for recharging with more than half its battery life remaining.
The problem is, Watch also drains your iPhone battery; how much, depends on which iPhone you have. The 5s, a power-socker to begin with, will drain around 20 percent faster, while an iPhone 6 or 6 Plus a little less.
Ready for prime time?
As developers get a better sense of the Watch's potential, they'll add greater level of Watch-specific functionality. For instance, I'd love to be able to choose the type of new stories Watch will automatically notify me about.
To learn the full current potential of the Watch — maybe even before you decide to buy one — I highly recommend watching Apple's Watch video tutorials. To pick up some hints of Watch's future potential after watchOS 2 is available in a few months, watch Apple's WWDC keynote address, starting at the 84:30-minute mark.
Overall, it's hard to recommend the expensive Watch in its current incarnation, given its limited, redundant capabilities. Perhaps when the relative dearth of apps becomes less pronounced . . . perhaps when there'll be more essential "native" apps that don't require a connected iPhone to operate, coming with watchOS 2 . . .perhaps when Watch can bypass a connected iPhone and create its own connection to the Net, also coming in watch OS2 . . . perhaps when the available apps can perform more consistently and more Watch-specifically . . . or perhaps when Watch does as much or more than your iPhone — then it'll be worth its extravagant price.
But if you buy an Apple Watch now, I'm sure you'll find reasons to wear and use it, if for no other reason than to justify the purchase and show it off. After all, isn't that what new cool gadgets are for?
[Image Credits: Stewart Wolpin/Techlicious, Apple]
Discussion