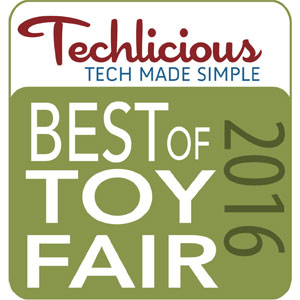 Every year, we look forward to Toy Fair, where we get a sneak preview of all fantastic toys and games manufacturers will be bringing out in 2016. And amongst the hundred of toys we are fortunate enough to get our hands on, a select group rise to the top as our absolute favorites of the show. Each takes learning, creativity or just plain fun to a new level, and are the products we'll be looking forward to buying for our kids this year (And, if we ask nicely, maybe they'll let us play with them, too).
Here are our nine Best of Toy Fair 2016 winners.
Crayola Air Marker Sprayer
Crayola's bringing the look and feel of professional airbrushing to kids with their brand new Air Marker Sprayer. Children's airbrushing kits aren't a brand new addition to the market (think Blo-Pens and the company's own Marker Airbrush kit), but this one has a great twist—it's finally fully motorized. Your kids won't have to continuously pump the airbrusher for big spraying power; all they have to do is plug it in.
Compatible with a variety of wide markers, including those from Crayola, the Air Marker Sprayer is incredibly versatile—kids will be able to make their mark on pretty much any medium, whether they're spraying a design onto construction paper on a rainy day, making a t-shirt using Fabric Markers or even adorning a window with a beautiful Valentine's Day scene sing Window Markers, Crayola's newest addition is sure to inspire any budding Picasso.
The Air Marker Sprayer comes with five Pip-Squeaks Washable Markers, 10 sheets of paper and two stencil sheets to get your child started. All you have to add is imagination!
Age: 8+
Price: $29.99
Availability: June 15, 2016
Actev Motors Arrow Smart-Kart
When we saw the Actev Motors Arrow Smart-Kart zipping and drifting around the Toy Fair floor this weekend, we had to get a closer look. More than just a standard go-kart, the Arrow is billed as the first smart go-kart for kids, and it definitely covers all the fun and safety bases.
An iOS or Android device connects to the Arrow Smart-Kart through Wi-Fi, giving parents control over the action. While the Arrow can go up to 12 MPH, the app lets you adjust the maximum speed in real time and even stop the car immediately if your child pushes their need for speed just a little too far. Geo-fencing, front-mounted collision avoidance sensor and inactivity timer alert features are also really helpful for making sure your kids don't take this bad boy for a spin into more hazardous territory.
The Arrow really sounds like a suped-up racer with its synthesized engine sounds (in the above video, you can hear the roar of the Ferrari Berlinetta V12), and an online sound library is on the way for max personalization, along with body kits, distance sensing smart cones and a Formula-1 steering wheel. One charge will have the two 250 Watt engines driving for up to 45 minutes and extra batteries (sold separately) can be quickly swapped in for extended rides.
Better yet, the Arrow Smart-Kart is a quite reasonable $599.95, with various racing kits, and even drifting tires, available as add ons. The Arrow Smart-Kart is available for pre-order now on actevmotors.com
Age: 5 to 9 (70lb max)
Price: $599.95
Availability: Summer 2016 (pre-order now)

Air Hogs R/C TIE Advanced X1 Starfighter

Spin Master is bringing a little bit of the Dark Side to its already stellar Star Wars remote control vehicle line with Darth Vader's TIE Advanced x1 Starfighter. This awesomely engineered aircraft is special not just because of its stunning accuracy to Darth Vader's ship, but because it's got two specially designed propellers that suck air through a main duct, jet engine-style, for streamlined, aerodynamic flight.
We can definitely see kids duking it out between the remote control Millennium Falcon, X-Wing Fighter and this beaut. Plus, it's made from light, yet durable, high-density foam that will protect it from any asteroids and enemy fire that comes its way (or at least that tree in the backyard).
We don't blame you if you take it out for a spin yourself, or even buy one for display—it's just that cool. Just add six AA batteries and you'll be defeating the Rebel Alliance in no time.
Age: 8+
Price: $69.99
Availability: Fall 2016
Fisher-Price Think & Learn Code-A-Pillar
We saw Fisher-Price's Think & Learn Code-A-Pillar at CES in January, but a month later, we still can't get over how adorable and fun it is. This little light-up bug teaches kids the fundamentals of coding and logic with segments that move the Code-A-Pillar every which way according to segment order.
The original set contains seven segments in addition to its motorized head: two that make the Code-A-Pillar go left, two that make it go right, two that make it go straight and one that plays music. Your child connects the segments together with USB plugs and the Code-A-Pillar follows the directions.
There will also be segment expansion packs that add new sounds and movements that will transform your child from a toddler into a coding butterfly in no time.
Age: 3 to 8
Price: June 2016
Availability: $49.99
Barbie Hello Dreamhouse
Mattel's Barbie Hello Dreamhouse connects Barbie to the Internet of Things to create a smart house that even parents will be jealous of. The Hello Dreamhouse is connected to the cloud via Wi-Fi and uses speech activation )just like a real smart house) to control its numerous amenities.
A simple, "Hello, Dreamhouse," prompts the house to begin listening to your child's commands, just like Siri or Cortana on grown-up devices. With a variety of commands, kids can change the color of the lights, power up the elevator and even help Barbie get ready for school by turning on the shower.
Every room also has a floorswitch, so if Barbie wants to warm up by the fireplace in the family room, she can press down to turn on a crackling glow; if she's just coming into the house after a long day of pop stardom/surgery/dog walking, a switch press will turn on the crystal chandelier in the entryway.
The Dreamhouse has three modes: hang-out, party and fun, which customize the actions and dialogues of the house to the occasion. For example, setting the Dreamhouse to party mode spins the chandelier, flickers the lights and changes the stairs into a slide, all to a funky beat. The connected app lets your Barbie enthusiast customize which buttons do what, too, and really brings the classic Dreamhouse into the 21st century. We've seen the future, and the future is hot pink and cool.
Age: Not yet available
Price: $299
Availability: Fall 2016

Thames & Kosmos Happy Atoms
Thames & Kosmos' Happy Atoms set brings a whole new level of digital perspective and increased functionality to organic chemistry's simple ball and stick molecular models. The Happy Atoms set contains 16 elements represented in the total 52-atom set, including all of the important building blocks of life like carbon, hydrogen, oxygen and nitrogen (plans are to add additional elements in future kits). These atoms "bond" together using magnets that accurately portray the single bonds, double bonds and free electrons that make up the molecules of the universe.
It's the iOS mobile app that ups the utility of this modeling kit, though. A child can build a molecule and then use image recognition through the Happy Atom app on their phone or tablet's camera to provide more information on the molecule she just made. For example, she'll find out that the H2O molecule is also known as water, has a bent geometry and is safe to humans.
The app also encourages molecule discovery with a collecting game, and its attractive user interface will keep kids entertained for hours. Happy Atoms will be the perfect gift for the budding chemist in your family.
Age: 8+
Price: Not yet available
Availability: June 2016
Candylicious Bubbles
Candylicious' edible bubbles blew our minds with their inventive twist on a very old childhood favorite: they're literally bubbles that you can eat!
The Candylicious Bubbles, which come in Cherry, Grape, Tutti-Frutti, and Bubble Gum flavors, are made from sucralose, the same ingredient that's in Splenda, they don't have calories and they're allergen- and gluten-free. Plus, they're non-sticky and don't stain, so you don't have to worry about clean up.
The bubble blowing tools are adorable, too. There are the individual pouches that come with a simple wand featuring the company's purple Bubble Ninja character—perfect for birthday parties. And for more fun, there are Character Tubes and an electric Bubble Machine, which amps up the bubble production so big groups of kids can have a turn as bubble catchers.
We had tons of fun going after the bubbles on the show floor, and our kids loved them just as much when we brought a few packs home.
Age: 5+
Price: 20 mL pouches, $2.99; 20 mL Character Tube, $4.99; Bubble Machine, $12.99
Availability: Available soon at Target

Love2Learn Elmo
Sesame Street has a lot of lovable characters, and Elmo is certainly no exception. Now Elmo is even smarter with Playskool's Love2Learn Elmo plush toy and app. This fuzzy, soft toy is the Tickle-Me-Elmo for the diaper-clad set. Sure, your child can tickle Elmo's tummy for laughs, but she can also hold his hand to sing songs and clap his hands to play learning games.
But what's really new and different this year is the Love2Learn Elmo app that connects to Elmo through Bluetooth. Using the app, parents can personalize their child's experience, allowing Elmo to learn the child's name, favorite animals, colors and foods and bring them up in conversation, just like a real friend would! You can also personalize the content to fit a specific age range or subject.
The most innovative part about Love2Learn Elmo is its ability to make a child's least favorite activities, like brushing her teeth, fun with guided play. Just press a button on the app and Elmo will ask your child if she needs to go to the bathroom, to teach her when to go and help prevent accidents. Elmo can also help your child with clean up, manners, eating healthy and even settling down for bed. Tickle us red with love for this plushie!
Age: 18 months+
Price: $69.99
Availability: Fall 2016
ThinkFun Circuit Maze

ThinkFun is known for their fun and educational games, including some of our favorites like Laser Maze, Code Master and Rush Hour. Now, they've created Circuit Maze, a game that teaches kids logic and the basics of electricity in a fun, engaging puzzle experience.
There are 60 challenge cards in this game that teach children about electricity and how it works. The cards first direct your child to put pieces on the board in specific places, but then your child has to determine how to complete the circuit with the rest of the pieces. If the circuit lights up, she's gotten it right! Her logic and reasoning skills are going to get a workout with this one.
Circuit Maze teaches kids how to make series circuits, parallel circuits, combination circuits and parallel circuits in bypass, which are all topics that they'll encounter in introductory physics classes. Giving your kids a headstart in this often puzzling topic will leave parents feeling electrified with excitement.
Age: 8+
Price: $29.99
Availability: March 2016
Contributors to this feature include Chelsey B. Coombs, Suzanne Kantra, Josh Kirschner
[image credits: Suzanne Kantra, Chelsey B. Coombs, Josh Kirschner/Techlicious]