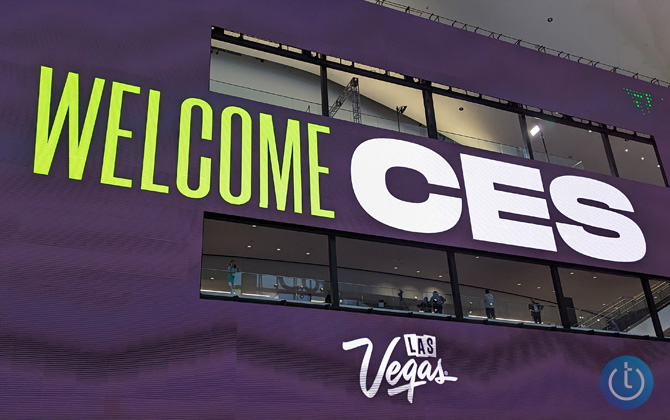 With the pandemic hopefully behind us (fingers crossed), CES returned to nearly full strength this year, which means a show floor filled with wondrous new gadgets and technologies. Our Techlicious tech experts scoured both the physical and virtual show floor and interrogated company execs and each other to identify the most fascinating, functional, life-enhancing, unique, and potentially disruptive devices making their debut here in Las Vegas to determine our 15 Techlicious Top Picks of CES 2023 Awards.
Suzanne Kantra, Josh Kirschner, Jonathan Takiff, John Quain, and Stewart Wolpin contributed to this collection.
Chillax Thermo AI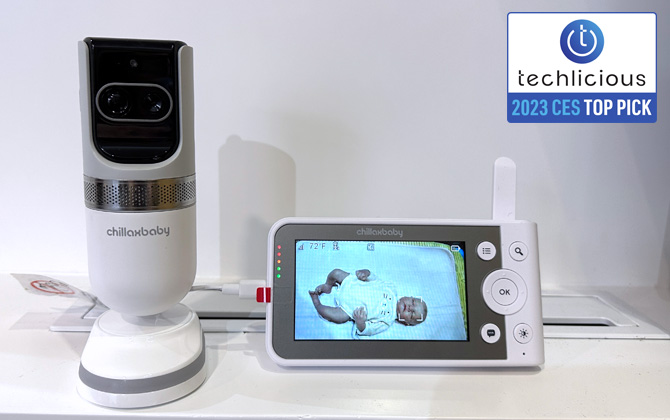 When your baby cries, is it hungry? Does it need to be changed? No need to guess and potentially leave baby wet and weeping – Chillax Thermo AI is the first baby monitor that uses thermal imaging to let you know when your baby's diaper is filled.
Thermo AI uses multispectral imaging to detect your infant's face, sleep posture, and body core temperature. When the AI detects abnormal temperature variations and trends, such as a significant temperature change in the diaper area that indicates wetness, the Thermo Edge AI interprets the data and sends you an alert in the app that junior needs to be cleaned. The camera also has the ability to detect unsafe sleep postures, abnormal core body temperatures, as well as whether your baby is asleep or awake.
The Thermo AI package includes the Quad HD camera and a 5" monitor that provides remote pan/tilt/zoom and two-way talk. The system can also be managed via the Chillax Care app and is Alexa and Google Assistant compatible.
Thermo AI will be available in February for $399.99.
Citizen CZ Smart Watch with YouQ technology

Possibly the smartest watch yet. Thanks to biometric data captured and tracked by the new generation CZ, the Smart YouQ app provides intelligent insight and feedback about your health and body rhythms and scientifically based recommendations for how to improve your wellness and alertness. After learning your rhythms and sleep schedules over a week to 10 days, Citizen's YouQ Software can forecast 24 hours ahead to help you anticipate when you might be most alert and when you'll need a nap. The CZ also generates Power Fixes, suggestions to help you mitigate the effects of fatigue and promote better and healthier habits.
All this wrist-borne intel is provided through the proprietary YouQ Software developed through research by NASA's Ames Research Center and AI neural networks built using IBM's "Jeopardy!" champion Watson AI. Thanks to the NASA connection, you can even take Alert Monitor test, a consumer version of NASA's astronaut mental acuity test, to measure your own alertness.
The YouQ Software is coming in March for second-generation CZ Smart watches, which are equipped with a 1/3-inch AMOLED display, 24-hour battery life, a gyroscope, altimeter, barometer, accelerometer, heart rate sensor, SP02, and ambient light sensor. The CZ includes Bluetooth and Wi-Fi and is iOS and Android compatible, and is available in a 44mm sport model with silicone, leather, or stainless-steel straps, and a casual 41mm model with a mesh bracelet (shown below), stainless-steel links, or silicone straps.
CZ Smart Watch models will be available on March 1st and are on presale now, starting at $350 on Amazon.
GE Profile Smart Stand Mixer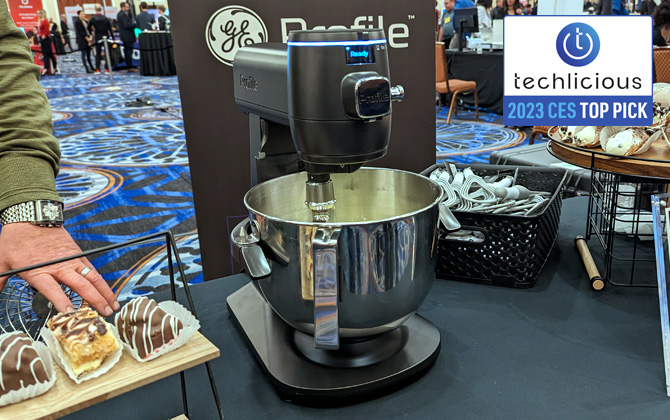 No matter how experienced a baker or cook you are, attention lapses can lead to overmixing. GE's Profile Smart Mixer ($999) ensures precision mixing to reduce mixing, whipping, creaming, and emulsifying errors and eliminate the guesswork from complicated recipes.
This mixer's smarts are provided via a built-in Smart Scale that precisely weighs ingredients directly in the mixing bowl – no need for additional scales – and its "Auto Sense" monitors changes in texture and viscosity through motor torque feedback to avoid over and undermixing, based on the recipe you select in the app. The mixer is even smart enough to automatically shut itself off when it senses it's achieved a perfect mix, and it has enough motor power to work through tough batches and stiff doughs without overheating or stalling. You can even voice control the mixer if your hands are otherwise occupied or covered in flour or other ingredients.
GE's SmartHQ app provides more than a dozen recipes, with more to come, with step-by-step instructions connected to the mixer. Included attachments are a paddle, dough hook, and whisk, and the Smart Mixer is also compatible with any existing GE mixer attachments.
The Profile Smart Mixer is available for preorder now for $999.95 on Crate and Barrel.
Lenovo Yoga Book 9i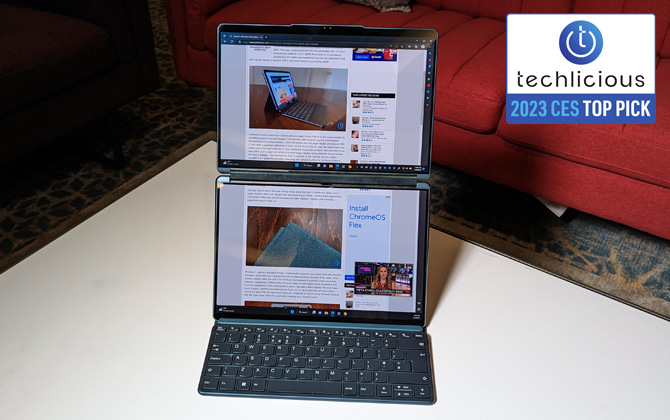 It's a tablet. It's a laptop. It's both – and more. The Lenovo Yoga Book 9i is the first dual touchscreen pen-compatible PC that contains all the features of both a tablet and a laptop in one package.
You get twin 13.3-inch OLED displays with HDR and Dolby Vision that you can combine to create one giant screen or multitask, working on different files or programs on each screen, such as watching a movie up top while working on the bottom. As with all Lenovo Yogas, the Book 91 can be twisted and flipped in laptop, tablet, or tent modes – you can show a presentation on one side while taking part in a chat on the other side or, if you're a student, you can take notes on one screen while simultaneously viewing an online class on the other. A folio stand is included, and both a detachable Bluetooth keyboard and Lenovo's Smart Pen stylus also are available.
Spec-wise, the Yoga Book i9 runs Windows 11 Home or Pro on the Intel Evo platform via a 13th gen Intel Core i7-U15 engine. Its battery provides up to 10 hours when watching video on both screens and up to 14 hours on a single screen, it's equipped with 3 USB-C ports, a 360-degree rotating sound bar equipped with Bowers & Wilkins speakers with Dolby ATMOS, and weighs just 3.04 pounds.
The Yoga Book 9i will be available in June starting at $2,099.99.
Lenovo Smart Paper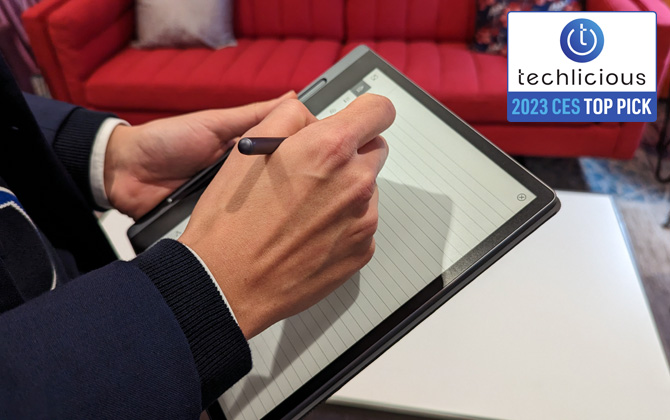 This unique Lenovo tablet is aptly named – it's a smarter version of paper.
Lenovo's Smart Paper is the ultimate note-taking device. Its slim 10.3-inch, anti-glare E-Ink touch display with 74 notepad templates such as ruled, graph, blank, and music manuscript paper to choose from, and is paired with Lenovo's Smart Paper Pen that never needs to be charged. Writing with the felt-tipped Pen feels familiar and natural thanks to a nearly indistinguishable 23-millisecond lag. You can choose from nine different writing settings that include ballpoint, pencil – both wooden and mechanical, marker, and calligraphy, and the pen provides 4,096 levels of pressure sensitivity and tilt detection in the pen.
But Smart Paper is more than just, well, smart paper. In a boon to note takers everywhere, Smart Paper contains two microphones. It can digitally record a meeting, class lecture, or interview while also taking notes. Can't remember the verbal context around a note? Just select the specific text to hear a brief playback of what was said with full intonation. With a $.99 a quarter subscription, recordings can be uploaded to Lenovo for voice-to-text transcription, and you'll also get 5GB of online storage (50GB is available with an upgraded $.99 per month subscription).
Behind the screen, you'll get 50GB of memory, enough to store more than 50,000 note pages, which can be organized into folders, and you can cloud sync your notes to Android, iOS, or Windows devices. You can even conduct keyword searches across thousands of your handwritten notes in seconds, and your scrawl can be converted to text.
Oh, did we mention Smart Paper is also an ebook reader, with access to more than two million tomes via eBooks.com? Most of all, this Smart Paper means no piles of paper.
The Smart Paper will be available later in 2023 for $399.99.
LG Signature OLED M3 TV with Zero Connect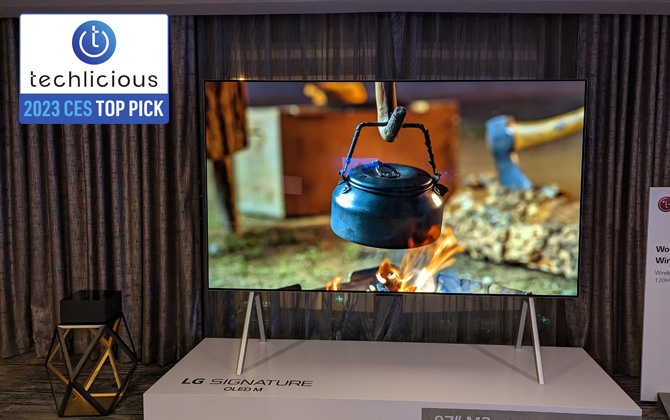 Thin wall-mounted TVs look great – except for all the wires dangling from them. This beautiful 97-inch OLED TV, however, gets 120Hz 4K video as well as audio transmitted wirelessly to it from a Zero Connect box (shown on a table to the left of the TV in the picture above). With no wires requires except a power cord and the ability to place the Zero Connect box up to 30ft away, you are freer in your room layout. And thanks to the M3's One Wall Design with an integrated bracket that lets the TV sit flush against the wall with no visible gap, you end up creating a cleaner, more elegant interior décor.
The Zero Connect box is equipped with plenty of HDMI ports to plug in your cable/satellite set-top box, DVD/Blu-ray player, or gaming consoles, and can be controlled via voice command. Your sound bar also connects wirelessly. To make sure your wireless A/V experience stays smooth and spotless, LG developed an algorithm that optimizes the transmission path and minimizes errors or disruptions from changes in the room, such as people or pets shuffling around the room, and an adjustable antenna on the box can be more specifically aligned to where you've mounted the set.
The M3 will be available in March, Pricing has not yet been released.
Lockly Smart Safe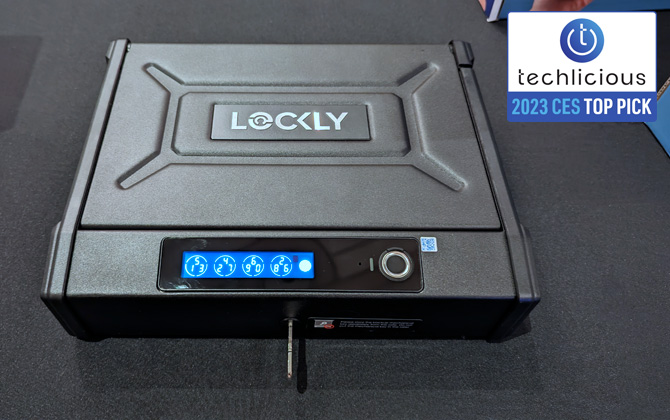 It's a safe. It's a panic button. It's integrated with your smart home. The Lockly Smart Safe is both the smartest personal safe and panic alert combination yet created.
The Lockly Safe can be opened by a key, a PIN code, or fingerprint, and all three methods are safeguarded. Keys are laser cut and designed for a C Grade high-security cylinder. PIN codes are randomly shuffled by Lockly's PIN Genie keypad, and the 3D biometric fingerprint sensor can't be fooled by picture of a fingerprint. You can store up to 99 fingerprints and program each for different purposes. You can even program a fingerprint as a "panic button" – if you're forced to open the safe, you can use a specific finger to trigger an alert to authorities. With Wi-Fi, the safe also can be unlocked, locked or monitored remotely using Lockly's iGenie app, and you'll get alerts in the app if someone unauthorized tries to access it. Using iGenie also allows you to synchronize your biometric data with other Lockly devices, such as their smart locks.
The safe itself is constructed of fortified 2mm alloy steel with corrosion resistant coating and fireproof interior inlays, and safety metal wires and screws prevent the safe from being moved or stolen. The safe can run up to 18 months on four AA batteries and an external USB-C port lets you power it up should the batteries die.
Lockly says its Smart Safe will be available later this spring for $349.99.
Nuheara HP Hearing PRO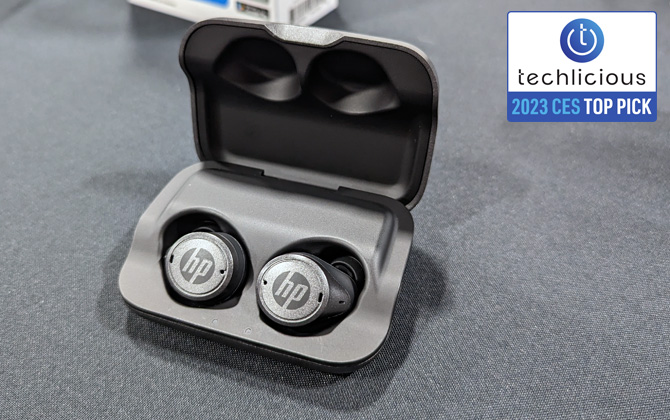 HP and Nuheara, makers of the excellent IQBuds2 Max earbuds, have combined to create what may be the best – and, at $699, the least expensive – combination Bluetooth earbud/FDA-certified "self-fitting" over-the-counter hearing aid.
Designed to improve voice and Bluetooth music listening power for the estimated 35-40 million Americans with mild hearing loss, the HP Hearing Pro starts with a self-administered hearing test in the HP Hearing app to help calibrate the earbuds to your particular hearing loss. Listening features include includes active noise canceling, adjustable volume, tone, and microphone directional controls that provide a claimed 30% improvement in speech. Like all Bluetooth buds, you'll get a battery charging case, but unlike many bud-style OTC hearing aids, the HP Hearing Pro will be compatible with both iOS and Android.
The HP Hearing Pro are currently available for pre-order on the HP Hearing PRO site.
OtterBox OtterGrip Symmetry Series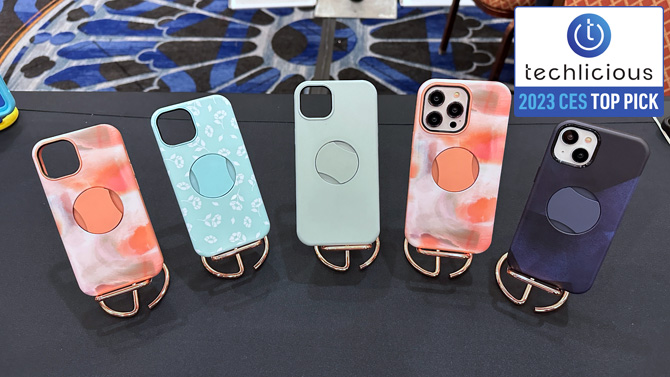 iPhone cases always present a bad compromise: pick a MagSafe-compatible case with a flat back but no way to maintain a firm grip, or buy a case with a built-in grip but lose MagSafe charging. OtterBox says, "Get a grip!" to this ridiculous choice with its OtterGrip Symmetry Series.
On the back of these surprisingly slim cases is an integrated soft-to-the-touch, 360-degree pop-up finger grip. When closed, the grip sits completely flush with the case surface and so maintains full MagSafe charging compatibility. Available next month in a variety of styles and colors for all iPhone 14 models and the iPhone 13, the Symmetry series cases are made of 50% recycled materials and offer, as you'd expect from OtterBox, 3x MIL STD drop protection.
The OtterGrip Symmetry Series will be available in February for $59.95.
Panasonic nanoe X Portable Air Purifier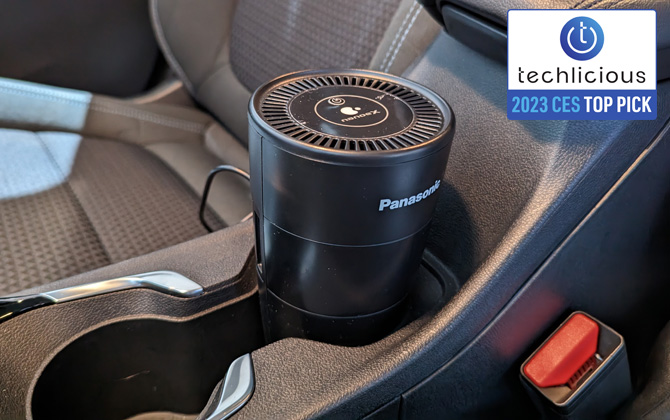 More than just a hanging scented pine tree or opening the window, the Panasonic nanoe X Air Purifier is an air filtration system specifically designed for your car. Shaped like a large coffee thermos that fits in your car's cup holder and powered by USB, the nanoe X Air Purifier not only reduces odors, but helps to inhibit viruses, bacteria, mold, and allergens, both in the air and on surfaces in around two hours, all of which makes cruising safer and sweeter smelling, especially on long trips.
Nanoe X is not only the name of this air purifier but also the name of Panasonic's sophisticated air purifying technology that uses electrified nano-sized electrostatic atomized water particles and something called "hydroxyl radicals" to act on varying substances. While portable nanoe technology air purifiers were launched in Japan several years ago, the new nanoe X is the first to be certified in the U.S. by the California Air Resource Board (CARB), as well as Underwriters Laboratories and the Electrical Testing Laboratory (UL-ETL).
The nanoe X Air Purifier will be available in Q1 2023. Pricing has not been announced by Panasonic, but we expect it to be in the $100-$150 range based on existing models.
Samsung SmartThings Station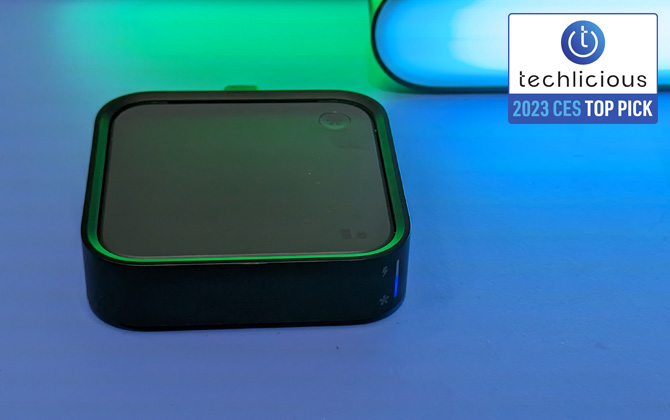 The SmartThings Station Hub is proof that sometimes 1+1 does equal three. Combining two basic needs – smartphone charging and simple smart home control – into a single unit that sits conveniently on your nightstand or anywhere else you want it. The Station Hub lets you instantly control up to three smart home routines from just a single button from your bedside without a voice command (though Bixby voice control is available) or an app, and also conveniently wirelessly fast-charges your phone. And since it is compatible with the new universal Matter smart home standard, the Station can control smart devices from not only SmartThings but Amazon Alexa, Google Assistant, and Apple HomeKit.
A short press, long-press, or double tap on the Station's single Smart Button trigger one of three programmed routines created in the SmartThings app, such as "movie," which would turn on the TV, lower the lights, and lower smart shades, or "sleep," which would turn off the lights, close the blinds and lower the temperature, or "we're leaving," which switch on outdoor lights, make sure appliances are turned off, and the security system activated. Double-pressing the Station button also can trigger SmartThings Find, which can ring your phone in case you've lost it or locate connected devices or items with a Galaxy SmartTag or SmartTag+ device.
The SmartThings Station hub will be available on samsung.com for $59.99 later this month.
Samsung QN95C 4K TV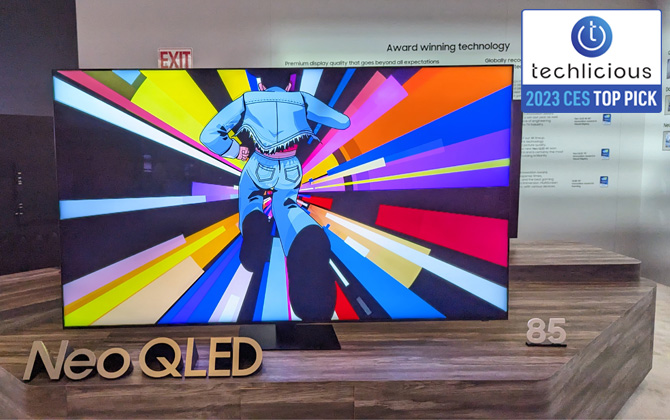 CES is where we see the most beautiful TVs we'll never be able to afford. For the typical consumer pocketbook, the Samsung QN95C 4K Mini LED TV offers an incredible combination of picture and features, with few sacrifices. For 2023, the QN95C has a completely new ultra-slim power board that eliminates the need for the external connection box found in the outgoing QN95B – great if you're only streaming content through Samsung's onboard apps, but perhaps less so if you connect external devices and want to keep those wires hidden. And the TV's depth is a svelte 20mm.
Major improvements also come to the QN95 picture, with more dimming zones and 14-bit processing to handle SDR to HDR up-conversion and "Real Depth Enhancer Pro", which emphasizes foreground images in the viewers area of focus to create a more three-dimensional effect. The QN95C incorporates a range of speakers that can produce Dolby Atmos effects without a soundbar. And the updated Q Symphony 3.0 should offer more advanced AI-based integration with Samsung soundbars for even better cinematic sound quality.
At CES, Samsung also announced a variety of lifestyle features that will be available on the QN95C and other higher-end 2023 models. Using a detachable video camera, the QN95C will let you check on and interact with your pets and, with the new Health Monitor technology, even monitor your health – analyzing heart rate, heart rate variability, respiratory rate, oxygen saturation, and stress while you're sitting on your sofa.
The QN95C should be available sometime in Q2, 2023 in 65, 77, and 85-inch models. Pricing hasn't been released – the prior QN95B retails for $3,299.99 for the 65-inch and we expect the new QN95C will be in that range.
SKYX Platforms SkyPlug Smart Lighting Base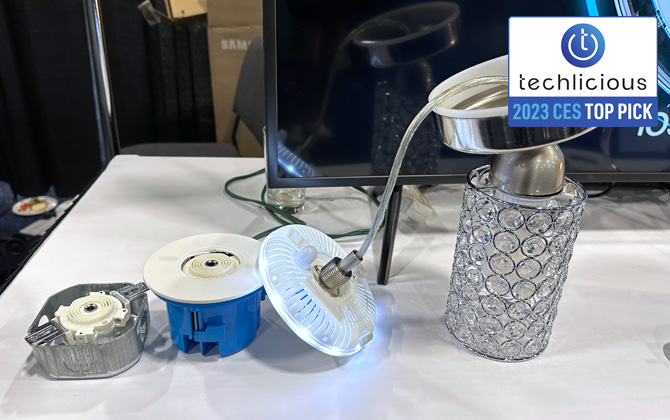 One of those "what took 'em so long?!" technologies, the SkyPlug is essentially an AC plug for the ceiling. The SkyPlug is a standardized smart jack into which you can easily plug in lighting fixtures, ceiling fans, room heating, and cooling devices, Bluetooth speakers, smoke/CO2 detectors, security cameras, Wi-Fi extenders and mesh clients, emergency battery-powered lights, even video projectors, as well as combinations of some or all of these functions – anything up to 200 pounds. The SkyPlug system is compatible with Bluetooth, WiFi, Alexa, Google Assistant, and Siri voice controls, and anything plugged in can be controlled from the Sky Home app.
The company has spent years getting endorsements and approvals from a variety of technology spec, construction, and architectural organizations, and the SkyPlug is likely to start showing up in new construction. For your current old-fashioned abode, you'll be able to buy kits to easily retrofit your existing ceiling electrical boxes, and ceiling fixture makers will make kits to attach to their products along with new SkyPlug-compatible gear.
While widespread adoption of SkyPlug might prove slow, remember that a century ago, there was no such thing as an AC wall outlet.
The SkyPlug will be available in mid-February for $119 online, in showrooms, and from major retailers.
Valencell FingerTip Device and App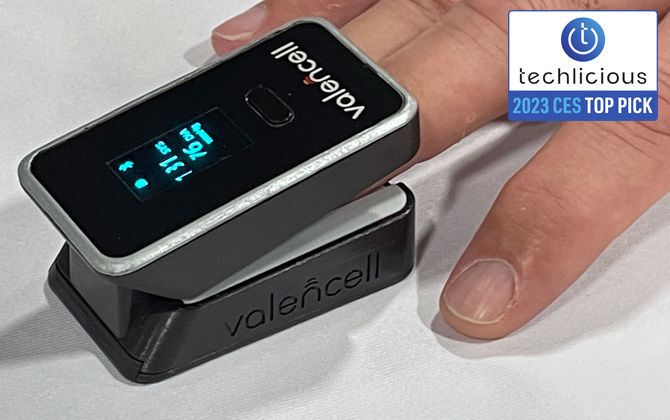 Donning a bulky sleeve or cuff to take your own blood pressure, especially when you're on the go, is always awkward. So Valencell has come up with a simpler hypertension monitoring solution: an over-the-counter fingertip biometric device that can measure your blood pressure in less than a minute without a cuff, calibration, or app, using blood flow technology.
The fingerprint BP device, with FDA clearance expected in late 2023 and expected to retail for just $99, deploys a small probe on your middle finger. Photoplethysmography (PPG) sensors within the device then use reflected light to measure blood flow patterns. Proprietary AI algorithms, developed from PPG datasets comprising more than 7,000 patients, process and combine the gathered information with your physical characteristics, including age, weight, gender, and height, to calculate and display both your diastolic and systolic measurements on the device's built-in screen.
Even though the monitor is designed to be standalone, data is transferred to an accompanying app that tracks and stores readings, lets you set reminders to take your blood pressure and transmit results to caregivers to help better manage hypertension. Valencell plans to expand the app's capabilities to include targeted diet and exercise plans to improve cardiovascular health and integration with digital healthcare platforms to improve physician-directed care.
Worx Landroid Vision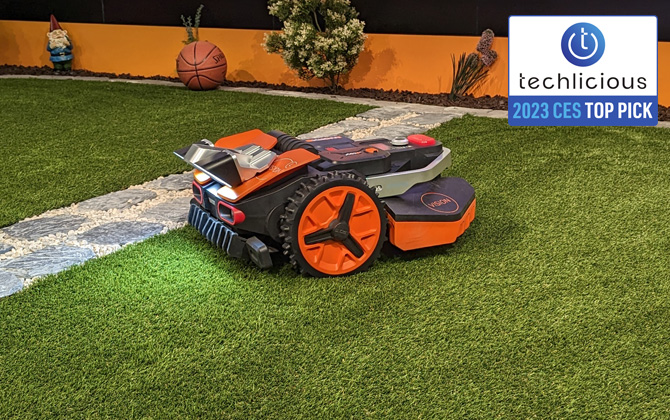 There are few homeowner chores more onerous than mowing the lawn, even if you get to ride while doing it. Worx Landroid Vision robot lawn mower uses neural networks, an HDR camera, and Vision AI to learn about your lawn and distinguish where there's grass and where there's not, without the need to bury boundary wires or antennae. When you do need to establish a boundary – Don't rove onto my neighbor's property! – you can do so by laying a simple magnetic strip (included in the box and available in any big box hardware store),
Worx calls its lawn care system "drop and mow." Its smart system recognizes sidewalks, driveways, roads, flower beds, and even humans and pets, adjusts to different grass densities, and can be adjusted to cut from 1.5 to 3.5 inches. With both Wi-Fi and Bluetooth, you get full remote monitoring. Landroid is weatherproof, it has a built-in rain sensor, and it's smart enough to know when it ought to return to its charging base.
Landroid Vision is available in three models that can handle up to a quarter, a half, or a full acre, powered by a 20-volt lithium-ion battery.
The models will be available in Q2 2023, starting at $2,400 for the quarter acre and up to $3,000 for the full acre
[Image credit: Techlicious]