HP's Hearing PRO Powered by Nuheara, making its debut at CES this week, promises to be the best Bluetooth earbud-style over-the-counter (OTC) hearing aids thanks to the inclusion of active noise canceling, compatibility with both iPhones and Android smartphones, and their $699 price, nearly half the price of the comparable CRE-E10 model from Sony ($1,299).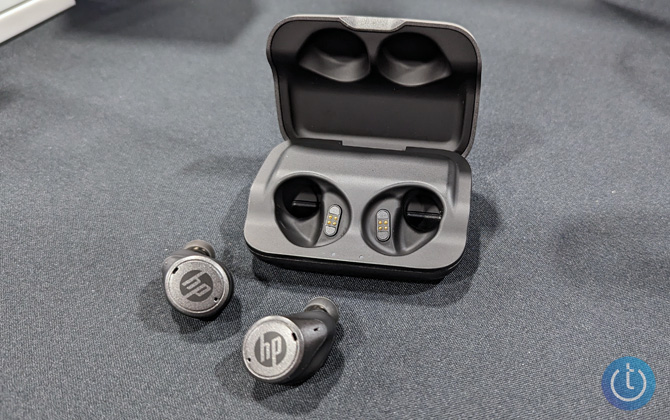 While HP's name adorns these medical-grade hearing aid buds, the tech largely comes from Nuheara, the Australian Bluetooth earbud company that makes the highly regarded IQbuds2 Max earbuds. The HP Hearing PRO are what the FDA is calling a "self-fitting" hearing aid, which means you don't need to get them tuned and fitted by an audiologist, which is why their price is so relatively low. Like standard Bluetooth earbuds, the HP Hearing PROs will not only amplify sounds for those affected by low to mild hearing loss, but also stream high-fidelity music and phone calls.
The Hearing PRO's self-fitting feature comes via Nuheara's Ear ID, a five-minute self-administered hearing test included in the PRO's complementary smartphone HP Hearing app. The hearing test automatically calibrates the PROs to your personal hearing levels. Like other Bluetooth earbud-style OTC hearing aids, the HP Hearing PRO are powered by rechargeable batteries and will come with a recharging case.
Unusual among these new earbud-style hearing aids, the HP Hearing PRO also includes active noise canceling, applied via a single tap in the HP Hearing app rather than tapping on the bud itself. Instead of the usual 45-day trial period, HP will offer a 60-day money-back guarantee, along with a two-year warranty. The HP Hearing app will also include adjustable volume, tone, and microphone directional controls.
One tech the HP Hearing PROs will likely not include is the new Bluetooth Auracast, which will enable compatible earbud wearers to hear audio broadcasts directly through the buds in concert halls, movie theaters, and public places such as airports and mass transit.
You'll be able to buy the HP Hearing Pro online (they're currently available for pre-order on the HP Hearing PRO site and Best Buy) or via hearing screening kiosks and product displays in independent pharmacies, Walmart Vision Centers, and through over-the-counter hearing aid displays in Rite Aid pharmacy stores.
[Image credit: Josh Kirschner/Techlicious]
Stewart Wolpin has been writing about consumer electronics for more than 35 years, including news, reviews, analysis and history, and has attended and covered nearly 50 Consumer Electronic Shows and around a dozen IFA shows in Berlin. For the Consumer Technology Association (CTA), he is an elector for and writes the official biographies of the annual CT Hall of Fame inductees, and is the keeper of the industry's official history.