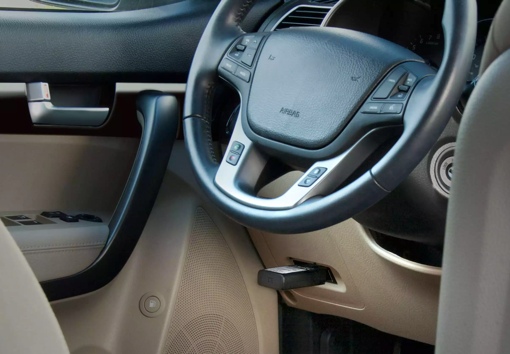 Looking for reliable Wi-Fi in your car? The new ZTE Mobley in-car hotspot, plugs into your car wire-free, drawing power from your vehicle to deliver an always-on AT&T Wi-Fi hotspot.
Unlike other in-car hotspots, the ZTE Mobley doesn't have a power cable. When your car is on, your hotspot is on. To install the Mobley, you plug it into your car's Onboard Diagnostics (OBD-II) port (found in vehicles built since 1996). And since the OBD-II port is located on most vehicles underneath the steering wheel, you won't see your Mobley unless you're looking for it.
Up to 5 devices can connect to to the Mobley at the same time to access AT&T's 4G LTE network. You can also manage access to your hotspot through the AT&T Wi-Fi Manager to set up guest access for your passengers.
While in-vehicle Wi-Fi may have once been considered a luxury, Internet connectivity is becoming a must-have for many car owners. Adults need Wi-Fi to get caught up on work while kids are demanding Wi-Fi for their entertainment, from streaming video and music to playing games on tablets. The Mobley is a good option for adding Wi-Fi to older vehicles, especially for existing AT&T customers.
The ZTE Mobley Wi-Fi hotspot is available for free with a 2-year contract or for $100 through AT&T online or at AT&T stores. You can add the Mobley to your AT&T Mobile Share Value plan for an additional monthly access charge of $10. Or, use it with a DataConnect plan with monthly cost of $20 for 1 GB of data or $30 for 30 GB of data.
[Image credit: AT&T]