The Best True Wireless Earbuds Under $100
Techlicious editors independently review products. To help support our mission, we may earn affiliate commissions from links contained on this page.
Ninety-nine bucks doesn't buy what it used to in true wireless stereo earbuds. With today's best-bred bargain earbud models, it buys far more and, often, for far less. The top earbud models in my testing all delivered a solid set of features, including:
surprisingly top-notch audio performance;
good comfort and styling;
easy and versatile control operations;
decent waterproofing;
long play time between battery charges;
and stable wireless Bluetooth connectivity, even with audio sources 30+ feet away.
Pretty much all the things I insist on, personally, from my perch as a long-time music critic and audio products tester.
Having listened to literally tens of thousands of albums (of all musical stripes) on hundreds of different speakers and headphones, I'm spoiled by the best stuff and have little patience for products that don't provide honest, natural, just-like-being-there reproduction. And as one who listens for several hours at a stretch, the long-term wearability of headphones is equally important. If my ears start hurting, my judgement is blown.
How We Picked Our Winners
To arrive at the best true wireless earbuds under $100, I ear-tested more than two dozen different promising products. Did I miss some worthies? Undoubtedly. New entries in the category are landing every month from brands familiar and fresh off the boats.
Candidates were subjected to hours of nonstop play, both at home and on the street. For consistency and comparison's sake, all were cranked with the same music – well recorded new tracks by country/blues fusionaries Robert Plant & Alison Krauss (Raise the Roof), chamber folkie Aimee Mann (Queens of the Summer Hotel,) jazz master Christian McBride (Live at the Village Vanguard) and neo-soulsters Bruno Mars & Anderson Paak (An Evening with Silk Sonic.) All beamed from my iPhone 12 Pro in CD quality streams from Qobuz, Tidal, and Apple Music.
First eliminated were the dud buds I found unduly complicated to set up (from Ikea-like pictograms) and oddly interfering with my smart phone's normal operation (talking ' bout you, Skullcandy. It's not okay to divert incoming-call audio to nothing when the earbuds are off.). Also rejected were buds suffering from a dull thudding bass (like the Linearflux Hypersonic DX, a new creation from the same team at Monster that kick-started Beats), models difficult to extract from their magnetized charge case, and buds suffering from flakey thermal touch controls (a way too prevalent syndrome).
Saddest to let go (though I had to) were the true wireless earbuds that had good sound but punishing design attributes (ear poking, stretching, stressing), making them unwelcome guests after a mere hour of use. Even seasoned makers' products suffered here - including the Yamaha TW-E3B, Sony WF-CF500 and JVC Gummy mini True Wireless GHAZ55T.
On other counts, I willingly made compromises. While otherwise quite winning, the Active Noise Cancelling promised in our favored JBL, Soundcore and JLab models proved only modestly effective, at best. For really potent, shut out the world ANC, you gotta go with a premium-engineered, $200 (or so) set from a Bose, Apple or Sony. Also M.I.A. in these bargain earbuds is dual-device connectivity – the smarts to seamlessly switch the buds' attention from, say, music beaming from a computer to answering a phone call and then back again when the call ends.
But if you can make these small compromises, come, save money, and be glad. One of the earbuds below will make you a very happy camper.
The Best True Wireless Earbuds Under $100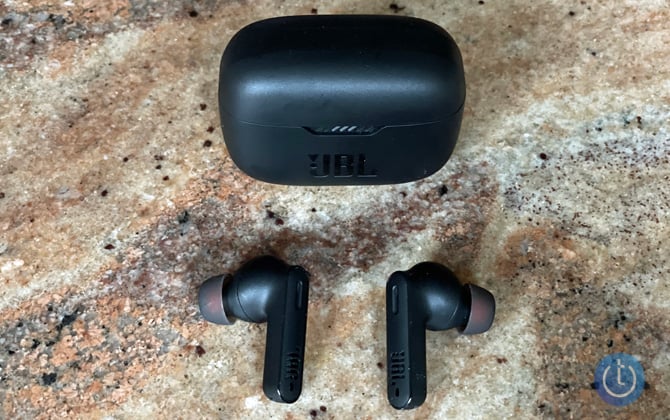 Best true wireless earbuds under $100: JBL TUNE230NC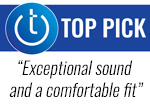 The JBL TUNE230NC's sound is exceptionally well balanced and full-bodied across the frequency spectrum. Set up and operation are easy, with responsive, not-too-skittish thermal touch controls. Voice control is the most sophisticated in my testing group, switchable between Siri, Bixby, Google Voice or Alexa assistance as supported by your device. The helpful JBL Headphone app tracks battery usage, invites you to change the equalization and activate the effective Talk Through feature (to hear/respond with the outside world) or a barely appreciable Active Noise Cancelling function – the only weak link in this design. Mobile phone call sound is above average on both ends. The fast charging function is better than most – yielding 2 extra hours use after just ten minutes reconnection.
JBL has two true wireless earbuds – the TUNE130NC and TUNE230NC – that offer similarly superior performance and features, with one significant difference. The TUNE130NC is a relatively low-profile oval-shaped construct (available in several colors) that fits more compactly into the ear opening. My top pick, the TUNE230NC combines a slimmer top section (actually putting less pressure on the inner ear rim and canal) with a vertical sound-resonating pipe (aka stem) – akin to that found in Apple AirPods. This makes the TUNE230NC a tad clunkier looking but easier to wiggle into position and (big diff!) more comfortable for multi-hour use.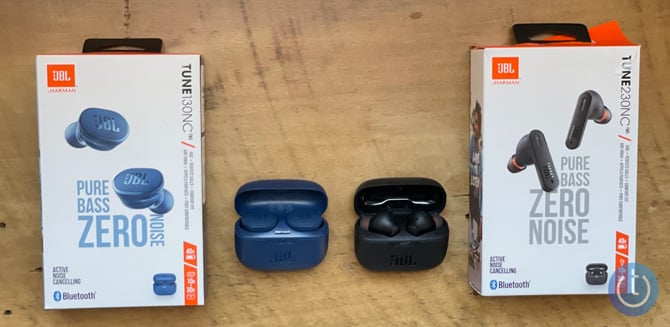 Battery life: 10 hours with ANC off, up to 40 hours with in-case recharging
Earbud weight: 5.1 grams per bud
IP rating: IPX4 - splash and sweat resistant
Bluetooth: 5.2 - lower latency and lower power
Colors: White, blue, black
Price: $99.95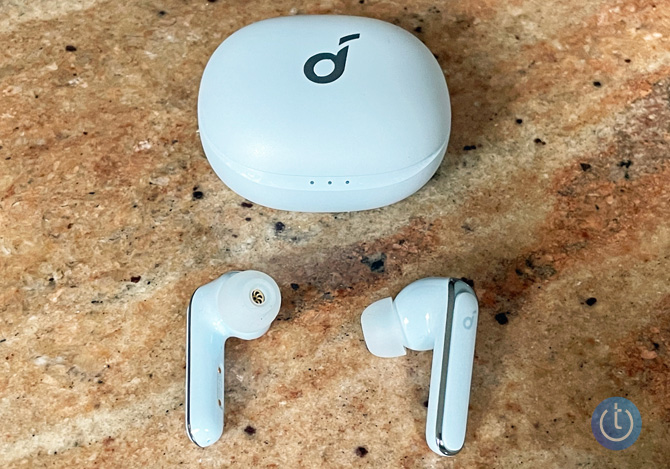 Best active noise canceling true wireless earbuds under $100: Soundcore Life P3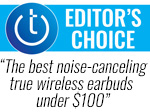 Soundcore Life P3 steps to the fore with the best Active Noise-Cancelling and Talk-Through modes I found in any under-$100 true wireless stereo buds. Sound quality through the oversized 11 mm drivers is quite agreeable. It is tuned with a tad of bottom end boost for the bass freaks even in the Flat EQ setting. A staggering twenty-one EQ presets are available in all (I like "Acoustic"), plus a custom EQ option. Also interesting is the "Superior Sleep" menu – a user-customizable blend of snooze-inducing nature sounds (birds chirping, waves lapping, etc.) you can turn on by their lonesome or overlay on music. And, the Life P3s boast the most welcoming ergonomics, staying consistently comfortable over several hours use.
The look of the Life P3 pipe buds is sleek, modern and slightly blingy with a bit of chrome edging and a variety of color options. They are the easiest of the surveyed bunch to extract (bravo!) from their magnetized case and the thermal touch controls work well. Phone call sound is, um, adequate. Bonus touch – the case recharges wirelessly atop an optional Qi charger or with a connected USB cable.
Battery life: 7 hours, up to 35 hours with in-case recharging
Earbud weight: 5 grams per bud
IP rating: IPX5 rating - survives a shower-outdoor or indoors
Bluetooth: 5.0
Colors: Black, coral red, navy blue, oat white, sky blue
Price: $79.99


Other Recommended True Wireless Earbuds Under $100


Jabra Elite 3
Swedish-designed Jabra Elite 3 buds offer a terrific, full-bodied and honest sound – not quite as aggressive as the California lab-tuned JBLs, more akin to listening on refined Euro loudspeakers. Easy to setup and use, these polished puppies boast true push-down end cap buttons (not iffy thermal touch controls) that can be manipulated even when wearing gloves. Less bulbous and lighter than prior Jabra buds, the Elite 3's molded back is carefully contoured to match the inner curves of the human ear. That enables a secure seal without the user forcing the rubber tips far into the ear canal, making these buds less fatiguing than most other in-ear models and enabling decent passive noise suppression. A mildly effective Hear Through listening option using on-board microphones is available.
Calls sound good on both sides and either earbud can be used in mono mode, which makes them the best choice if you'll be using your earbuds to make important calls. On the downside, these things lack in-ear detection to auto pause the music when one is removed. The app offers six EQ presets. Qualcomm's AptX coding expands the audio fidelity of Bluetooth streams from Android devices, also enables Alexa Built-in and Spotify Tap compatibility. (Almost makes me wish I wasn't an iPhone devotee.) If you run out of juice, 10 minutes fast charge yields one hour playback.
Battery life: 7 hours, up to 28 hours with in-case recharging
Earbud weight: 4.6 grams per bud
IP rating: IP55 rating - dust and sustained water spray resistant
Bluetooth: 5.2 - lower latency and lower power, supports aptX for higher res music
Colors: Lilac, dark gray, light beige, navy
Price: $79.99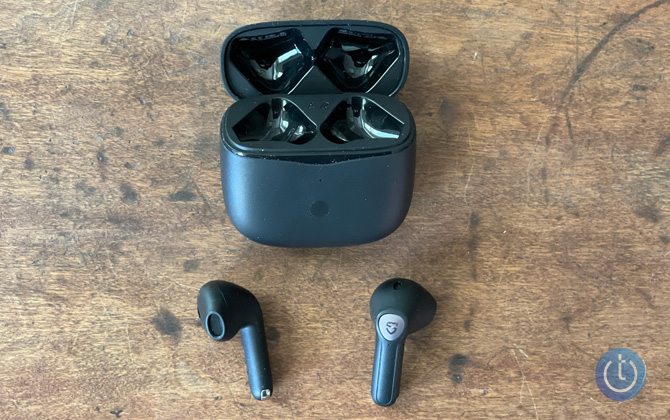 Soundpeats Air3
For long-term, fatigue-free music and podcast listening, it's hard to beat Soundpeats Air3, a most worthy bargain alternative to the AirPods. Weighing just four grams each, these half-in, short pipe earbuds feel like...absolutely nothing is resting in the bowl of your ear. So yes indeed, they are tops in comfort! And yet these little things do stay in place and entertain exceedingly well at home and in transit – painting pretty and surprisingly loud (if need be) sonic pictures with a modicum of bass intonation, solid mid-range response and a steely high end that can cut through the city traffic din even without any noise reduction on board. A dedicated button on the case makes activation and re-pairing easy, thermal touch controls work OK. Phone calls sounded fine in this wearer's ears though a friend at the other end asked "Are you talking in a paper bag?" (Nope, can't have it all.) With a case that's likewise tiny and light, Soundpeats Air3 are the ones I most often grab in a rush out the door.
Battery life: 5 hours, up to 17.5 hours with in-case recharging
Earbud weight: 4 grams per bud
IP rating: IPX5 - survives a shower-outdoor or indoors
Bluetooth: 5.2 - lower latency and lower power, supports aptX for higher res music
Colors: Black, white
Price: $49.99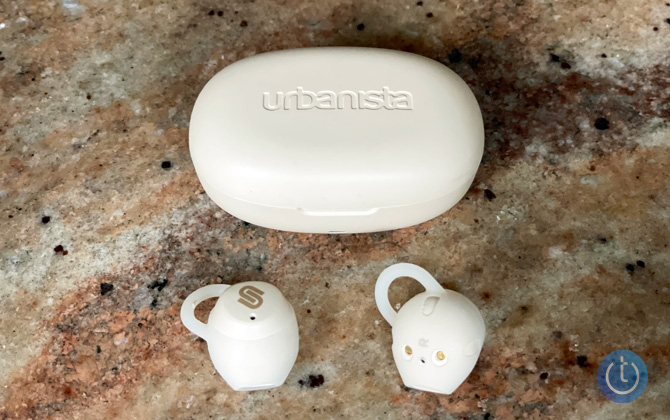 Urbanista Lisbon
The Swedish designed Urbanista Lisbon is the smallest, most discretely-fashioned in-ear wireless bud I've encountered – so petite the pair might be mistaken for groovy Loop Earplugs. Exposing just 7/16th inch (across) of an end cap in mint green, coral peach, vanilla cream, blush pink or midnight black, these cute-as-a-button buds stay-put with a fluted back (akin to the Soundpeats and AirPods) and a tucked-in silicon ear wing that's easy to deploy if you're nimble fingered.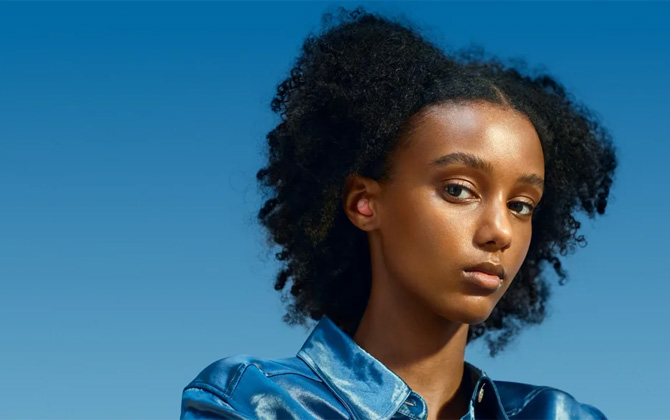 I can't overstate how pleasant it is to NOT have rubber stopper tips clogging up and putting pressure on my ears here. Bass response is precise but faint, alas. Otherwise, Lisbon's sound is lively, lucid and fun. Yes, they work with voice assistants. Kinda comical to observe, these tiny buds keep humming when removed from the ears, until you return them to their case. A bit more concerning – these Urbanistas carry no dust/water-resistance rating. So take the maker's glammy, groovin' on-the-beach product images with a grain of salt and hopefully no sand. Overall, I'm charmed.
Battery life: 9 hours/27 total with in-case recharging
Earbud weight: 4 grams per bud
IP rating: None
Bluetooth: 5.2 - lower latency and lower power
Colors: Green, coral peach, vanilla cream, blush pink, midnight black
Price: $49.90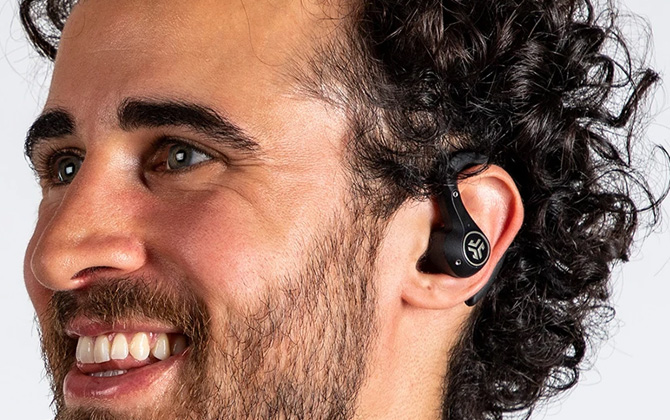 JLab Epic Air Sport ANC True Wireless
With their secure, wrap-around, ear-gripping rubber hooks, the JLab Epic Air Sport ANC buds aren't going anywhere. But you can venture everywhere. Long distance cyclists and marathon runners will appreciate their best-in-class waterproof rating (IP66) and 15+ hours of playtime per charge. The recharging case also is high capacity and stands out with its integrated charging cable (which plugs into any USB-A port in the storm) plus the added ability to plotz down and revive on a wireless Qi charger.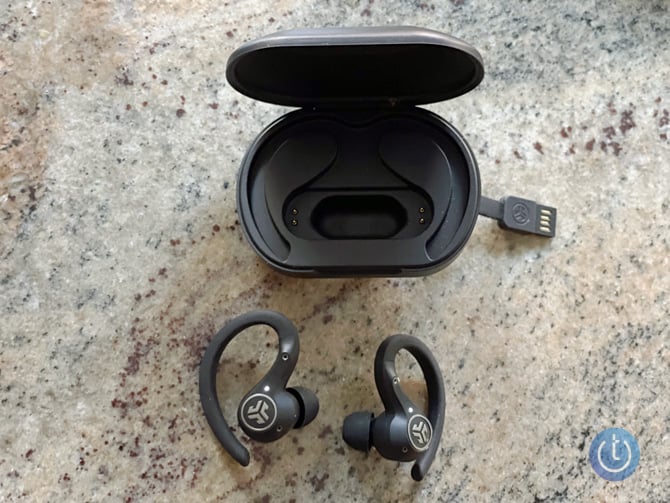 (JLab actually builds an integrated charge cable into all true wireless models, starting with the Go Air Pop – a decent sounding, $20 "steal" if your ears can tolerate their chunky contours.) Fit and fidelity in the rounded Epic Air Sport ANCs are both pretty decent and the combination of passive and (mild) active noise cancellation prove effective if you size-up and push in the rubber tips so they're super snug. The "Be Aware" hear-through mode only works well if you turn down the music volume – not difficult to do here as Epic Air's on-board touch sensitive (and user customizable) controls react better than most.
Battery life: 15 hours, up to 70 with in-case recharging
Earbud weight: 10 grams per bud
IP rating: IP66
Bluetooth: 5.0
Colors: Black
Price: $99.00


[Image credit: Jonathan Takiff/Techlicious, Urbanista, JLab]
Jonathan Takiff has spent the last four decades as staff music critic and tech columnist for the Philadelphia Daily News and Philadelphia Inquirer. His weekly "Gizmo Guy" column and monthly "New Releases" (album) column were syndicated nationally by the Knight-Ridder/Tribune Newswire. He also spent a decade hosting WMMR during its most adventurous "free form" era, breaking the likes of Bruce Springsteen, U2, Bob Marley, Weather Report, Carole King, Genesis, Pat Metheny, and Billy Joel. A period Jon chronicles in the liner notes for the "Legacy Edition" of Joel's "Piano Man." Jon has also contributed to Audio Video Interiors, Video, and Sound & Vision magazines.
Discussion