8 Must-Have Beauty Products
Techlicious editors independently review products. To help support our mission, we may earn affiliate commissions from links contained on this page.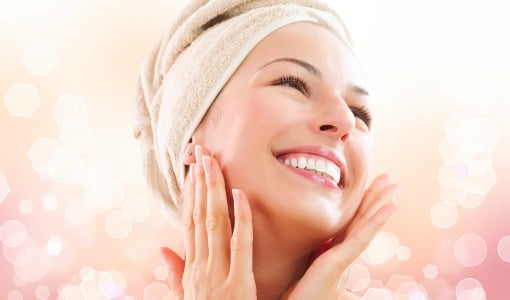 Keeping your hair, skin and nails looking flawless isn't easy. Even if you're aiming for a low-key, natural look, your beauty routine can take time and effort — but with the right high-tech beauty tools, you can spend less time attaining the look you want and more time enjoying it.
We found six high-tech beauty tools to streamline your beauty routine. Check out our picks.
For Perfect Curls: Infiniti Pro by Conair Curl Secret
Great curls take time along with the proper application of heat and some hair gel to hold them in place. The Infiniti Pro does away with your curling iron to make curls that are both perfect and effortless. How could we say no to that?
The Infiniti Pro winds your hair into a tourmaline ceramic curl chamber, where it is held and heated to 400 degrees to form a perfect curl. Though there's a bit of a learning curve to using this gadget just right, the settings are simple; just set the timer and the heat level to choose tighter or looser curls. Once you've got the hang of it, you'll have perfect curls without any fuss every time.
Price: $76.51 on Amazon
For a Hairstyle That's Straight or Curly: InStyler Wet To Dry Rotating Iron
If you'd rather keep your options open while still saving time and effort, the multipurpose InStyler may be exactly what you're looking for. This handy hair tool dries your hair as it styles it, so you can go straight from the shower to curling, straightening, smoothing and adding volume. As you pull towel-dried hair through the InStyler's rotating barrel, it pulls water away from your hair to evaporate.
For a straight style, just pull the InStyler through your hair like a straightening iron. For curls, use the InStyler more like a curling iron, wrapping your hair around the barrel and holding it. Though it requires a bit more effort to get the right style than the Infinity Pro does, it also gives you more options — which could be exactly what you want to shake up your haircare routine.
Price: $99.99 on Amazon
For Hair Removal: Tria Beauty Hair Removal Laser 4X
Professional laser hair removal is a pricey process that may not fit into your budget even though it can rid you from the nuisance of shaving, tweezing or waxing. Though the Tria Beauty Hair Removal Laser is still an investment, it costs less than professional treatment and provides results without leaving the house. The first FDA-approved laser for home use, it uses a laser to target hair follicles, offering 70 percent hair reduction in just three months of use.
Though these results aren't as immediate as shaving or waxing, they do last long-term after a few treatments, which may make the Tria the perfect way to maintain your bikini line for beach season.
Price: $449 on Amazon
For the Best Gel Manicure: Panasonic Nail Gel Polish Removal Tool
Gel manicures offer flawless, long-lasting nail color at the cost of being a nuisance to remove. But that doesn't mean you have to run to the salon when you want to remove it; instead, pick up Panasonic's Nail Gel Polish Removal Tool. This buffer can quickly remove the first gel layer, though you'll still need to soak your nails in acetone to fully remove the polish after that.
Once your polish has been removed, the tool can help you shape your nails and cuticles to get ready for your next manicure. The only thing it won't do is paint them for you!
Price: $24.99 from Panasonic
For Perfect Pedicures: Amopé Pedi Perfect Electronic Pedicure Foot File
Pampered feet are the perfect accessory for summer sandal season, and this electronic file is the ideal way to buff away hard skin and get soft feet. There are no sharp blades here, just a roller with microabrasive particles that remove dead skin and leave you with softer, smoother feet. Just run the battery-powered roller in regular strokes over your feet, applying light pressure, until only soft skin remains.
Follow up by washing away any dead skin and applying your favorite moisturizer.
Price: $35.13 on Amazon
For Radiant Skin: Philips PureRadiance Multi-Speed Skin Cleansing System
Facial brushes are our favorite way to clean. Their vibrating brush heads break up dirt, remove impurities, deep clean skin, clear pores and improve circulation. The end result is skin that looks great whether you're following up with makeup or not. Our favorite brush is the Philips PureRadiance, which uses sonic technology to offer cleansing that's 10 times more effective than removing makeup by hand.
The PureRadiance is an easy-to-use cordless, rechargeable brush with an automatic timer to tell you how long to clean each section of your face and get your skin completely clean in just one minute. It comes with a normal brush for daily use and an exfoliating brush for weekly use, and you can also get brushes for sensitive skin, extra-sensitive skin, or deep pore cleansing. If this is your first time using a facial cleansing brush, add it to your routine gradually and be prepared to see some breakouts when you first start; you can help counteract these by adding over-the-counter acne medications or cleansers to your routine. After a couple of weeks, you should see clearer and more radiant skin all the time.
Price: $124.99 on Amazon
Panasonic Heated Eyelash Curler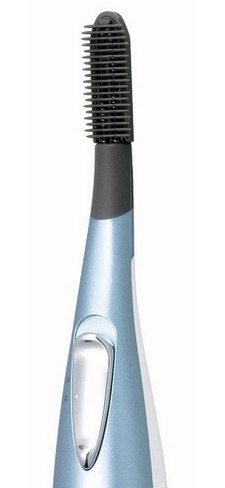 Put down that painful-looking eyelash contraption and pick up this svelte, futuristic accessory from Panasonic. No pinching, no tugging and absolutely no pain will come from this magic wand-like curler, which combs, curls and separates each lash individually.
The built-in indicator alerts you to when it's ready to use. A single AA battery delivers 42 minutes of use.
Price: $12.67 at Amazon
Simplehuman Sensor Mirror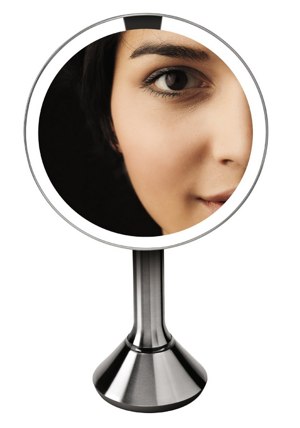 The evil queen has nothing on this lighted, stainless steel mirror. The 6.5-inch mirror's LED bulbs accurately simulate bright, natural sunlight for applying a fresh face that looks great in any lighting. (Hence the high price tag)
By using LED bulbs, this mirror will suffer zero bulb burnouts for years to come. The 7x magnification makes putting on your makeup a breeze, while the cordless design lets you take it anywhere you might need a touch-up.
Price: $160 at simplehuman.com or $159.99 at Amazon
To Watch for: Oku Skin Analyzer
Though it's not on the market yet, we're keeping our eyes on the Oku Skin Analyzer, an accessory that scans your skin and offers you skincare advice through a smartphone app tailored to your skin's current condition. Oku sets goals and tracks your progress to help you find your most radiant skin. Though we haven't seen the Oku in action, our interest is piqued; we're curious to see just how the Oku fares in action.
Price: $249.95 preorder from Oku, shipping late spring 2015
[Woman in towel image via Shutterstock]
Discussion