3 Toys that Teach Kids About Electricity & Circuits
Techlicious editors independently review products. To help support our mission, we may earn affiliate commissions from links contained on this page.
Just what happens behind your walls when you flip a light switch? Or when you turn on the television or your computer? Electricity, wiring and circuitry power everything we do, and knowing how these things work can help kids get a head start in science. Fortunately for parents, this year's Toy Fair showed off new toys that can teach kids about electricity and circuitry—and even help build their own gadgets!
MakerBloks

Think of MakerBloks as super high-tech LEGOs. Connect these colorful magnetic blocks and they'll do different things based on how they're put together. Attach an LED light block to a battery block and a switch block and your child has a simple light they can turn on and off. Add in a resister block and the light will be dimmer. Replace the switch with a photoresistor and you'll have a light that will turn on when it's dark. The more blocks your child adds, the more complicated the resulting gadget becomes. On top of just being able to play with MakerBloks, they sync—via Bluetooth—with a digital activity book available for iOS and Android, which pushes your child to solve increasingly complicated puzzles, with a unique story and colorful characters to keep them involved.

While these building blocks they seem like a game, MakerBloks are really teaching your child about how electronic circuitry works. You can buy MakerBloks in three kits of 26 blocks each: a spy kit that lets kids build lie-detectors and burglar alarms, a music kit that lets kids build their own digital instruments, and a circuity kit that lets kids build their own high-tech toys and games

Age: 6 and up
Price: $199 (just reduced from $249)
Availability: Spring 2016
ThinkFun Circuit Maze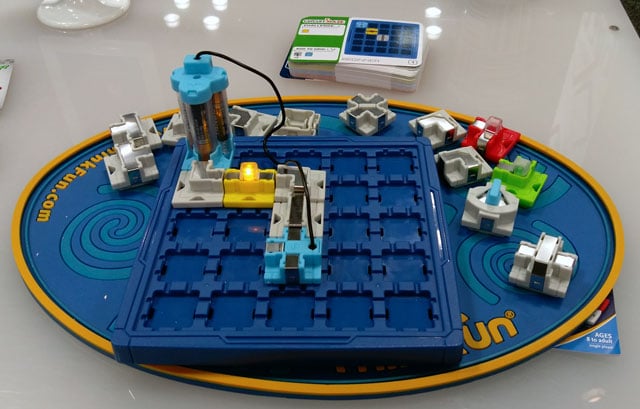 No, you don't have to tear open a wall to show your child how household wiring works to turn the lights on when you flip a switch. ThinkFun's upcoming Circuit Maze game will walk your child through the basic concepts of electrical engineering in the guise of an engaging puzzle game—which will give those critical thinking and problem-solving skills a workout, too. The goal is to cause the game board's beacons to light up, and when you plug in the pieces correctly, creating a circuit, they will.

The 60 levels of logic puzzles—each challenging you to create a different type of circuit to light the board's beacon—were designed by World Puzzle Champion and puzzle-creator Wei-Hwa Huang to present a challenge to gamers at all levels of skill. As your child advances through the puzzles, they'll learn increasingly advanced electrical engineering concepts, including series circuits, parallel circuits, series and parallel circuits in combination, and parallel circuits in bypass. Onward, future engineers!

Age: 8 and up
Price: $29.99
Availability: March 2016
Thames & Kosmos Sewing Circuits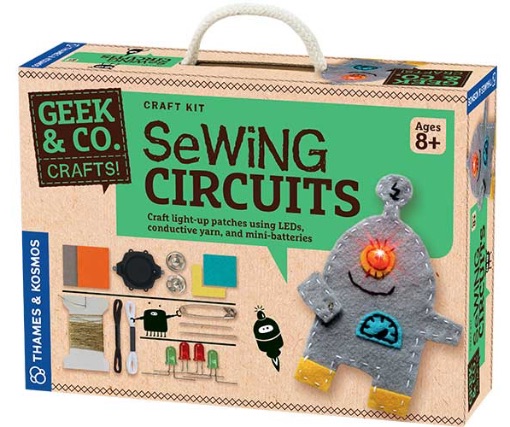 Instead of traditional circuits and wiring, Sewing Circuits gives kids a different look at how electricity and circuitry work. Instead of wiring or high-tech building blocks Sewing Circuits uses old fashioned needle and thread—only in this case the thread can safely conduct electricity. The result is a fun crafting project that's also an opportunity for kids to learn some high-tech concepts.

The Sewing Circuits craft kit includes conductive thread, conductive yarn, LED lights, and mini-batteries which you can combine to create felt patches—or just about anything else your child might want—that light up. And even though the techniques are old-fashioned, the technology isn't: your child will learn electricity and circuitry basics while crafting their own unique light-up accessory!

Age: 8 and up
Price: $25
Availability: Summer 2016
[Image Credits: MakerBloks, Techlicious, Thames & Kosmos]p
Discussion