Acoustic Research XSight Touch Universal Remote Review
Techlicious editors independently review products. To help support our mission, we may earn affiliate commissions from links contained on this page.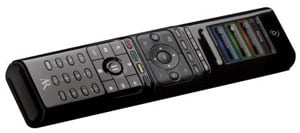 I use three remote controls on a regular basis to control our A/V center, so I'd love to find a universal remote to replace them, without losing any of the features or ergonomics. The Acoustic Research XSight Touch is the closest I've come. It has a color touchscreen for quickly switching between devices, starting activities ("Watch TV" or "Watch DVD") and accessing favorite channels, plus a backlit keypad with all the buttons I need to control the most commonly used features of my cable box and TiVo.
Out of the Box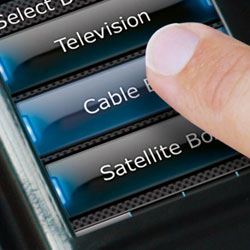 If all you want is to map buttons for your individual components, setup is a snap. It literally took me less than five minutes to be up and running. What really impressed me was the fact that secondary buttons, like the one that changes the aspect ratio on my TV, was automatically mapped to the touchscreen. All the buttons were there.
What makes a remote like the XSight really stand out, though, is its ability to perform a series of tasks, or activities, with the push of a button. To create an activity, like "Watch TV," you create an account on the Acoustic Research EZ-RC website and attach the remote to your computer. The website then steps you through the process of determining which devices you use for each activity, where everything is hooked up and which remote you use to perform each task, like controlling volume. You can also input your favorite channels and add either a text label or graphic. Unfortunately, the process took longer than it had to because the website is very slow.
If you're setting up a remote like the XSight, make sure you create "Hello" and "Goodnight" activities to turn all your devices on and off. Unless your equipment has separate codes for on and off (the vast majority don't), the remote has no clue whether your devices are on or off.

Using the Remote
The XSight is a little heavier than your typical single-device remote— not surprising considering the touchscreen and battery required to power it—and it feels solid in your hand. Like with many remotes, I found it to be a little wide for one-hand operation. Even men will have to use two hands to work the touchscreen—one hand to hold it and the other to operate the slider that lets you switch between screens for access to additional device buttons or favorite channels.
The touchscreen is resistive, not capacitive like the iPhone. So you have to apply some pressure to make your selections. Once you're used to it, touch operation works smoothly.
The backlighting on the buttons is great and the buttons themselves have a nice tactile click when you press them. I would have like to see the top two rows of buttons a little larger, though, since they're responsible for important functions like the onscreen program guide and favorite channel list.
You'll want to keep the charging cradle handy for the remote. It will go for weeks without recharging. But with that LCD sceen on top, this isn't a remote I would want to keep jammed between the sofa cushions.
Summary
Once the remote was set up, it worked beautifully. Babysitters who have never watched TV in our home were up and running on the new remote immediately. And I could finally stash all of my old remotes in a basket—that is until my review period was done and I had to send the XSight back.
Acoustic Research XSight Touch ($250): Buy Now at Amazon.com
Discussion
New Articles on Techlicious