We may earn commissions when you buy from links on our site. Why you can trust us.
Give Film Another Try with a Lomography Special Effects Camera
Have you heard the term "Lomography" yet? If not, I think you're about to get excited.
Lomography, or lomo, cameras are typically inexpensive, made of plastic with few controls, and require film. They produce an artistic snapshot that is unpredictable, experimental, and sometimes accidental. Characteristics of this type of photography also include blur, saturated colors, incongruous exposures, and a specific desired effect depending on the model of camera.
One of my favorites in the Lomo line is the fisheye camera. This is the only 35mm camera being produced anywhere with a built-in fisheye lens. It comes in multiple color options, is lightweight, and comes with a built-in flash. Prices range from $50-$80 at lomography.com.
The fisheye lens offers between a 170-180 degree wide angle view which not only shows more in the frame than a typical lens or camera, but it also distorts the subject & begins to curve the lines within a circular shape. The closer the lens gets to the subject, the more distorted the image will be. The lens also incorporates a large depth of field to capture the foreground and background in focus.
If you're looking for something attention getting and fun or if you just want to let go of the control that the digital age has brought with it's fancy technology, then one of these cameras is for you. They are easy to carry around, and at under $100, there's little "worry" that you, the kids or dog may break it.
One last bit of advice, if you do happen to venture into the unknown with one of these charms: Watch out for creeping feet and the dangling lens cap, which find their way into shots because of the fisheye lens's super wide angle of capture.

---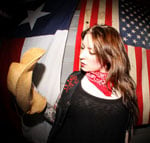 Jenn Alexander Fletcher, aka BlondeShot Creative, specializes in unconventional lifestyle photography and is based in Atlanta, GA. You can find a sampling of Fletcher's work on her blog: www.blondeshotcreative.blogspot.com. She has been exhibited and published nationally, both for her photography work and writing. Fletcher is also a camera equipment technician & blogger for KEH.
Discussion