Hands-on Review of Microsoft Kinect for Xbox 360
Techlicious editors independently review products. To help support our mission, we may earn affiliate commissions from links contained on this page.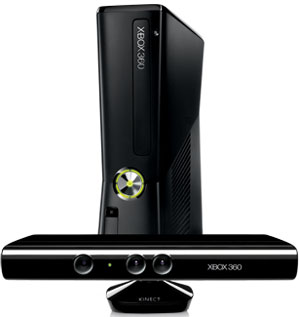 Four years ago, Nintendo changed the way people played video games, with Wii, the first system that lets your body movements control game play. This Fall, Sony followed suit with its Move controller for PlayStation 3. And today, Microsoft joins in with Kinect for Xbox 360.
Microsoft Kinect does away with game controllers entirely. It uses a sensor bar with a pair of cameras that tracks 48 points on your body and an array of four microphones to pick up your voice, so your body becomes the game controller, letting you interact virtually within the game.
I spent much of the last week playing Microsoft Kinect with my kids—ages nine and six—and their friends. My opinion? Kinect is a great purchase for Xbox families with tweens and young teens, and is a lot of fun for the parents, too.
Rating: Highly Recommended (for tweens and young teens)
Out of the box
Setting up Kinect is simple. First you plug the Kinect sensor into the Kinect port, if you have a newer Xbox 360, or the USB port and an outlet for older models (the power supply is included). Then you turn on your system. Your Xbox 360 will get an update over your home network that will make it Kinect compatible and you'll be ready to go.
The next step is for Kinect to scan your room to see if there are people standing or sitting in front of it. When it's finished, you see a black-and-white image of you and your space in the lower right corner of the main screen.
Navigation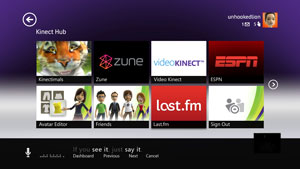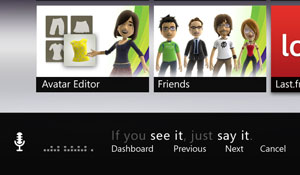 Waving activates motion control and sends you to a screen called Kinect Hub, an area for Kinect-enabled games and services and games, like Zune and ESPN (Xbox features outside the Kinect hub, such as Netflix, require you to use your regular Xbox controller). You can also talk your way through menus by saying "Xbox" and then reading from the list of voice command options that appear onscreen.
Working your way through menu options by pointing at buttons isn't quite as easy as you may think. To get Kinect to recognize a choice, you have to hover over the button with your hand for a few seconds. I'm sure the system could recognize your choice more quickly, but it wants to make sure you weren't just passing over that option on the way to another one. For me that was no problem, but for my 6-year-old the wait was a challenge.
The navigation within individual games will also vary. While many were well set up, I did have a little trouble with the button controls for the Your Shape fitness game. They controls were so close together I had to execute a surgical strike to hit the correct one.
Voice commands, not surprisingly, only worked well when it was reasonably quiet. A nice touch is the box at the bottom of the screen that shows that Kinect is listening and which commands are available. I'd gladly use this to play music or control movie playback.
Playing games
While I like playing games, I'm not a huge fan of game controllers and the complicated key combos required for many games, so using Kinect was a welcome change for me and the kids picked it up quickly. Regardless of whether you like controllers or not, for most Kinect games you won't miss the controller and most benefit from its absence.
When you start a game, Kinect will try to identify you—match your face to your Gamertag and avatar (you create this when you set up that system and can add them for each household member). The more you play, the more accurate it becomes. After a week of playing off and on, it knows who I am every time. You then see your avatar on screen within the play zone—a green box you need to stay inside of for Kinect to "see" you.
Microsoft says to leave a minimum of six feet between you and the Kinect sensor, but I found that even the 8.5 feet that I have was barely enough, especially when my kids, ages 9 and 6, were playing. They were constantly going outside of the box, as they vigorously jumped, swung and leaned their way through the games. Kinect is smart enough to compensate for limbs darting outside the box or a person strolling in front of the sensor. You get a warning when you stroll too far, but if you're outside the box too long your avatar will simply disappear, which was very frustrating for my kids. Apparently young kids pay as little attention to warnings from game systems as they do warnings from their parents...
It's easy to get carried away while playing a Kinect game because the sensor translates speed into power. Mimicking a powerful spike while playing volleyball in Kinect Sports translates directly into a powerful spike in the game. Comparatively, playing volleyball with Sony's PlayStation Move in Sports Champions doesn't require as much movement, though you can still work up a sweat, and Nintendo's Wii remote can produce powerful effects on screen with just a quick flick of the wrist. Kinect definitely gave me, and my kids, a workout.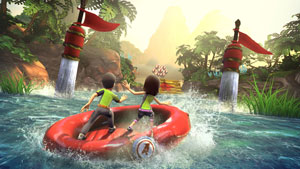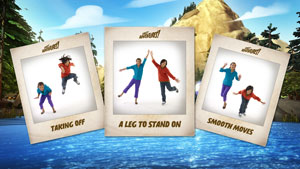 Kinectimals, a virtual pet game, definitely benefited from being controller-free. My daughter loved patting her pet cheetah on the head, throwing balls for her and generally taking care of her the way she would a real pet (though for full disclosure, her first real pet, a goldfish, died after a week). Kinect Adventures! (the game packed in with Kinect purchases) also makes more sense without a controller. There's river rafting with a lot of jumping, plugging holes, throwing balls and dodging obstacles—all great fun. The game also makes use of the sensor to take photo highlights of you in mid-air or bending at funny angles. The kids loved it.
Fitness and dance games are also a natural for Kinect. Not having to strap on a controller or hold one in my hand certainly wouldn't be a deal breaker, but it was nice not having to worry about a non-fitness piece of equipment while working out while playing Your Shape.
The game where I missed having a controller was in the driving game, Kinect Joy Ride. With both hands virtually on the wheel, the game had to manage your speed, which is an essential part in many racing games. It's easy to see how more avid gamers would miss this type of control and the shortcuts and options that are possible when you use a controller.
Beyond games
Xbox isn't just about video games, you can also watch movies, play music, view photos, and hang out with friends. For Kinect, that primarily means an easy way to browse through a video catalog, pull up some music tracks and navigate playback controls.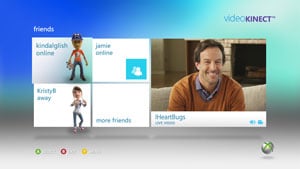 With its built-in camera and mic array, Kinect also delivers a great video chat experience on the big screen. You can connect with other Xbox Live members or anyone with a webcam running Windows Live Messenger. The service worked well in testing—as good as the standard definition Skype calls I've made using a Panasonic communication camera and Panasonic VT25 TV (Skype also supports HD). And Kinect has a better camera with its ability to zoom in on close subjects or go to a wide shot depending on where people are sitting in the room.
Pricing and availability
The Microsoft Kinect Sensor ($150), the Xbox 360 4GB Kinect Bundle ($300) and the Xbox 360 250GB Kinect Bundle ($400)—all of which come with Kinect Adventures!—go on sale today. Expect to see some great deals for holidays.
Should you buy it?
If you already own an Xbox 360, there's no question that this is a great addition. And at $150 with the controller and Kinect Adventures! game packaged together, it's a pretty good deal and bound to get even better as the holiday buying season kicks in.
For those in the market for a new game system, though, the choice isn't quite as clear.
For casual gamers Kinect is a great option. It offers an intuitive interface plus video chat and easy access to movies and music. So it's more well-rounded than its main competitor, the Nintendo Wii. It's my choice for families with tween and young teen children who are looking to do more with their game system. For families with kids under 8-years old, I'd still opt for the Wii.
If you're a traditional gamer looking for a motion-based controller system, Kinect is not for you. Xbox 360 has great games for this type of gamer, but they're not built for Kinect. The clear choice here is the PlayStation 3 with Move.
Rating: Highly Recommended (for tweens and young teens)

Kinect games available at launch
Kinectimals (Frontier Studio, Microsoft Game Studios) – Play with virtual animals, pet them, and play with them. We demo'd playing with a cute and cuddly tiger cub, which responded to petting and mimicked jumping, frolicking and playing dead. The game will include 40 animals and 30 unique activities like jumping rope.
Kinect Sports (Rare, Microsoft Game Studios) – Play solo or head to head in six major events including soccer, bowling, track, ping pong, and volleyball. The interactivity of passing the ball to another player in the room, allowing for assists and other interactive multiplayer play is impressive. Other fun extras include encouraging the crowd, launching fireworks and building your own avatar.
Kinect Joy Ride (Big Park, Microsoft Game Studios) – You are the driver of a car with six different modes including stunt mode, where you can do high flying stunts and tricks including jumps, spins and flips.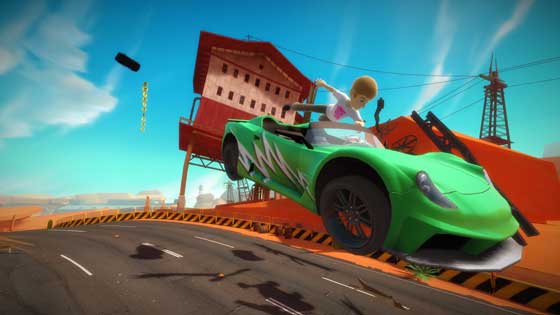 Kinect Adventures – Comes with 20 Kinect adventures that you can go on, surf rapids, ride Reflect Ridge, surf on a cloud. Get your picture taken during points in the game (just like at an amusement park), where you can then post your video or photos to Facebook or other social networking sites.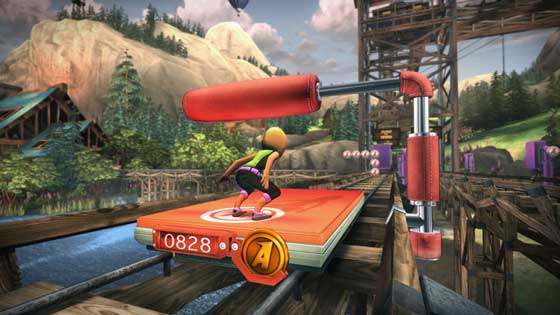 Your Shape: Fitness Evolved (Ubisoft) – This takes exercise to a whole new level. Pick a personal trainer and you can have your own personal yoga or martial arts teacher in your living room. You can engage in fun gym activities with real fitness moves and competitive games.
Dance Central (MTV Games and Harmonix) - This makes Dance Dance Revolution look like child's play with immersive real body dancing, including pop and hip hop from artists like Lady Gaga and the Beastie Boys. Take it slow with "Break it Down" mode, or go advanced with moves like the elbow throw, hitch hike, knockout, cross down and rock out. More tracks will be available for download, but will initially launch with 90 routines.
Other games will be available for the 2010 holidays including EA Sports Active 2 (EA Sports), DECA SPORTS FREEDOM (Hudson Entertainment), Dance Masters" (Konami), Adrenalin Misfits (Konami), Zumba Fitness® (Majesco), Sonic Free Riders™ (SEGA), The Biggest Loser: Ultimate Workout (THQ), Motion Sports (Ubisoft), and Game Party™: In Motion (Warner Bros. Interactive Entertainment).
Comparing Wii, PS3 Move and Xbox Kinect controllers
Nintendo's Wii controller is fairly rudimentary, pairing an accelerometer to sense motion and direction with a camera to judge where it is in 3D space.
Sony's PS3 Move provides more precise tracking by pairing a controller topped by a glowing colored ball with a camera to track it and your body. Some games, like Sports Champions, support two controllers so you can "hold" you sword in one hand and a shield in the other.
Microsoft Kinect does away with game controllers entirely. It uses a sensor bar with a pair of cameras that tracks 48 points on your body and an array of four microphones to pick up your voice, so your body becomes the game controller, letting you interact virtually within the game.
Discussion