We may earn commissions when you buy from links on our site. Why you can trust us.
Turn Your Digital Photos into Museum-Quality Canvases
So you've taken a photograph that you really like and have decided to get it printed and framed. It sounds easy, but there are many options—from printing at home and sticking it in a simple store-bought frame, to having your image professionally printed, matted and framed. If you go with option one, you get something that was obviously done in a few minutes at home: inexpensive and fine for snapshots of the family. If you go with option two, you'll probably spend a pretty penny and may end up with a gallery-quality framing job that looks nice on the wall, but may lack a certain creative edge.
Luckily, there's a third option to choose from: canvas prints. This edgy, creative alternative is a striking way to display your photographs. Depending on what you have printed, you can achieve clean, museum-looking prints that mimic paintings, or whimsical "artsy fartsy" prints that are certain to catch any house or office guest's eye.
I worked with CanvasPop to print mine, and I'm highly pleased with the operation and my final prints. They give you myriad options for borders, frames, framing depths, sizes, and special effects (B&W, vintage, stamp, etc.). The website makes it easy to take the reins and maintain creative control. Their system is well organized with step-by-step instructions, making it simple for anyone to use. Plus, they offer live customer service chat, which I turned to a few times and got immediate answers.
To make a print from CanvasPop, you must own the copyright or have permission to print the images. So, don't expect to print the studio portraits you had professionally done, but do expect to print anything you've taken or created yourself, including artwork that leans toward graphic design and collage. If your image needs a little help, their Picture Perfect option gets a designer to optimize the contrast, sharpness and red-eye at no extra cost.
Once you've chosen your options and uploaded the photographs, they'll send you a free digital proof for approval. The whole process is quick and painless—I received my prints in about a week. Further bolstering my confidence in their product is a lifetime guarantee against cracking, fading, or bubbling.
The price range for one of these canvas prints starts at $30 and goes up well into the hundreds. While this costs more than printing and framing at home, the prices are within the same range of a professional print and framing job. I wouldn't suggest printing all of your photos this way, but your very best is worthy of this display.
A few other tips
Don't choose photos with lots of minute details, as they tend to get lost in texture of the canvas. The best photos to print are ones that have the clean lines and colors that would suit a painting. The canvas medium does, after all, transform a photo into a more painting-like image.
Don't overdo the special effects. While special effects sound fun (and sometimes are), I suggest sticking with simple effects, like black-and-white or sepia tones. When you get into color isolation, sketches and stamps, they can be a little over the top—not to mention cheesy and bordering on no longer look like a photograph. Keep it simple.
Be careful with the split-panel options, which allow one photograph to be divided up and printed onto two, three, or four different panels. Think this option through carefully—you wouldn't want a photo of your child's face to be chopped in half would you? If you're interested in doing a split, print the photo at home and cut it into the same number of panels that you're thinking about having made. This way, you get a good idea of which part of the image will fall into which panel, and whether any of the important details will be cut in half. This option works best for images that are already visually divided (such as when you're following the rule of thirds).
Without saying anything more, I can hear the gears turning in your head about which photos to have printed on canvas. So go, have fun, be creative, make awesome images, display them like an artstar!

CanvasPop Pricing
Single panels start at 8x10 inches for $30 and go up to 24x17 inches for $219. You can also order a custom size.
Dyptich, or 2 panels, start at two 24x18-inch panels for $125 and go up to two 24x36-inch panels for $219.
Tryptich, or 3 panels, start at three 24x12-inch panel for $125 and go up to three 48x24-inch panels for $300.
Quad, or 4 panels, start at four 18x18-inch panels for $204 and go up to four 30x45-inch for $468.
---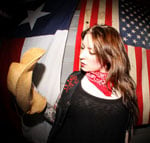 Jenn Alexander Fletcher, aka BlondeShot Creative, specializes in unconventional lifestyle photography and is based in Atlanta, GA. You can find a sampling of Fletcher's work on her blog: www.blondeshotcreative.blogspot.com. She has been exhibited and published nationally, both for her photography work and writing. Fletcher is also a camera equipment technician & blogger for KEH.
Discussion