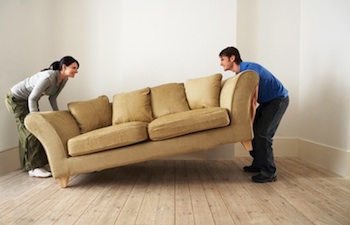 If you're ready to give your home a design makeover, you've probably spent plenty of time browsing through Pinterest, Tumblr and other style-savvy websites. But putting those looks together for your own home can be challenging when your favorite design pins don't offer much information about stores or sources.
With a unique take on an interior design search engine, nousDECOR makes it easy to create and source the look you want — at a price you can afford. Though you won't have to ditch Pinterest to use it, playing with nousDECOR will make you want to, at least where home design is concerned.
Build your moodboard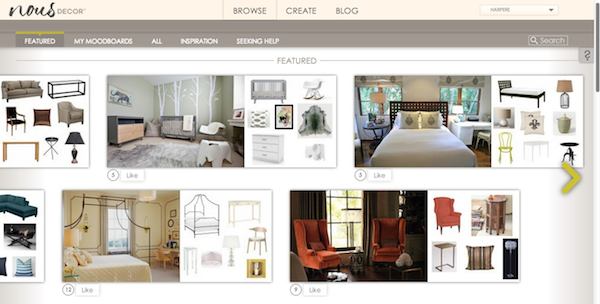 On the surface, nousDECOR reminds us a lot of Pinterest. Browse through photos of room designs and products called moodboards, created by nousDECOR editors and other users. Click Browse at the top of the page, and then scroll through designs or click on a room type —bathroom, bedroom, living, dining, nurseries and kids, office, kitchen, entertaining or outdoor — to narrow down your options.
Each moodboard consists of an inspiration image created by Mark Cutler Design as well as a selection of products that fit the room theme. If one of these looks catches your eye, click for larger photos and more detail. Click on each product in the moodboard to see information on price, construction and size or to buy it online or add it to your nousDECOR wish list for easy access later. There's no obvious store branding, but nousDECOR does search a variety of stores from IKEA to eBay, giving you a wide range of furnishing options.
Find what you want at the price you can afford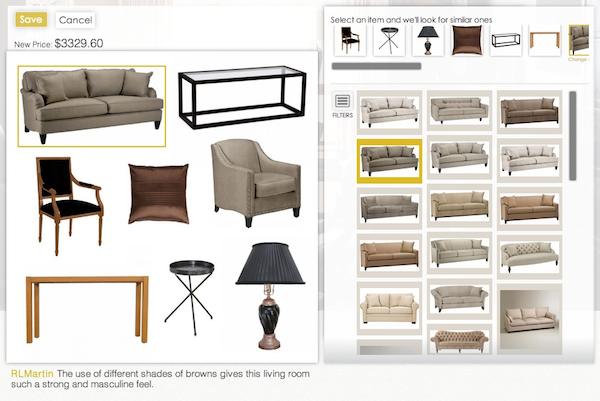 Click Explore This Look for details about the pieces in any moodboard, including a price tag for the entire room. If that price is a bit much for your budget, mouse over any item and click Same Look Different Price to find other pieces that might fit the look and your budget, too. The search will match furniture type and color (use Filters to narrow the price range as well), but styles may vary — a lot — from the original. However, browsing this way lets you customize the design to look just the way you like, whether that's an exact match for the original or not. Once you've customized the moodboard to perfection, you can save your modified design to refer to later.
To create your own look, click Create at the top of the page. Upload your inspiration image, which might be something you've found on Pinterest or Tumblr, and start picking out items that match your theme. You can search for items by name, color, price and dimensions, or just browse through the list.
When you find something you like, mouse over it for more information (including product name, retailer and price), or click on it for a detailed description. If it's exactly what you want, drag it on to your moodboard and move on to finding your next piece. Once furniture is on your moodboard, you can rearrange, rotate or delete it if you find something better, so you can get everything laid out just the way you want.
Get design advice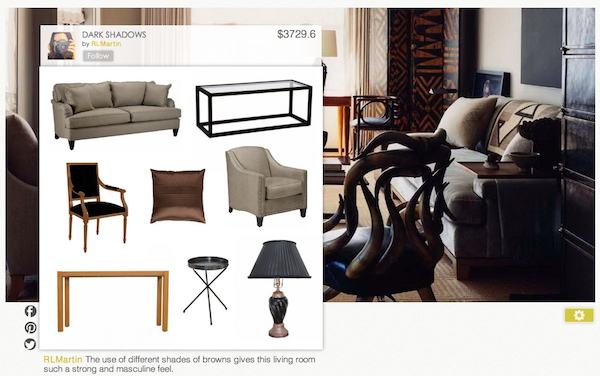 When you're done with your design masterpiece, give it a name, description and room type, and then save it. Or try clicking Seeking Help, entering any specific design advice you're after for help creating the perfect look. Choose Make this Moodboard Private if you'd like to keep your design plans to yourself.
Once your moodboard is saved, others can view it for their own inspiration (as long as isn't private) as well as like, share and comment on it. In our experience, comments are plentiful; a room design we created even got a response from one of the site's editors within an hour of saving. Our only complaint is that email notifications are also plentiful; to dial down on email, click Notification Preferences at the bottom of any email notification.
The nousDECOR search and room design options are top notch, giving you tons of room to play with your own design ideas without having to open dozens of different browser tabs to search every possible store. There are a few rough edges — for example, sometimes we'd see a message that no matches were found on a search when there were clearly matches being shown — but the overall experience isn't harmed by these details.
If you're ready for a home makeover, try nousDECOR to help turn your design dreams into design reality.
[couple moving couch image via Shutterstock]