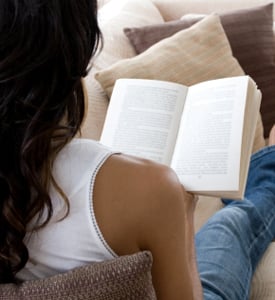 Who said you can't get something for nothing? There's a growing trend among book-swapping sites that make it easy to do just that: trade something you already own for something that you want. The great thing about using an online swap site is that you only pay for the cost of shipping—the actual books themselves are free. You can swap books from every genre, such as fiction, cooking, even comics.

The book-swap sites work like this: you list the items you're willing to part with, creating your "have" list using the UPC or ISBN codes. Then you create a "want" list of the items you would like to have. The site then searches out potential trades for you based on other users with your desired books book in their "have" lists. If there's a match, it will initiate a trade by sending email alerts to you and the owner your desired book.

By acting as the middleman, sites like the popular Swaptree have created a gathering place for people to seek out titles of interest to them, and in exchange send their own books, CDs, movies or even games to swap. Since this all takes place online, each website has developed its own online currency that determines what you can get for free. Bookins, for instance, assigns a point system to every item that you swap or obtain—the more in-demand your item, the more points you receive to apply toward future trades.

In all cases the sign-up process is easy and free—although Paper Back Swap warns that you may be charged a $10–$20 membership fee "some point in the future." You'll need to list at least one item in the system as your "have," and the more items you list, the higher the likelihood that others will find something for which to swap with you. The sites all run on currency/points, so even if you have items that no one wants at the time, Whats On My Bookshelf, for example, gives you one point for every five books you post—so technically, you could get a book for free.

Sometimes a swap may require a three-way trade of items: you ship your item to someone who wants it, they ship an item to another person, and that third person then sends you what you want. The book swap sites are regulated by the feedback received after each swap with regards to when the item was received, the condition the item was received in, etc.
Book Swapping Sites

Community Size
Media to Swap
Shipping Costs
How it Works
Lost or Damaged Book Policy
Paper Back Swap
147,800
Books, Movies, Music
Shipping: Weight-based
Receiving: Free
Receive credits for each book you list. Receive email notification when another member wants your book.
A member can declare a book as "lost in the mail" if not received by the 26th day after the book was shipped.
Swaptree
105,700
Books, Movies, Music, Games
Shipping: Weight-based
Receiving: Free
A value is determined for what you're willing to trade, and you're shown items that you're eligible to receive. Swaptree suggests trades by matching items that you have with others who want those items, and vice-versa.
Report your item "not received" and the site will assist in completing the trade.
Book Mooch
19,200
Books
Shipping: Weight-based
Receiving: Free
Get one-tenth of a point for entering books you want to give away, or for leaving feedback after you receive a book. Trade with a 1:1 book-swap point ratio.
Uses feedback scores to advise other members on user reliability. You're allowed a limited number of books "lost in the mail."
Title Trader
4,600
Apparel, Books, Electronics and more
Shipping: Weight-based
Receiving: Free
Earn points by sending an item to another user. Purchase or earn points by referring other active members.
User-generated ratings advise members on more reliable traders.
Bookins
2,000
Books, Movies
Shipping: Weight-based
Receiving: $4.49
Points are assigned to each item based on popularity of others wanting them.
Books you receive will be in good shape, and DVDs playable, or a refund will be provided.
Whats On My Bookshelf
not available
Books
Shipping: Weight-based
Receiving: Free
Receive points for registering books based upon the new book price. Receive one credit for every five books registered.
The site will handle all disputes for books not received.