5 Best Smart Locks for Your Home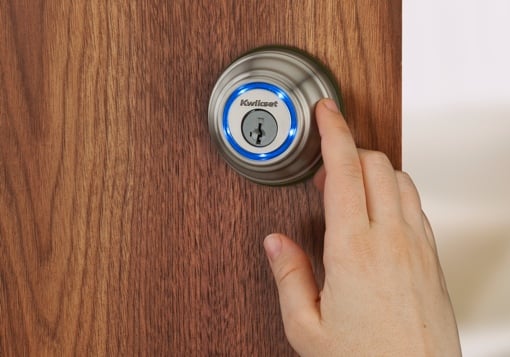 Smart door locks are arguably one of the nicest of smart home comforts. They can automatically detect your presence via the Bluetooth connection in your smartphone (or a Bluetooth keyfob) and unlock your front door for you. They let you send electronic keys to your friends that work only during times that you specify. Some will even connect to your larger home automation system, telling your smart thermostat when you're away so it can enter its energy-saving mode. And did I mention they all look really cool and futuristic, and tend to get a lot of compliments from guests?
If you're considering buying a smart door lock, you should first know your options. There are two main types available: locks that connect to your home Internet connection via Wi-Fi and Bluetooth-only locks. Wi-Fi locks offer more functions (like being able to see whether your door is locked in real time), but are inherently less safe because they're always connected to the Internet. Bluetooth-only locks offer more security, but at the expense of features. Bluetooth also tends to cause a lot of minor but annoying lag in the unlocking process.
Armed with that basic knowledge, you're ready to go shopping. Our staff at Techlicious has rounded up the most popular and intriguing smart door locks that are currently available, and a few that will be available soon. Take a look, and see which one of these cool high-tech locks is right for your family's home.
---
August Smart Lock
The August Smart Lock is one of the most popular locks currently available. It's smart enough to know when you're coming and going, knowing not to unlock the door if you're passing by it inside your house. The base August lock is Bluetooth-only, but you can purchase the optional August Connect ($49.99, coming soon) to add on Wi-Fi features like remote buzz ins and real-time unlock alerts. It's powered by 4AA batteries, and can send your phone low-battery alerts when needed. It is also Works with Nest certified as of January 2015.
The August Smart Lock, which replaces your current deadbolt lock, is currently available in your choice of Dark Grey, August Red, Champagne and Silver colors on Amazon.com for $249.99.
---
Kwikset Kevo & Kevo Plus
The Kwikset Kevo is rather discreet for a smart door lock – it doesn't look much different than a standard deadbolt, save for the ring of blue lights around it. The Bluetooth-only lock, which replaces your existing deadbolt, works by touch – tap the lock, and it'll unlock so long as your smartphone or keyfob is nearby. Each Kwikset Kevo now comes with 2 physical keys, 2 electronic keys (eKeys) and free unlimited 24-hour guest keys. Extra eKeys are available for $1.99 through the Kevo app as an in-app purchase.
Kwikset Kevo Plus is an upgrade that will be available to new and existing Kevo customers later this year (pricing isn't available). The upgrade kit includes a Bluetooth gateway that enables the Kevo to connect to your home's WiFi network and the Internet. With that in place, you'll be able to remotely unlock the door and get real time updates on who had entered your home.
The Kwikset Kevo is available in Lifetime Polished Brass, Satin Nickel and Venetian Bronze finishes on Amazon.com for $219 each. For more information, read Techlicious's review of the Kwikset Kevo.
---
Lockitron Bolt
At just $99, the Lockitron Bolt is the least expensive smart door lock on our list. The Bluetooth-only lock, which replaces your existing deadbolt lock, offers the basics, sensing your approach and automatically unlocking for you when you arrive home. It's a good option for renters, as the physical lock's setting can be easily matched to any key. You can add on the optional Lockitron Bridge ($79) for Wi-Fi functionality, allowing the device to deliver real-time unlocking alerts. There are no advanced smart home features like Works with Nest, however.
The Lockitron Bolt will be available in Satin Nickel and Polished Brass finishes as a public beta device when the preview device launches later this month. A production variant will be available in various finishes later this spring. Both cost just $99 and can be pre-ordered at lockitron.com.
Update: the first Lockitron Bolt products shipped on November 24, 2015.
---
Goji Smart Lock
UPDATE: We do not recommend you order the Goji Smart Lock. Since we wrote this article, two promised ship dates have passed without anyone receiving their product. And, early backers have said that they're having trouble getting their money back.
The Goji Smart Lock, with its own on-lock welcome screen, is packed with features. The device works both via Bluetooth for smartphone and fob proximity unlocking and via Wi-Fi for remote control functionality. No worries if you somehow lock yourself out without your phone – Goji maintains a customer service call center for lockout requests. Each Goji comes with 4 electronic keys and 2 mechanical backup keys.
The Goji Smart Lock will be available in Silver, Gold and Copper finishes when it launches in April 2015. The device will retail for $299; you can pre-order yours on gojiaccess.com and pay just $278. Extra keyfobs are available for $40 each, or $75 for two.
---
Haven
Unlike the other locks listed, Haven is anchored to the base of your front door, its strongest point. It acts as a mechanical barrier to entry, released via Bluetooth or Wi-Fi. There's also a physical footplate that can release the lock in an emergency. Haven is compatible with the Nest thermostat (Works with Nest) and Apple HomeKit; Z-wave compatibility is being "researched."
The Haven Smart Lock will be available in fall 2015. It is currently available for pre-order at havenlock.com for $219.
Update: The Haven Smart Lock ship date has been delayed. We do not recommend you buy this product until the first orders have shipped.
---
[Image credits: Kwikset, August, Lockitron, Goji, Haven]
Updated on 12/22/2015
Discussion