5 Best Smart Locks for Your Home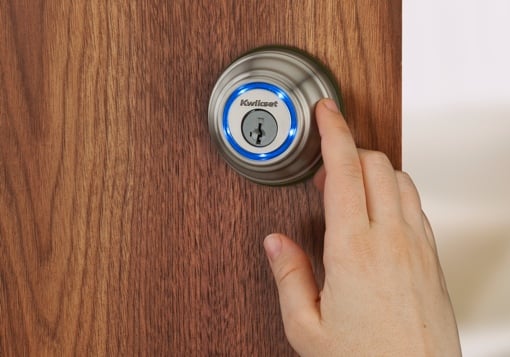 Smart locks that supplement or replace your front door deadbolt do much more than lock and unlock your door without a key. Most smart locks (and all of the locks on our top picks list) let you receive alerts and track who's entering and leaving your abode; email limited-access digital "keys" to visitors, children, trusted service workers or guests when you're not home; and remotely lock and unlock when you're away from home.
Some smart locks are compatible with smart home ecosystems such as Nest, the Apple HomeKit and the Wink. They can be locked or unlocked as part of a group operation; for example, you could program a night mode action that locks the doors and also turns off the lights and closes the shades. A smart lock can be handy when paired with a compatible smart doorbell. If a friend, family member or service worker rings your smart doorbell while you're away, you can visually confirm who it is via the smart doorbell, then remotely unlock the door to let them in.
Smart home products, including smart locks, are still in their awkward adolescence of development. Many of these new wireless gadgets are awkwardly designed and frustratingly unresponsive. You'll probably take to carrying a traditional key as a back-up in case your smart lock doesn't lock or unlock as advertised.
Since smart locks run on batteries, coming home to a dead smart lock is a remote possibility. Most smart lock batteries last between six months to a year, and flashing lights on the lock or a smartphone alert let you know if the batteries need replacing. But the fact you even have to worry about power for your lock, on top of the will-it-or-won't-it-open anxiety, could dissuade you from buying one of these brainy bolters to begin with.
Lest you become thoroughly discouraged, some smart lock makers recognize these reliability issues and are redesigning their wares accordingly. Many second-generation smart locks and new products include belt-and-suspenders options that provide second and even third physical methods of entry in addition to the primary wireless mode.
But we're getting ahead of ourselves. If the idea of a lock you can lock and unlock without a key or that you can monitor and control remotely appeals to your inner geek, here's a primer on the available features and best models.
Smart Locks 101
In most cases, you won't need a locksmith to install your smart lock. A front door deadbolt is easier to remove and replace than you think with a screwdriver and about an hour's time. Smart locks are pricier than a sturdy standard key lock, but not significantly so. Figure on spending between $200 and $250.
Not all smart locks lock and unlock the same way. Some can be operated by mimicking a key as you turn or wave your smartphone in front of the lock. Some smart locks require you to physically touch the lock to lock or unlock it, as long as your controlling smartphone is with you. Some smart locks make you tap a button within the lock's smartphone app. Some smart locks open automatically when you enter a defined zone. Some smart locks obey spoken commands. And some smart locks are smart enough to lock without asking after you've left the building.
---
The Best Overall Smart Lock: Kwikset Kevo

Kwikset's Kevo, the first-ever smart lock on the market, remains our favorite; read our original review. Last fall, the company added the Kevo Plus ($99), a small module that adds Internet connectivity to your Kevo lock via Bluetooth, so you can lock and unlock Kevo with your smartphone from anywhere, including your own home.
Kevo is due to release its next-gen model sometime this year. The Kevo II (or whatever the company plans to call it) will be 40 percent smaller than the original, all-metal version and a bit more stylish. An interactive app installer will help speed up and simplify the installation process and eliminate the need for user-initiated calibration. To enhance your peace of mind, the lock has been redesigned to better resist so-called torque attacks (break-ins using a wrench), a vulnerability previous Kwikset locks have been accused of, as well as other common lock-picking techniques.
The new Kevo will be compatible with Android Wear, Nest, Ring video doorbells, Honeywell Wi-Fi thermostats and Moto 360 smart watches. No word on Apple HomeKit compatibility.
Available finishes: Satin Nickel, Polished Brass, Venetian Bronze
Replace the entire lock: Yes
How it unlocks: Touch
Alternate means of entry: Key
Keyfob: Yes
Auto lock when you leave: No
Smart watch compatibility: Yes, Apple Watch
Smart home system compatibility: Nest
Price: $149.99 on Amazon
---
The Best Smart Lock if You Don't Want to Replace Your Lock: August

Instead of replacing your entire lock, the August replaces the latch inside. Your front door keyhole stays put and can be used by less tech-oriented members of your family. Tap the lock/unlock icon on the smartphone app to unlock the door. The August automatically locks behind you after a period of time or after you've moved 100 feet away.
The Apple HomeKit-compatible August Smart Lock HomeKit, introduced three months ago, lets you lock, unlock and check the August's status using Siri voice commands and your iPhone.
Because reaching for your smartphone to open your door wirelessly may not take less time than digging out your keys, add the two-column Smart Keypad ($79.99) to provide keyless entry via a PIN code. It's great for granting access to smartphone-less relatives. To make your door even smarter, add a Nest-compatible August Doorbell Cam (starting at $165) to let you see who's at the front door wherever you are.
Like the Kevo, the August didn't originally include remote control, so August added the external August Connect box ($79).
Available finishes: Dark Gray, Silver
Replace the entire lock: No
How it unlocks: Bluetooth via smartphone app
Alternate means of entry: Your regular key, optional keypad
Keyfob: No
Auto lock when you leave: Yes
Smart watch compatibility: Apple Watch
Smart home system compatibility: Apple HomeKit
Price: Starting at $201.97 on Amazon
---
The Best Traditional Smart Lock: Schlage Smart Sense Deadbolt

Schlage's first smart lock entry, the Schlage Sense Smart Deadbolt ($229), is similar to the Kwikset Kevo in installation but completely different in operation. (We recommend you view the YouTube installation guide before finalizing your purchase decision.) To give you total flexibility and peace of mind over your security, Schlage designed the Sense Smart with four opening options: Bluetooth by tapping an icon within the Schlage iOS app, a standard key, an illuminated touchscreen numeric keypad, or Siri voice command with Apple HomeKit compatibility.
There's no need to buy extra keypads or fobs. All the outside world sees is a standard keyhole and a flat white area above it. Instead of emailing virtual keys, you assign individual key code combinations to family, friends and service workers, which can be set on a customized schedule. You'll receive alerts via text or email and can view a log of entries and exits. There's a built-in alarm if someone tries futz with the lock. Unfortunately, the Sense Smart is only compatible with Apple mobile devices running iOS.
Like many smart locks, the Sense operates only within range of its Bluetooth signal. If you want to open and close it from further away, either at home or away, you'll need an Apple TV to use as a control hub, much like the Kevo pairs with a Kevo Plus or the August with the August Connect.
Available finishes: Aged Bronze, Satin Nickel, Matte Black
How it unlocks: Bluetooth via app
Alternate means of entry: Key, key code, Siri voice command
Keyfob: No
Auto lock when you leave: No
Smart watch compatibility: Apple Watch
Smart home system compatibility: HomeKit, iDevices, Insteon
Price: $229 on Amazon
---
Coming Soon: Yale Linus and Assure Locks

The most anticipated smart locks are those promised from lock behemoth Yale. Its first two smart locks, announced last fall and slated to arrive by now, have both been delayed until Fall 2016. We've seen demos of both, however, and are drooling in anticipation.
Yale's entry-level smart lock, the Linus (price to be announced), will work via Wi-Fi and be compatible with Works with Nest. While it lacks a key option, you'll get both a touchscreen touchpad on the lock face and remote locking/unlocking capabilities without the need for an extra box or hub like the Kevo or Schlage. The lock will automatically lock behind you after a customizable length of time.
Like the Schlage, the step-up Yale Assure ($224.99) will provide both Wi-Fi and Bluetooth control. Twist your smartphone in front of the lock, mimicking a key turn; use the lock's built-in touchscreen keypad; remotely control the lock from anywhere with the smartphone app; or use your Samsung Gear S2 smartwatch app.
You'll be able to mail up to five virtual keys to friends, families and in-home workers, but you'll pay $1.99 for additional keys. Add Zigbee or Z-Wave compatibility via a $70 module.
Best of all, Yale has planned to take care of the dead battery issue. Terminals on the bottom of both the Linus and the Assure let you attach a standard 9-volt battery to supply emergency power.
Available finishes: Not yet known
How it unlocks: Bluetooth, Wi-Fi
Alternate means of entry: Keypad
Keyfob: No
Auto lock when you leave: No
Smart watch compatibility: Samsung Smart Gear 2
Smart home system compatibility: Nest, Zigbee, Z-Wave
Price: Not finalized
---
On the Horizon: A Smart Lock for Apartment-Dwellers

All these deadbolt replacements are suitable for houses, but what if you're an apartment-dweller? You could put one on your front door, but with a buzzer-controlled outer door, you lose one of a smart lock's favorite functions: letting people in when you're not home.
To solve this problem, French company called Ikilock (yes, pronounced "icky-lock") is taking preorders on the wood-tone Ikiplug box, a remote doorman that lets you remotely trigger your intercom to open the outer building door.
The system begins inside your apartment with the AC-powered Ikicenter hub, which lets control your lock from anywhere. The matching oblong Ikilock is a replacement smart lock that can operate smartly or with a key.
The "key" piece, if you will, is the Ikiplug, a matching rectangular box you stick next to your intercom. Use the smartphone app to transmit a remote opening order, and the Ikiplug will trigger the intercom to open your building's outer door. How it triggers the opening and what intercom systems it may be compatible with are unclear, and so far only a European unit has been announced.
---
[Image credits: Kwikset, August, Schlage, Yale, Ikilock]
Updated on 7/25/2016 with new product picks
Discussion