5 Best Smart Locks for Your Home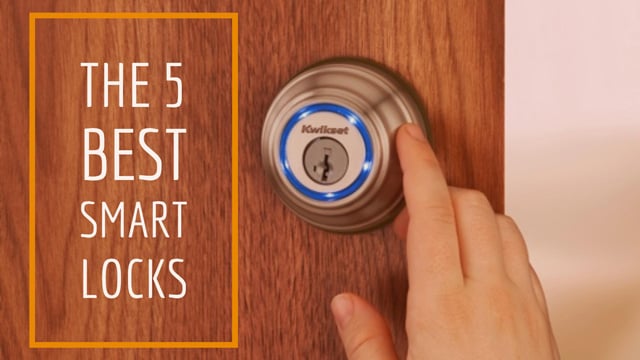 Reporting by Stewart Wolpin and Elizabeth Harper
Smart locks that supplement or replace your front door deadbolt do much more than lock and unlock your door without a key. Most smart locks (and all of the locks on our top picks list) let you receive alerts and track who's entering and leaving your abode; email limited-access digital "keys" to visitors, children, trusted service workers or guests when you're not home; and remotely lock and unlock when you're away from home.
Some smart locks are compatible with smart home ecosystems such as Nest, the Apple HomeKit and the Wink. They can be locked or unlocked as part of a group operation; for example, you could program a night mode action that locks the doors and also turns off the lights and closes the shades. A smart lock can be handy when paired with a compatible smart doorbell. If a friend, family member or service worker rings your smart doorbell while you're away, you can visually confirm who it is via the smart doorbell, then remotely unlock the door to let them in.
Smart home products, including smart locks, are still in their awkward adolescence of development. Many of these new wireless gadgets are awkwardly designed and frustratingly unresponsive. You'll probably take to carrying a traditional key as a back-up in case your smart lock doesn't lock or unlock as advertised.
Since smart locks run on batteries, coming home to a dead smart lock is a remote possibility. Most smart lock batteries last between six months to a year, and flashing lights on the lock or a smartphone alert let you know if the batteries need replacing. But the fact you even have to worry about power for your lock, on top of the will-it-or-won't-it-open anxiety, could dissuade you from buying one of these brainy bolters to begin with.
Lest you become thoroughly discouraged, some smart lock makers recognize these reliability issues and are redesigning their wares accordingly. Many second-generation smart locks and new products include belt-and-suspenders options that provide second and even third physical methods of entry in addition to the primary wireless mode.
But we're getting ahead of ourselves. If the idea of a lock you can lock and unlock without a key or that you can monitor and control remotely appeals to your inner geek, here's a primer on the available features and best models.
Smart Locks 101
In most cases, you won't need a locksmith to install your smart lock. A front door deadbolt is easier to remove and replace than you think with a screwdriver and about an hour's time. Smart locks are pricier than a sturdy standard key lock, but not significantly so. Figure on spending between $200 and $250.
Not all smart locks lock and unlock the same way. Some can be operated by mimicking a key as you turn or wave your smartphone in front of the lock. Some smart locks require you to physically touch the lock to lock or unlock it, as long as your controlling smartphone is with you. Some smart locks make you tap a button within the lock's smartphone app. Some smart locks open automatically when you enter a defined zone. Some smart locks obey spoken commands. And some smart locks are smart enough to lock without asking after you've left the building.
---
The Best Overall Smart Lock: Kwikset Kevo

Kwikset's Kevo was the first smart lock on the market, and it's still one of our favorites. The Kevo's touch-to-unlock feature makes it one of the easiest smart locks to use. All you have to do is approach with your smartphone or a Kevo keyfob in your pocket. A simple tap unlocks the lock.
The lock verifies your identity via Bluetooth, connecting to your phone or keyfob (an additional $25 each) to check if you're allowed to access the home. You can also unlock the lock using the Kevo app or a standard key. Tap-to-unlock is unique to Kevo. Most other locks require you to use a smartphone app, which isn't much easier than unlocking the door with a key. Tapping the lock after being identified is simple and eliminates any need to fumble for your phone.
Just a few taps in the Kevo app lets you assign a digital e-key to anyone with a Kevo-compatible smartphone. It's ideal for visiting family members or anyone who needs to come and go. One thing we don't like is the fact that additional e-keys cost $2 each through the app — or buy a Kevo Plus ($99) to get as many e-keys as you like.
The Kevo Plus is hub that connects your Kevo to the internet, giving you online access to all its features no matter where you are. Without the Plus, you need to be in Bluetooth range in order to control your lock, so this adds a lot of convenience — and gives you an unlimited number of e-keys.
You can still buy a first-generation Kevo for significantly less money ($138) than the newer model, but the second-generation Kevo is worth the upgrade. The new model is more secure, with added resistance to torque attacks and lock bumping. It's rated UL 437 and passes the most stringent lock-picking standards. It also offers easier installation. If you can use a screwdriver, you can install the Kevo.
Kwikset has another new smart lock option worth considering as well, though we don't think it offers quite the convenience of the Kevo. The Premis Touchscreen Smart Lock ($229) with Apple HomeKit integration works with Siri, a feature we know Apple users will be interested in. But instead of the simple tap activation to unlock the door, you'll need to use the smartphone app or key in a code to unlock the Premis; we would have preferred a straight-up Kevo with HomeKit integration.
Available finishes: Satin nickel, polished brass, Venetian bronze
Replace the entire lock: Yes
How it unlocks: Touch
Alternate means of entry: Smartphone app, key
Keyfob: Yes (not included)
Auto lock when you leave: No
Smart watch compatibility: Apple Watch, Android Wear
Smart home system compatibility: Nest and Honeywell thermostats, Ring and Skybell video doorbells, IFTTT
Price: $229 on Amazon
The Kevo isn't your only solid smart lock option. Read on to find out which other smart home locks we recommend.
---
A smart lock that works with your existing lock: August

Instead of replacing your entire lock, the August smart lock replaces only the inside, leaving the exterior of your home looking the same as ever. This is a great solution for anyone who prefers the look of their current door hardware or renters who can't switch out their door locks. If you're even a little intimidated by smart home tech, you'll be glad to know the outdoor lock works the same as ever — but now it can work with your smartphone as well.
The August can be set to unlock when it detects you (or, more accurately, your smartphone) approaching. When you walk up to the door, it unlocks without your doing anything at all. When it detects that you're leaving, it locks itself.
If you're not quite comfortable with that level of automation, the lock can be manually controlled from the August smartphone app. Like the Kevo, the August can only be controlled via Bluetooth unless you buy an accessory — in this case, the August Connect ($58), a good buy if you expect lots of people coming and going. Another add-on is the August Smart Keypad ($80), which adds a keycode entry option, something you may find useful for guests who don't have smartphones. To make your door even smarter, add a Nest-compatible August Doorbell Cam (starting at $165) to let you see who's at the front door wherever you are.
The August's most compelling feature is Apple HomeKit integration, a must-have for anyone building a HomeKit-based smart home. This feature is unfortunately absent from our favorite smartlock, the Kevo, but the August comes in a close second overall. If you prefer Amazon's Alexa to Apple's Siri, however, the August supports Alexa, too, so you can control your lock through your Echo devices. That makes for a lot of different ways to control the August smart lock.
Available finishes: Dark gray, silver
Replace the entire lock: No
How it unlocks: When it detects you approaching
Alternate means of entry: Smartphone app, key, key code (with optional keypad), Siri
Keyfob: No
Auto lock when you leave: Yes
Smart watch compatibility: Apple Watch
Smart home system compatibility: Apple HomeKit, Amazon Alexa, Nest thermostat, Nest Cam, August Doorbell Cam, Logitech Harmony One, Logitech Pop, IFTTT
Price: $229 on Amazon
---
Best all-in-one solution for Apple users: Schlage Sense

While the Schlage Sense is as smart as any other smart lock, it presents itself with a more traditional feel. Assign virtual keys to guests' smartphones (iPhone only, for now), or use the built-in keypad to assign key codes to guests. That flexibility gives the Sense more out-of-the-box unlocking options than any other lock on this list/ You can unlock it with a smartphone app, key, key code or Siri.

Like the August, the Sense is compatible with Apple's HomeKit, so you can control it using Siri. But unlike the August, Sense was built with Apple users in mind. If you aren't already invested in Apple's ecosystem of products, you might want to pass this one by. But for Apple users, there's a lot of convenience to be had. Instead of requiring a separate hub to connect your smart lock to the internet, Sense uses your Apple TV. If you already have an Apple TV, you already have a feature that would have cost $100 to add to the Kevo.

For Apple users, the Sense is an all-in-one smart lock with lots of unlocking options and no need for additional components. But for households that aren't packed with Apple products, its limitations — like the fact that the Sense can't be controlled over the internet except through an Apple TV — are probably deal breakers.
Available finishes: Aged bronze, satin nickel, matte black
Replace the entire lock: Yes
How it unlocks: iPhone app
Alternate means of entry: Key, key code, Siri
Keyfob: No
Auto lock when you leave: No
Smart watch compatibility: Apple Watch
Smart home system compatibility: Apple HomeKit
Price: $193 on Amazon
---
Best for complete freedom from keys: Yale Assure

A lock without a key? That's exactly what Yale is offering with its new Assure lock. A truly keyless entry system means no lock for a potential thief to pick, giving you an all-new level of home security.
Like the rest of the locks we've listed, the Assure lets you get in and out of your home using your smartphone. Hold your phone up and make a key-like twisting gesture to unlock the door. Though it's certainly more awkward than the way the Kevo unlocks when tapped or the August unlocks when you approach, the gesture is designed to prevent accidental unlocks — and it's still easier than fumbling through your key ring.
Hand out up to five virtual keys that let friends or guests unlock the door the same way. Additional virtual keys are $2 each. It's less than you'd pay to have a new key cut for a traditional lock, but it's still an annoying expense.
The Assure's built-in touchpad provides access for guests who don't have smartphones and lets you inside if you've forgotten yours. If you've forgotten your smartphone and the Assure's battery has gone dead, you can power it by holding a 9V battery to the terminals at the bottom of the keypad. Enter your PIN, and you're in.
The Assure integrates with a wide range of smart home options, including Zigbee or Z-Wave, which work with numerous smart home products. Apple HomeKit will join the lineup in March 2017. However, like many of the other products on this list, Assure requires an extra component to add this compatibility. You'll need to purchase a $75 network module to add compatibility for your smart home system of choice.
Available finishes: Polished brass, satin nickel, oil rubbed bronze
Replace the entire lock: Yes
How it unlocks: Smartphone app
Alternate means of entry: Keypad, Siri (when HomeKit compatibility is added)
Keyfob: No
Auto lock when you leave: No
Smart watch compatibility: Samsung Gear S2, Apple Watch (when HomeKit compatibility is added)
Smart home system compatibility: Zigbee or Z-Wave (Apple HomeKit module coming in March 2017)
Price: starting at $199 for Bluetooth, $195 for Z-Wave or $247 for Zigbee on Amazon
---
On the Horizon: A Smart Lock for Apartment-Dwellers

All these deadbolt replacements are suitable for houses, but what if you're an apartment-dweller? You could put one on your front door, but with a buzzer-controlled outer door, you lose one of a smart lock's favorite functions: letting people in when you're not home.
To solve this problem, French company called Ikilock (yes, pronounced "icky-lock") is taking preorders on the wood-tone Ikiplug box, a remote doorman that lets you remotely trigger your intercom to open the outer building door.
The system begins inside your apartment with the AC-powered Ikicenter hub, which lets control your lock from anywhere. The matching oblong Ikilock is a replacement smart lock that can operate smartly or with a key.
The "key" piece, if you will, is the Ikiplug, a matching rectangular box you stick next to your intercom. Use the smartphone app to transmit a remote opening order, and the Ikiplug will trigger the intercom to open your building's outer door. How it triggers the opening and what intercom systems it may be compatible with are unclear, and so far only a European unit has been announced.
---
[Image credits: Kwikset, August, Schlage, Yale, Ikilock]
Updated on 1/19/2017 with new product picks
Discussion