Blogging Your Baby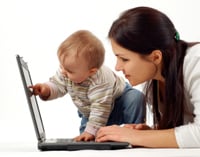 We're sure you're familiar with blogs, but you may not know that creating one can be an efficient and fun way of sharing information, pictures, and videos of your baby with family and friends. Gone are the days when you had to go to the drug store to get multiple prints of pictures to mail to friends and families—thank goodness! So go ahead and snap pictures of your new baby, knowing that sharing them will only take a few clicks of a mouse button.
General blogging services, such as Blogger, WordPress, and LiveJournal, offer the ability to create a custom blog to which you can post anything your heart desires. They provide free templates so you can add a little style to the web pages you create, as well as offer limited – but free – hosting to store the pictures and videos you upload to display on your blog. If you want more storage, you can often purchase it. All of these services work right in your web browser, so you don't need any special software to create posts and upload media. This makes them very easy to use right off the bat. (Read more in "How to Start a Blog.")
While these types of blogging services can easily suit your baby blogging needs, there are baby-oriented blogs specifically focused on showing off your bundle of joy with a minimum of fuss and with great, baby-specific design templates. These blogs emphasize many of the things you'll be most inclined to share, such as your baby's firsts and growth progress. Additionally, the templates available are soft and pleasing to the eye, designed to present an attractive on-line version of a baby book. You won't have the range of customization options available through the other general blogging services, but you'll be more likely to get going with a baby blog that will delight you from the start.
Some of the most popular baby blogging services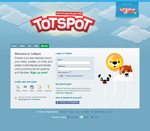 Totspot.com's primary attraction is its ability to connect to Facebook, simultaneously publishing your blog posts to your Facebook account. Once you connect your Facebook account to your Totspot blog, you can also easily invite your Facebook friends to view it. If you already use an online photo service like Flickr or Picasa, you can effortlessly add these photos directly to your Totspot blog for sharing. Totspot's interface looks a lot like Facebook's, but you have less flexibility to customize how it looks to others. Totspot's free subscription offers up to 250MB of storage for pictures (about 125 photos if you don't resize them for the Web) and videos, and upgrading to Totspot Plus gives you 2GB of storage per month for $49 per year.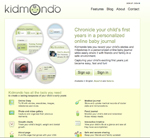 Kidmondo.com makes creating a new blog easy and intuitive. There are four theme colors to choose from, and tabbed organization to record your baby's pictures, general information, growth history and more. If you want to create a keepsake of everything you've entered into your Kidmondo blog, you can order a professionally-printed book that will contain everything you've uploaded or only selected portions of your blog. The free subscription allows you to create blogs for up to three children and provides 100MB of storage for pictures and videos.Upgrading to more storage and blogging for an unlimited number of children costs $39 per year.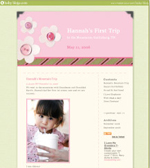 Babyblogs.com is probably the easiest baby blog to set up. With 16 blog templates to choose from, you can go right to creating your first blog post and designate the email addresses of friends and family to receive notifications about updates. As with the other baby blog services, you can create a custom site address, or URL, to further personalize your blog. After a free 30-day trial, the service costs $4.95 per month or $39.95 per year.
Discussion