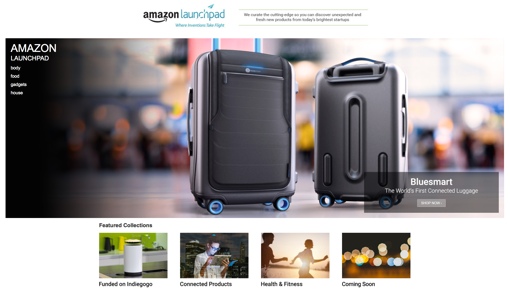 Want to check out the newest offerings from some of America's coolest and trendiest startups? Today, Amazon has launched a new storefront called Amazon Launchpad, a curated selection of approximately 200 new products in a wide range of categories.
"Amazon Launchpad gives customers access to a dedicated storefront featuring a variety of innovative new products from emerging brands," explains Jim Adkins, Vice President of Amazon. "For startups, we handle inventory management, order fulfillment, customer service, and more, allowing them to focus their efforts on the innovation that results in more cool products."
Indeed, Amazon Launchpad has an interesting selection of items. Currently, it offers Bluetooth-enabled luggage from Bluesmart ($349), the smartphone-connected Kinsa Smart Thermometer ($29.99) and the littleBits Electronics craft kit for programming-minded kids ($99.00). There's even a canister of powdered camel milk if you're feeling truly adventurous ($120.00 for 14.8 ounces). The only catch: Many Amazon Launchpad items are pre-orders, so it may take a while to get your order fulfilled.
To visit the Amazon Launchpad store, visit amazon.com/Launchpad
. You might also want to check out Amazon Exclusives – it's a curated selection of exclusively offered merchandise from up-and-coming brands.
[Image credit: Amazon]