Amazon Prime already offers subscribers plenty of perks, but starting today, Prime Members nation-wide can also get discounts at Whole Foods. Prime Members will get an extra 10% off sale items — which were already decent deals — plus Prime-only discounts of up to 50% on everything from sustainable fresh shrimp to organic boxed mac and cheese. The bargains range from fantastic to just okay, and like a standard grocery store circular, they'll rotate every week. And no matter how you look at it, these discounts are pretty good for a store whose reputation for high prices earned it the nickname "whole paycheck."
There are two ways to get in on these sales. The simplest is to download the Whole Foods Market app (for Android and iOS) and log on with your Amazon account. The app will pick your local store automatically to show relevant deals and a QR code to scan at checkout. It's similar to shopping in the brick-and-mortar Amazon stores, except there you use the Amazon app instead of the Whole Foods app. But if you prefer to skip downloading yet another app, you can go to Amazon and add your mobile number to your account, then enter your number at checkout. If you'd rather skip the store entirely, online orders using Prime Now will get the discount automatically, though it's a bit difficult to find sale items on the website. Prime Now isn't available everywhere yet, but you'll find it in most major metro areas.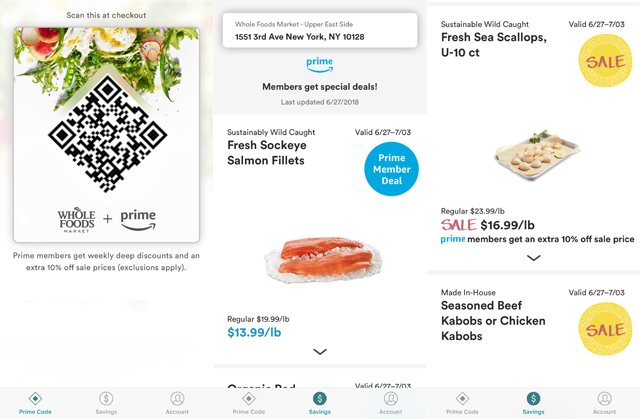 Sales are easy to spot in-store: just look for items marked with a yellow tag (Prime members get an extra 10% off on) or a blue tag (Prime-only deals). Both general sales and Prime member deals are listed in the app under the "Savings" tab for easy browsing. If you want to shop online instead, head to the Whole Foods storefront on Amazon and click on the blue Prime Member Deal button to see exclusive sales. Other sales, however, aren't marked. The easiest way to find these sale items online is to check sales in the app (or in your local store circular) and then search for them on Amazon. While they're a little annoying to find, all Prime discounts are applied automatically (plus you don't have to leave the house). And for a limited time, Prime Now shoppers can also get a bonus $10 off their first Whole Foods order of $50 or more with the coupon code SAVE10WF. That could be enough in savings to be worth the hassle.
Amazon Prime costs $119 per year and includes a ton of perks beyond these discounts. You'd have to do a lot of shopping at Whole Foods to make that price worth it, but if you use other Prime services, it's not a bad price. You should see these Whole Foods deals the next time you walk into a store — just be sure to download the app before you go. You'll need the cashier to scan the code on your phone when you check out in order to get your savings.
[Image credit: Amazon]