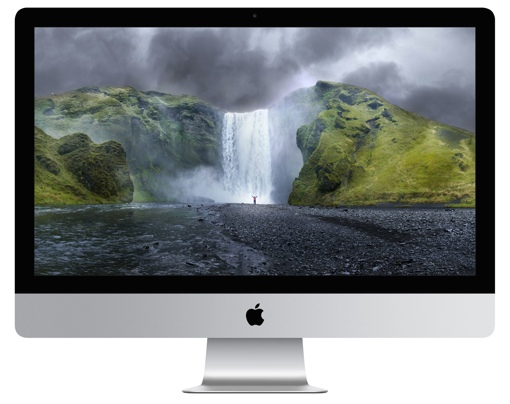 Today, Apple unveiled a brand new 27-inch iMac computer, and man is it gorgeous. Officially called the iMac with Retina 5K display, the desktop runs at a groundbreaking 5120 x 2880 resolution (218 pixels per inch). That's four times the number of pixels as the standard 27-inch iMac, and 67% more pixels than a 4K ultra HD television.
The new computer has great specs to rival any high-end desktop. The base iMac with Retina 5K display comes with a 3.5GHz quad-core Intel Core i5 processor, 8GB (4GB x 2) of DDR3 RAM, a 1TB fusion drive, and an AMD Radeon R9 M290X graphics processor with 2GB of video memory. Most of these aspects are upgradable, but the cost to do so will likely be prohibitive unless you have an absolute professional need.
If you're looking for a far less expensive iMac option, Apple has also introduced an updated 1.4GHz Mac mini. The base 7.7" by 7.7" by 1.4" mini features an Intel Core i5 processor, 4GB of RAM, an Intel HD Graphics 5000 video processor and a 500GB hard drive. You'll need to connect it to your own monitor or purchase a new one, however.
Both of the new computers will come pre-loaded with OS X Yosemite (10.10), Apple's brand spankin' new operating system. Yosemite offers the ability to hand off work and surfing sessions between your Mac and iPhone or iPad, and will allow you to make and answer calls and SMS messages from your computer. Numerous other design tweaks are included as well. Current Apple iMac and MacBook owners can download the free update to OS X Yosemite starting today through the App Store.
Over the last few decades, the PC has been king. But recently, Apple has been making a real run for the crowd. Earlier this month, the company cracked the top 5 global PC vendor list for the first time ever. These compelling new computer models, especially the iMac with Retina 5K display, offer features unavailable elsewhere. That should only increase Apple's market share, at least among shoppers looking for a high-end computer for design work, photo and video editing and the like.

Both the iMac with Retina 5K display and the upgraded Mac mini are available starting today through apple.com. The 5K version starts at a whopping $2,499; the Mac mini starts at $499. To learn more about either, visit the Apple website.