Apple already holds a considerable advantage over Windows and Android with the closely knit ecosystem the company has created for its iPhones, iPads and computers. With the enhancements announced today coming to fall releases of Mac OS X 10.10 operating system (dubbed Yosemite) for desktop and laptop PCs and iOS 8 for the iPhone and iPad, that advantage is going to become greater.
Desktop-to-mobile-to-desktop continuity
Continuity will be the star of the new operating systems for most Apple users, allowing you to move seamlessly from one Apple device to another midway through a function. Begin composing an email on your iPhone or iPad, and if you're in Wi-Fi proximity at home, continue composing your missive on your desktop or laptop Mac (or vice versa). You'll be notified of the ability to hand off from one device to another via a small icon in the lower left corner of your device's screen.
Similarly, you'll receive caller ID information for an incoming phone call or text on all nearby iOS 8 or Mac OS X Yosemite devices. Pick up or answer from any of those devices.
You can initiate calls from your Apple Address Book or phone numbers displayed on Web sites from any iOS 8 or Yosemite device, as long as your iOS 8 iPhone is within range — even if it's plugged into a charger on the other side of your home.
The new iCloud Drive service is also built for continuity. iCloud Drive now syncs across iOS, OS X and Windows. Plus, Apple is lowering storage fees. You'll still get up to 5GB of free data; after that, it's 99 cents per month for 20GB or $3.99 per month for up to 200GB.
Other iOS 8 improvements
What else can you expect from iOS 8? A whole host of small but significant improvements. Our favorites are:
An interactive Notification Center that lets you instantly reply to a message, even from the lock screen, rather than having to navigate to the specific app.
Double-tapping the Home button displays not only open apps but recent contacts as well, letting you instantly make a text, call or video connection by tapping on the contact icon.
To speed up typing, QuickType predicts not only word spellings but actual responses. If you start typing "the meeting was …," QuickType presents possible next words such as "cancelled" or "delayed." QuickType learns how you write, to help predict what your next word will be.
You'll be able to install third-party keyboards. Perhaps someone will develop one that shows lowercase letters so you know you're not typing in all caps.
Record and send an audio or video message within a text conversation. When you receive an audio reply, simply hold the phone to your ear; even from the lock screen, you'll hear the audio message or can add your own.
Add or delete people from ongoing group thread conversations, or activate Do Not Disturb mode so your iPhone doesn't constantly buzz while you're trying to accomplish something else.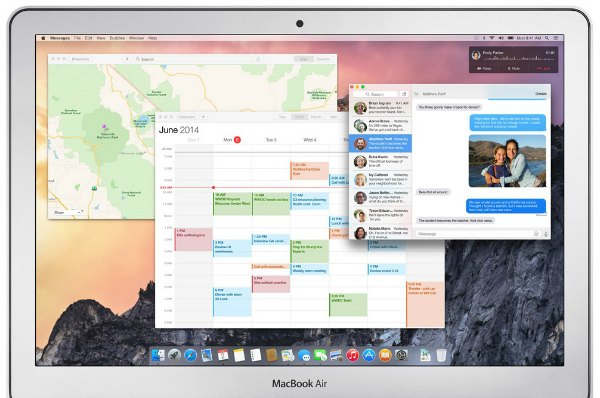 OS X Yosemite improvements
New capabilities within Yosemite will be a free upgrade for existing Mac owners, including:
Mailing large attachments
Instead of worrying if your email recipient can receive a large attachment, Yosemite automatically loads the attachment into the cloud, then includes a link in the email. This will allow you to easily send attachments, including videos, up to 5GB. You'll also be able to add circles, arrows and other drawn annotations on attached JPEGs or PDFs, including using your scratchpad to finger-scrawl your signature onto PDF documents.
Dark mode
Pull-down menus can now be switched to white on translucent black, designed to be less obtrusive than the usual black on white.
All-purpose Spotlight
Instead of a text field in the upper right corner that searches only your own content, the new Yosemite Spotlight acts like Siri only in text. The Spotlight window pops up in the middle of your screen and searches not only your content but your contacts, reminders, calendar events and the Web. It can provide basic information on subject matter including Wikipedia entries and movie show times, then take you directly to the specific Web page or app with complete details. Spotlight will even do measurement conversions.
HTML5 premium video
Video from pay video sites such as Netflix streams faster without a separate app and draw less battery power on Apple's laptops for longer AC-free viewing time.
Safari
The search bar not only enables Google searches but integrates Spotlight's new search features. You also get a Tab view to see all tabs in a large thumbnail view, and you can instantly share Web pages without cutting and pasting URLs into the mail application.
Want to try these features before launch this fall? For the first time, Apple is making its OS X update available for public beta to get consumer feedback on these and other new features.
Home, health and family consolidation
In addition to new operating systems, Apple has announced attempts to herd the raucous cats of the emerging home control and health/fitness booms with new consolidating app initiatives.
Apple's new HealthKit initiative allows users of disparate fitness band and bio monitors to collect all their biometrics and activity data in Apple's own Health app, rather than separate, monitor-specific device apps. Apple is working with a wide variety of hospital and healthcare systems to integrate alerts and to contact health providers when the Health app detects unusual biometric readings.
Similarly, Apple's HomeKit developer's tool will enable makers of home automation devices such as thermostats, garage door openers, LED lights, keyless door locks and so on to consolidate disparate devices and functions within iOS 8. For instance, simply telling Siri to "get ready for bed" could automatically trigger the garage door to close, the doors to lock, the thermostat to lower the temperature and the lights to dim. More than two dozen companies including Philips, Cree and Honeywell have signed on as HomeKit developers.
Family Sharing will allow up to six family members to access shared calendars, reminders, photo streams, Find My Friends for parents to locate their children, and iTunes content, all under a single credit card. Parents, don't worry — the kids have to get your permission before they can spend any money.
What Apple hasn't announced
While Apple demonstrated impressive new consumer features and operating system capabilities today, it made no new hardware announcements. New iPhone 6 models (rumored to come in 4.7- and 5.5- or 6-inch versions) are due this fall, simultaneously with the release of iOS 8. Rumored cheaper all-in-one iMacs also failed to receive a mention, as did rumored improvements to Apple's beleaguered Maps app.