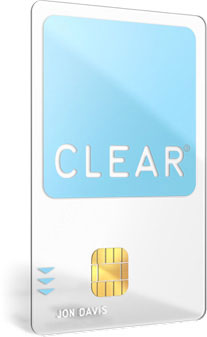 I received an email last night that made my week. It announced the return of CLEAR, a service at airports that lets you skip the winding lines leading up to airport security checkpoints. CLEAR was one of my favorite perks of frequent travel in recent years...until the company filed for bankruptcy and ceased operations in June 2009.

If you're not familiar with CLEAR, here's how it works. When you arrive at the airport, you find a CLEARcube kiosk, present your CLEARcard, verify your identity through a fingerprint or iris scan and proceed to the front of the security line. The time saved in one trip alone was worth the price of the annual subscription.

Under new management, CLEAR is poised to restart services this fall. Even better, they're honoring users' remaining membership terms when service is reinstated. So if you had six months remaining on your membership term, you'll get your first six months for free. And if you've disposed of your old membership card, you can order a replacement card for $5, .

If you're interested in subscribing to the service as a new user, it's easy to do at ClearMe.com. After registering for CLEAR online, you have to provide a passport and driver's license or state ID for in-person verification before your biometric data is recorded and stored on your CLEARcard.
Once you've qualified for the service, you can step into a special pre-screened line at the airport where you insert your CLEAR card into a machine and verify your identity via fingerprint or iris scan. Then you're escorted to the front of the security line and assisted in placing your belongings on the conveyor belt to be scanned. With the original service, even in the busiest of airports like JFK, I was through security and to the gate in less than 15 minutes. It was amazing.

CLEAR relaunches at Denver (DEN) October 31, 2010 and Orlando (MCO) in November 2010, before rolling out elsewhere.
While I was one of the first subscribers, paying only $99 annually, I can tell you that the relaunch price of $179 a year would be worth every penny, especially if you're lucky enough to get it reimbursed through work. Under the new program, your CLEARcard covers children under 18 years old at no additional cost. A family plan (yourself plus one adult) will be available for an additional $50.