It's hard to say whether the new Fitbit Charge 3 is a smartwatch or a fitness tracker. While plenty of companies have tried to bridge the gap between a full-fledged fitness tracker and a feature-packed smartwatch, devices inevitably lean to one side or the other. But the Charge 3 manages to be good at both.
The Charge 3 is a big step forward from the old Charge 2. While the devices look similar, the Charge 3 is slimmer, with an OLED touchscreen display that's 40 percent larger than its predecessor's. A proper touchscreen is much easier to use than the previous generation's interface which required you to tap on the device to change screens. The battery is bigger, too, offering up to seven days on a single charge. Even though everything on the Charge 3 seems to be bigger, it's 20 percent lighter than the Charge 2, which makes for a slim device that skips out on the bulky profile of your everyday smartwatch, making it easy to wear. And though you won't mistake it for jewelry, like the Misfit Ray or Bellabeat Leaf, its simple, sleek look won't look out of place on your wrist at the office or the gym.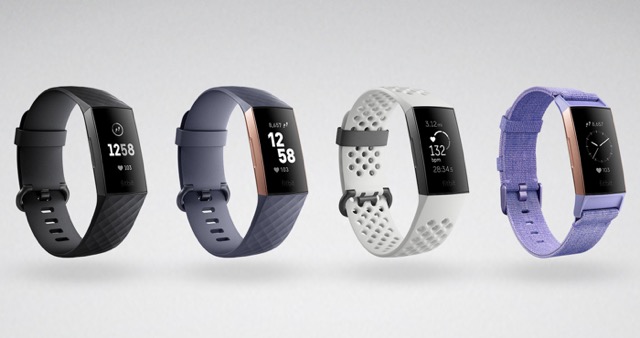 But the Charge 3 is more than a pretty face, though. Like the Charge 2, the Charge 3 monitors all of your basic health stats and it can track over a dozen different exercises, from weight-lifting to yoga. But the newest Charge is waterproof to 50 meters, which means it can track swims and count laps automatically. The heart rate tracker is more accurate and a new SpO2 sensor can estimate changes in blood oxygen. It has almost all of the fitness features you could want — though it's missing is a GPS to help track your runs. It will still measure your distance and pace on its own but relies on your phone for precise location data. That means it's not the perfect device for runners, but the Charge 3 is otherwise an excellent fitness tracker.
While it isn't a full smartwatch, the Charge 3 lets you see and, in some cases, respond to smartphone notifications. There are a few key apps, too, with alarms, timers, and weather right on your wrist. That's more than you usually get with a fitness tracker, and though it's not as much as you would get with a full-fledged smartwatch, Fitbit promises more apps are coming. Android users will — eventually — even be able to respond to text messages directly from the Charge with quick replies. A special edition of the watch adds NFC to the feature list, letting you make mobile payments with Fitbit Pay.
The Charge 3 will ship in October, and you can pre-order it now for $149.95 from Fitbit. If you'd like to upgrade to the special edition, you have the choice of a couple of extra color options and you get NFC functionality and a spare band for $169.95.
[Image credit: Fitbit]