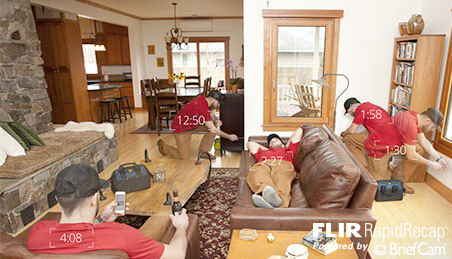 Home security systems can be a pricey investment — which is perhaps why Internet-enabled home security cameras have become so popular. For a (comparably) small investment, you can have a home security camera that will alert you of activity and let you monitor what's going on at home from your smartphone. Whether you're using it for home security, just to keep an eye on kids or pets while you're away, or to have a live view of your back yard when you're stuck in the office, they're handy gadgets to have — and the newest to market, FLIR's FX, has some notable advantages over the competition.
The FLIR FX has a 1080p HD camera with a wide 160-degree viewing angle which offers a good view of any room despite the fact that you can't pan and tilt the camera. The camera can also see in the dark, with night vision capabilities that can see objects up to 33 feet away. All in all, it's not an unimpressive home security camera, but the FLIR FX goes beyond these features to fill your video recording needs in different situations, around the house and beyond.
The FX is a multipurpose device that can be unplugged (it has a two hour battery life and 8GB of built-in memory) and used as an action camera, like a GoPro, or an in-car dash cam. Once you've purchased the camera, all you need is different mount accessories to use it in different ways: you can get an indoor stand, a weather-resistant outdoor housing, a waterproof sport case, or a dash mount for the car. This can be great if you might use the gadget in multiple situations, but won't be a feature you'll use if you're in the market for a dedicated security camera. (Though if you decide to switch the camera from being an in-house security device to an action camera for the kids, you can transfer the account to them with a call to customer service.)
For those who are just looking for a home monitoring device, the FLIR FX also has some nice features for a dedicated security camera. You can watch live video and set up alerts from your mobile device (the FLIR FX app is available for free for Apple and Android devices), which is similar to what you'll find on other devices in this category like Dropcam and Simplicam. Where FLIR FX shines is with its RapidRecap feature, which lets you check out a day's worth of video activity in a single clip, with video from different times shown together in one frame, with timestamps indicating what happened when. Though the feature takes some getting used to, it's a great way to recap what's happened during the day without having to sort through a day's worth of video clips.
FLIR's cloud services are also a bit more economical than the competition, with free online viewing of the past two days' of video plus livestreaming — without a subscription, Dropcam only lets you watch live. If you want to watch more, you can upgrade your cloud storage to cover the last seven days (for $9.99/month or $99.95/year) or the last 30 days (for $19.99/month or $199.95/year). All video is fully encrypted using SSL, so your video is secure.
If you're interested in picking up a FLIR FX for yourself, it's available for pre-order now for $199.99 with an indoor stand or $249.99 with an outdoor housing. If you're interested in doing more with the FX, you can pick up the dash camera mount for $49.99 or the sport case for $59.99.
[Image via FLIR]