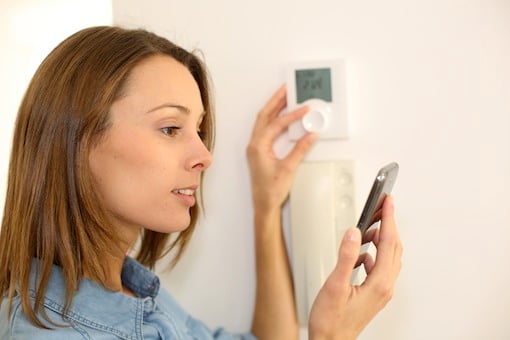 Home automation systems, which let you remotely control lights, window shades, thermostats, door locks, security cameras, even your home entertainment gear or appliances, used to be for the rich and famous, but not anymore. This week, Staples and Home Depot announced their respective home automation platforms – Staples Connect and Wink.
Staples Connect and Home Depot Wink are multi-brand, multi-device and multi-protocol home automation systems that use one app, making them simple to set up and use--without the help of a professional installer. Both the Staples Connect and Home Depot Wink apps are free, and neither requires a subscription or service fee. Both apps are available for Apple's iOS and Android; Staples Connect also is available for Windows 8 PCs and Windows Phone 8 mobile devices and, soon, through Samsung smart TVs.
You'll be able to check both systems out in stores soon. Staples will present its Connect scheme alongside compatible partner devices in 500 stores nationwide on July 15, while Home Depot will unveil its Wink home automation retail displays throughout its nearly 2,000 outlets, as well as through Amazon, starting today.
One app to control them all
The idea of each of these retail home automation efforts is to unite the growing number of "smart" devices under a single app.
Currently, affordable home automation is a confused morass of separate apps, ecosystems and wireless protocols. Each "smart" device such as the Nest thermostat or the Kwikset Kevo wireless lock, each company with a home automation scheme such as Belkin's WeMo, AT&T's Digital Life or Insteon lighting, or wireless protocol competitors ZigBee and Z-Wave, are silos – each require their own separate apps and sell only a limited number of compatible devices.
Staples, in conjunction with app developer Zonoff, and Home Depot, in conjunction with app developer Wink, want to turn these hundreds of restrictive home automation silos into wide open warehouses, all under the roof of a single controlling app.
One advantage to bringing all device apps under a single app, other than eliminating dozens of apps, is group control – programming a series of events that occur either with the touch of a button or automatically, just like fancy custom-installed systems costing thousands or even tens of thousands of dollars.
For instance, pushing a "Good Night" button could automatically lower window shades, turn out selected lights, lock doors, arm the security system and lower the temperature. Or, the system could sense your imminent arrival home and adjust the temperature, raise the shades, turn on selected lights, open the garage door and unlock the front door.
Partner suppliers
At launch, Home Depot, through its Wink app, is partnered with 15 smart device suppliers and nearly 60 smart devices, while the Staples Connect app can control nearly 150 smart devices from 23 companies.
However, several smart device suppliers are partnered with both Staples and Home Depot, including Philips LED bulbs, garage door opener supplier Chamberlain, thermostat maker Honeywell, lock companies Kwikset and Schlage, and the two leading lighting control companies, Lutron and its Clear Connect wireless standard, and Leviton.
One unique partner under the Home Depot/Wink banner is the Quirky Aros, the first true "smart" air conditioner. We have a review of the Aros in the works.
Both retailers are furiously pursuing additional partners. For instance, Home Depot/Wink is in discussions with Nest, and with Belkin and its WeMo home automation ecosystem.
Both Staples and Home Depot also hope to integrate their apps under Apple's recently announced HomeKit framework as well as forthcoming home automation protocols from Google, centered around the search giant's acquisitions of Nest and security camera maker DropCam, and Samsung's appliance-centric Smart Home.
Home hubs
Both the Staples/Zonoff and Home Depot/Wink ecosystems both have a "hub," a small set-top box connected to your home network, that enables device and app controller inter-connectivity via Wi-Fi, Bluetooth and the ZigBee and Z-Wave wireless home automation protocols. Hubs also allow devices to be wirelessly controlled even if you lose your home broadband connection by maintaining a direct WiFi hub-to-smartphone or tablet connection.
All devices work with their respective hubs, but some devices in the Home Depot/Wink ecosystem don't require a hub and will pair directly with a device running the Wink app.
System differences
Staples requires its Staples Connect Hub for all its devices; Home Depot only requires a hub for specific devices. Retail boxes of Wink-compatible devices displaying a white label on their box require the hub, while a blue badge indicates no hub needed.
There are other operational differences between the Staples and Home Depot systems as well.
For instance, the Wink app includes multiple user profiles, which enables a parent to what children can access; the Staples Connect app includes a single all-access profile.
Via Bluetooth LE, Staples Connect supports a variety of wearable devices such as a variety of smart watches and wearable gear from Samsung, Polar, and the Jawbone UP24 fitness tracker, which will be able to control other Staples Connect devices such as thermostats, shades, cameras and doorbells. For example, users will be able to turn on the lights or open the blinds via the Jawbone UP.
Also, Wink includes geo-fencing – the system and its devices know where you are, which enables automatic smart operations such as a door lock or garage door sensing you're near to open or close without being told. Staples Connect does not currently include geo-fencing.
Pricing
Staples will mark down its Linksys-made hub, which includes connectivity support for all flavors of Wi-Fi except AC, Z-Wave, and Lutron Clear Connect, from $99.99 to $49.99 when the Connect system launches on July 15. In the fall, there will be a new D-Link-brand hub ($79.99) that adds Bluetooth Low Energy (Bluetooth 4.0) and ZigBee connectivity.
Home Depot's Wink Hub includes all the aforementioned wireless protocols, as well as the Kidde Wireless System for its smoke detectors and accessories. Not all Wink-compatible devices require a hub, though. So you'll have to check devices for the seal that indicates if it needs a hub or not. From today's launch until Labor Day, the Wink Hub is marked down from $79.99 to $49.99. But, the Hub's price is further marked down to $24.99 if purchased with any Wink-compatible smart gadget, and to just 99 cents with any two Wink-compatible devices.
[woman with smartphone and thermostat via Shutterstock]