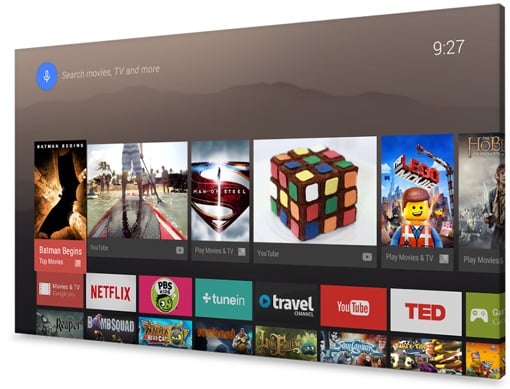 Watch out, Apple TV, Amazon Fire TV and Roku – there's a new streaming media box on the block. Today at the Google I/O Developers Conference, Internet giant Google unveiled a new set-top entertainment box called Android TV.
Android TV will, of course, allow you to watch content from your favorite subscription services like Hulu and Netflix, and purchase content via the Google Play store. You can also mirror content from your Android phone or tablet via Google Cast. But Android TV goes beyond, allowing you to access regular Android apps and games (playable with an optional gamepad). Android TV isn't a new platform – it's just a simple Android-based interface on your TV.
The powerful differentiating feature here is the built-in Google graph search. It allows you to get highly specific with your search requests, like finding "Oscar-nominated movies from 2006." The Android TV box can be controlled using a simple direction pad with voice recognition, an Android phone or tab like the Nexus 5 or by the Google Gear smartwatch, when available.
Perhaps best of all: If you're planning on purchasing a new TV soon, you can skip buying the set-top box. That's because the software will be built in to a number of 2015 smart TVs models, including all HDTVs and 4K TVs from Sony, Sharp and Philips.
You can expect Google's Android TV to be available later this fall in time for the holiday shopping season. Pricing has yet to be announced.
You can learn more about Android TV at android.com/tv.