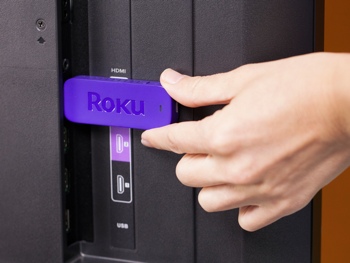 If you're looking for a solution to turn a dumb TV "smart," Roku may have just the thing. Today, the streaming video company announced the release of its latest Roku Streaming Stick that connects directly to any HDMI port.
The tiny device may weigh only 0.64 ounces, but it packs a serious entertainment punch in 1080p HD. Simply connect it to an available HDMI port in the back of your TV (or other piece of home entertainment hardware). Once you connect it to your home Internet, you'll be able to use your TV to watch favorites like Netflix, Hulu, HBO GO, NBA Game Time, and plenty of cool exclusive channels via the Roku Channel Store. You can even use Roku to stream direct from your Android device.
Roku makes a great way to bridge the gap between your current, older TV and the next TV you buy in the future – one that will likely have Smart TV software built in by default. Best of all, it's priced low enough to compete with worthy Smart TV substitutes like the $35 Google Chromecast.
The new Roku Streaming Stick (HDMI) is expected to retail for $49.99. It's currently available for pre-order at Roku.com and at major retailers like Amazon and Best Buy. The device ships in April, but if you can't wait, a USB version of the Roku Streaming Stick is currently available.