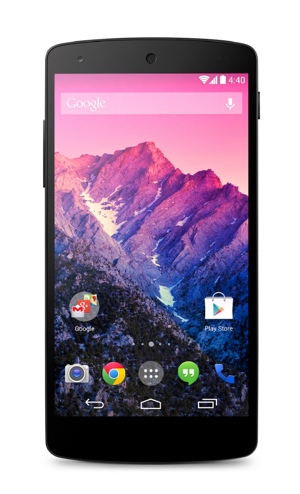 For sometime now, the big smartphone battle has been between Apple's iPhone line and the Android-based Samsung Galaxy line. But that may seriously be about to change: Today, LG and Google introduced the long-awaited Nexus 5 phone, the first ever device to run Android 4.4 KitKat.
The internals of the Nexus 5 alone make it a solid contender for the title of best Android smartphone. It features a 4.95-inch, 1920 x 1080 HD display; a 2.26GHz Quad-Core Snapdragon 800 processor; up to 32GB of storage and 2GB of RAM; a 8.0MP rear and 1.3MP front camera; and a powerful 2,300mAh battery. Its best feature may very well be its price: The Nexus 5 will retail for just $349 (!) off-contract.
I haven't gone hands on with the Nexus 5, but I have spent some screentime with the Nexus 7, the Nexus 5's sexy tablet cousin. One of my favorite features of that device is Google's own version of its Android 4.3 operating system. It's exactly what I wanted Android to be – devoid of special Samsung-specific skins and Verizon bloatware apps I have no interest in ever using. Even if you're a diehard Apple fan, there's a lot to love in Google's own Android build. So much so that I can say if I lost my phone tomorrow and had to buy a new one off-contract, I'd probably pick up the Nexus 5 as a replacement.
The Nexus 5 goes on sale today at Google Play for $349 (16GB), no contract required. You may have to wait a while to get yours, however – this already-popular device has a 3- to 4-week waiting list.