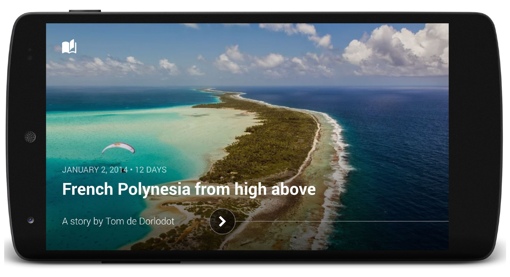 The Google Plus social network announced today that it's putting the power of its incredible algorithms to work in Google Stories, a new feature that automatically groups your photos to creates a travelogue that tells the story of your next (or previous) vacation.
Google Stories uses your photos' and videos' metadata – where each picture was taken and when – to group like content together. Google's algorithm is smart enough to limit duplicates and blurry shots, tag locations such as landmarks and restaurants you ate at and create travel maps that show where you went. Content is displayed as a timeline, so you'll be able to share your experience the exact same way that you lived it.
Google Stories are created automatically as you backup photos and videos to Google+. (Note that your photos are always private until you actively choose to share them.) The company will send you a notification when a new story is ready for you to view or share. And, those you share with don't need to have a Google+ account, you can send them a link to view the story.
Of course, your Google+ Stories will only be as good as the number of pictures you take, so it pays to be shutter happy. You can check out a sample Google Story here.
Google Stories will be available this week on both Android and via the web. Support for iOS devices is "coming soon." You can learn more about Google Stories by visiting the Google Official Blog.