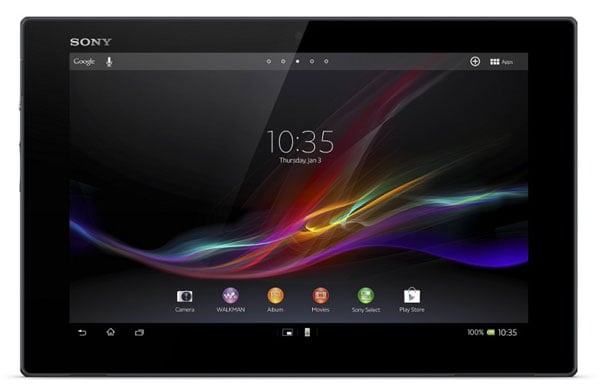 With its super-svelte design and ultralight weight, the Sony Xperia Tablet Z marks a tremendous engineering innovation for 10.1-inch tablets. In fact, the Tablet Z resets what our expectations can and should be for a 10-inch class slate.
How it feels in the hand
The Xperia Tablet Z stands out from the crowd for several reasons. With dimensions of 171 by 265 by 6.9 mm and a weight that works out to 1.09 pounds, the Tablet Z achieves a balance between its physical size and weight that makes it the first 10-inch class tablet with a barely-there feel. I could hold this in one hand, from the bottom edges, as if I were reading a magazine—and it didn't feel imbalanced, as if the top of the tablet were weighing my hand down.
By comparison, the typical 10.1-inch Android tablet weighs about 1.3 pounds, with the 9.7-inch Apple iPad weighing in at 1.44 pounds. While these numbers may not sound big, in the real world, the added weight makes a huge difference. It's the kind of thing that makes for a more comfortable and versatile experience, and one where I could absolutely see spending quality time reading on the tablet without getting fatigue.
Display
Sony ups the resolution on the Tablet Z to 1920 by 1200 pixels, which means it joins the higher pixel density era. No eye fatigue here. Text was sharp and crisp, and an overall pleasure to read on the Tablet Z. I wish Sony had added a Reader's Mode, as Samsung did on its Galaxy Note 8.0 tablet, but overall, the Tablet Z was a pleasure to use.
Another strength for Sony is its attention to image quality. The company has increased the number of colors supported, with the result being images looked bright and brilliant. Sony applied contrast-enhancing technology from its TV division to improve the display's performance as well; at first blush, the Tablet Z appears to successfully achieve greater contrast than do competing Android tablets.
Camera
Sony tapped its camera division for ways to improve upon the standard Android camera experience. The result is more nuanced, better-designed camera software and an 8 megapixel camera and optics that make shooting and focusing with the tablet a pleasant surprise. In fact, when I held up the tablet to take some test shots, it appeared seamless with my environment, almost as if was looking through a window.
Navigation & control
On the whole, Sony has really nailed the hardware on the Tablet Z, both in a competitive sense as well as a design sensibility that's cohesive with its Xperia Z phone line. But what's even more impressive is how Sony has customized the Android experience without overly co-opting it. It's Android Jelly Bean, but the lock screen and the launcher each have conveniences that make it easier to do certain things. For example, you can access mini pop-up versions of certain core apps through an icon on the main screen.
Sony's integrated IR blaster and universal remote control for navigating home theater components is also compelling; it remains one of the best remote control implementations I've seen. Together with Sony's TVSideView app for content discovery, the Tablet Z becomes a great second-screen companion.
Water resistance
One feature I found to be a mixed bag was Sony's water-resistance feature. Yes, if all port doors are fully and properly closed up tight, the tablet can withstand water—submerged up to 3 feet for 30 minutes. But I can foresee times when the unexpected might happen, a time when all flaps (including the one over the headphone jack) are not sealed tight—and that's when the tablet might still be vulnerable to moisture.
Pricing & availability
The Xperia Tablet Z is scheduled to arrive in the spring in 16GB ($499) and 32GB ($599) versions. Those prices may feel a little high compared with the Android competition—many of which will offer 32GB today for $499; but, they are spot on compared with Apple's current iPad offerings.