Samsung yesterday took the wraps off of its latest tablet, the Galaxy Note 8.0, here in Barcelona, Spain, at Mobile World Congress, the biggest wireless show of the year.
I got to spend time handling the new tablet, and walked away with clear first impressions of where this tablet will fit in with the competition. The short answer? Samsung has many clear value adds over the Apple iPad Mini and competing moderately-sized tablets like Google's Nexus 7.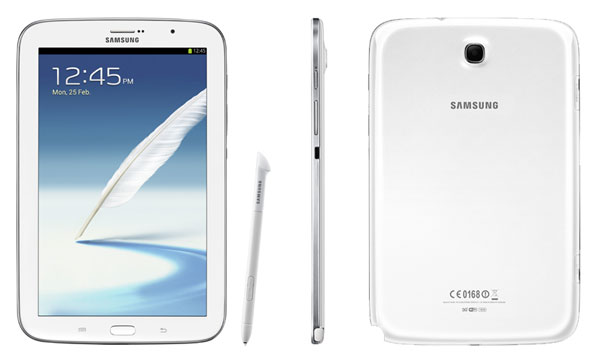 How it feels in the hand
Samsung literally had to pry the pre-production tablet I was using during the demo out of my hands—that's how comfortable it felt to hold. The tablet is well-balanced when I held one-handed, a critical point considering that you'll likely be using the Galaxy Note 8.0 for everything from reading books to surfing the Web to organizing your life.
Mind you, as it stands now the Galaxy Note 8.0 is not the lightest tablet in this general size class: Apple's iPad Mini weighs slightly less, coming in at 312 grams to Galaxy Note 8.0's 338 grams. But iPad Mini packs a slightly smaller display, too: 7.87 inches, to Galaxy Note 8.0's full-bore 8-inches.
What I didn't like? Samsung continues to use a plastic backing on the tablet. The white plastic is consistent with Samsung's design for the the Galaxy Note II phone and the existing Galaxy Note 10.1 tablet. But given that the Galaxy Note line comprises Samsung's flagship offerings, the plastic back feels incongruous and disappointing on an otherwise premium product.
Display
The 8-inch display size has been something of a rarity among mainstream tablets. Typically, manufacturers have been doing a basic 7-inch display or they've jumped up to the 10.1-inch size. Samsung went with 8 inches for a couple of clear reasons. For one thing, 8 inches represents a midpoint between Samsung's 5.5-inch Galaxy Note II handset and its larger sibling, the Galaxy Note 10.1. For another, 8 inches turns out to be an optimal size when taking advantage of some of Samsung's unique features, like its Multi Window View, the ability to run two apps side by side.
The Galaxy Note 8.0's display packs 1280-by-800 pixel resolution, which works out to 189 pixels per inch. Text looked sharper than what I've seen on an iPad Mini (163 ppi). But you won't mistake it for being on the same level as an iPad's "Retina" display. The pixels clearly matter.
Hardware
The version of the Galaxy Note 8.0 announced yesterday includes a 3G phone as well. However, the U.S. version will not have the phone built-in, a disappointment, perhaps, for those who want to buy one device that can straddle the phone and tablet universes.
Physically, the design and internal components are fairly straightforward. The Note 8.0 has a quad-core 1.6GHz Exynos processor; 5 megapixel rear camera and 1.3 megapixel front-facing camera; 2GB of system memory; and 16 or 32GB of on-board storage (and up to another 36GB more with a microSD card).
S Pen Magic
Like other Galaxy Notes before it, the Galaxy Note 8.0 comes with Wacom's pressure-sensitive pen input, so you can jot notes as easily as if you were using pen and paper. I've enjoyed using S Pen on a Galaxy Note II phone, but even on that phone's large—for a phone—display, I'd feel as if the screen real estate for writing was too little to be practical. Meanwhile, the 10.1-inch Note tablet just feels too bulky to use casually.
The Note 8.0, on the other hand, feels more like a small notebook. I can see this being a replacement for pad-and-pen types who need something to physically write on. New features for S Pen include improved preview functionality in some S Pen enabled apps (Flipboard and Awesome Note).
Smart Remote
As with the Galaxy Tab 2 series, Samsung includes an IR port in the tablet so it can double as your remote control for your home entertainment setup. This just plain makes sense: So many times, I've found myself on a couch with my tablet in-hand, and I've wanted to just go ahead and use the tablet for exploring what's on TV. Together with Peel's software, you can do just that.
Reading Mode
Ah, here's another nifty software tweak, one that Samsung made to optimize the Note 8 for reading. There's a setting in the menu section that lets you invoke "Reading Mode." By doing so, Samsung adjusts the color temperature, brightness, and contrast to make using an LCD easier on the eyes, and easier for reading. This feature will work with third-party apps, and not just Samsung's own e-book reading app.
Pricing and availability
Samsung hasn't announced pricing yet. The Galaxy Note 8.0 will be available in the second quarter of 2013.