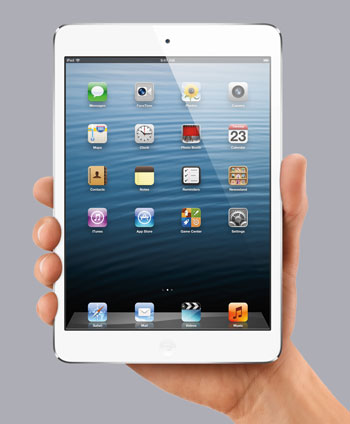 Apple yesterday introduced its long-anticipated "iPad mini," a smaller, thinner and lighter version of the company's popular tablet. It adopts some of the high-tech features found in the company's new iPod touch, including a 5-megapixel iSight camera on the back, a FaceTime HD camera on the front and the company's new Lightning connector on the bottom. It also shares features with the iPad 2 (new in 2011), it has the same lower-resolution display technology––rather than the super-crisp Retina Display incorporated into the new iPod touch––as well as the same "A5" chip that powers that older iPad.
The iPad mini is Apple's new entry-level model in the iPad lineup. The iPad 2 will continue to be available as the mid-range model. And in a surprise move today, Apple also introduced a new top-of-the-line fourth-generation iPad. It supplants the third-generation model that was introduced just over seven months ago––updated with a more powerful processor, better graphics and faster Wi-Fi technology.
iPad mini
At a glance, the most obvious difference between the iPad mini and its larger siblings is in its screen size: 7.9-inches diagonally versus 9.7-inches diagonally. Yet because the mini's display shares the same 1024 x 768 pixels resolution as the iPad 2 display, it won't require new apps to be specifically designed or modified for it; all of the more than 275,000 apps already developed specifically for the larger iPad models will work on the mini immediately.
That it's thin and light also is immediately apparent; At just 7.2mm deep the iPad mini is no thicker than a pencil, and at only .68 lbs. it weighs about the same as a pad of paper, noted Phil Schiller, Apple's senior vice president of worldwide marketing.
The front-facing FaceTime HD camera transmits 720p HD video in Apple's FaceTime videophone app, while the rear-facing iSight camera records full-HD 1080p video, and features autofocus, video image stabilization and face detection technology.
Dual-band 802.11n Wi-Fi technology incorporated into the new iPad mini is up to twice as fast at sending and receiving data compared with the Wi-Fi technology than was used in earlier iPad models. This type of Wi-Fi, which isn't new but is new to iPad, is incorporated in the new full-size fourth-generation iPad, too.
In addition, fast 4G cellular data service is available in a step-up model of the iPad mini––just as it is in a step-up model of the fourth-generation iPad.
Pricing for the Wi-Fi-only iPad mini is set $329 for a version with 16GB of memory; $429 for 32GB version; and $529 for 64GB. The Wi-Fi + Cellular iPad mini is priced at $459 for 16GB; $559 for 32GB and $659 for 64GB, and will be offered by Sprint, Verizon and AT&T. Pre-orders will be taken beginning this Friday. Deliveries of Wi-Fi-only models are scheduled for November 2. The Wi-Fi + Cellular models will be available about two weeks later.
How iPad mini stacks up
Rivals to the iPad mini––such as Amazon's Kindle Fire HD, Barnes & Nobles Nook HD and the Google Nexus 7––all cost significantly less money, but Apple contends that they also offer less.
"There is inherent loss in just reducing a product in size," said Jony Ive, Apple's senior vice president of industrial design. "But what we did was...design a product that was a concentration of, not a reduction of, the original."
The specifications may tell a different tale. Both the Nook HD ($199 on barnesandnoble.com) and Kindle Fire HD ($199 on amazon.com
) have better resolution displays than the iPad mini: 1440 x 900 pixels and 1280 x 800 pixels respectively. Furthermore, while the Nook HD offers half the storage capacity of the least capacious iPad mini and of the Kindle Fire HD (16 GB), it is expandable via a built-in microSD card slot, while the iPad mini (like all iPads) and the Kindle Fire HD are not. The Kindle Fire HD also features stereo speakers, whereas the iPad mini (like all iPads) has a single speaker.
Additionally, whereas Apple aims its iPad mini and other iPads at solo users, Amazon has designed the Kindle Fire HD to be shared among multiple users, each of whom can set up a unique profile with a service named FreeTime. Each profile offers its own selection of books, apps, games and videos, and each can have an associated usage limit––so, for example, parents can allow reading all day but restrict play time to an hour a day.
However, Apple's Schiller contends that real-world use will ultimately set the iPad mini apart from its diminutive competitors. Comparing it in his presentation to what appeared to be a Google Nexus 7, Schiller noted the iPad mini's overall display area is 35 percent larger than that of a 7-inch display (29.6 square inches vs. 21.9 square inches). Which translates into more visible content on the screen when surfing the Web, he said––by a 50 percent margin when the iPad mini is held upright (portrait style), and a 67 percent margin when held sideways (landscape style).
Fourth-Generation iPad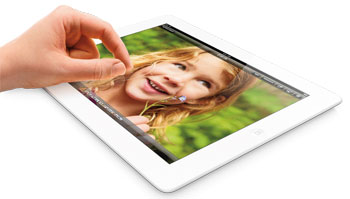 The hallmark of the fourth-generation iPad is a powerful new main processor, named A6X. It makes this iPad twice as fast as the third generation iPad for graphics-intensive tasks, such as playing video games, or other applications that rely heavily on the device's computing power.
A new generation of "image signal processor" in the fourth-generation iPad also yields better face recognition and image stabilization, Schiller said.
Moreover, boosted energy efficiency in the fourth-generation iPad means battery life remains unchanged at 10 hours on a full charge.
Wi-Fi-only models cost $499 for 16GB; $599 for 32GB; and $699 for 64GB. Wi-Fi + Cellular models cost $629 for 16GB; $729 for 32GB; and $829 for 64GB.Pre-orders for the fourth-generation iPad also will be taken beginning this Friday, and deliveries will be contemporaneous with the new iPad mini.