In many kitchens, refrigerators literally stick out like a sore thumb, jutting out nearly a foot beyond the edge of your counter. Not only is this refrigerator budge unsightly, but it limits your kitchen's floor space. LG has solved this chubby chiller problem without sacrificing capacity with its industry-leading Counter Depth MAX line of French Door refrigerators, which includes models ranging from 25.5 to 26.5 cu ft capacity.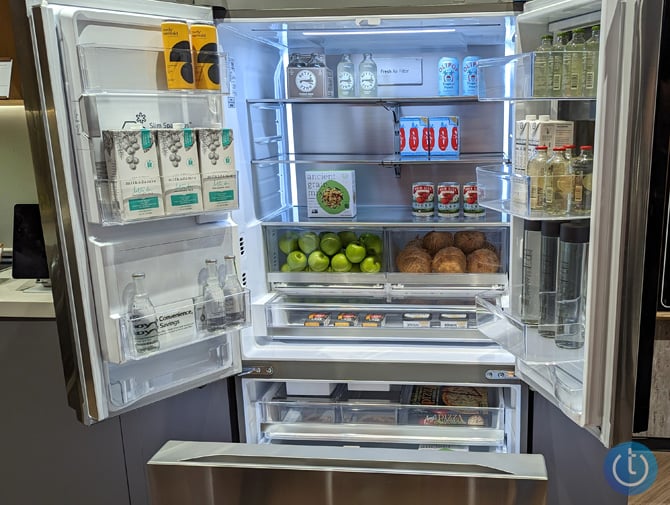 To slim down the Counter-Depth MAX models without sacrificing capacity, LG has redesigned several of the fridges' core components. The company has trimmed down the cold air duct and the evaporator while also reducing the thickness by applying enhanced insulation.
In the line, there is the Smart Counter-Depth MAX, the Smart InstaView Counter-Depth Max, and the just-announced Smart Mirror InstaView Counter-Depth MAX. The Smart Counter-Depth MAX has a capacity of 26.5 cu ft, thanks to an internal water dispenser. The two InstaView models (which have a window in the door) have an external water dispenser and a 25.5 cu ft capacity.
All of the fridges include exclusive LG features: Linear Cooling to reduce temperature fluctuations within one degree to help keep preserve food longer, and Door Cooling+, which uses blasts of cool air to work faster than conventional cooling to help keep food fresher and beverages colder on every shelf.
The InstaView models have a "window" that covers nearly the entire right-hand door of both models. Knock on the opaque window and turns it clear so you can see what's inside – or what's not inside and needs to be replaced – without opening the door.
The new Smart Mirror InstaView Counter-Depth MAX prevents further intrusion into your kitchen space by replacing the unusual external handles with discrete pocket handles that keep the fridge's doors flat.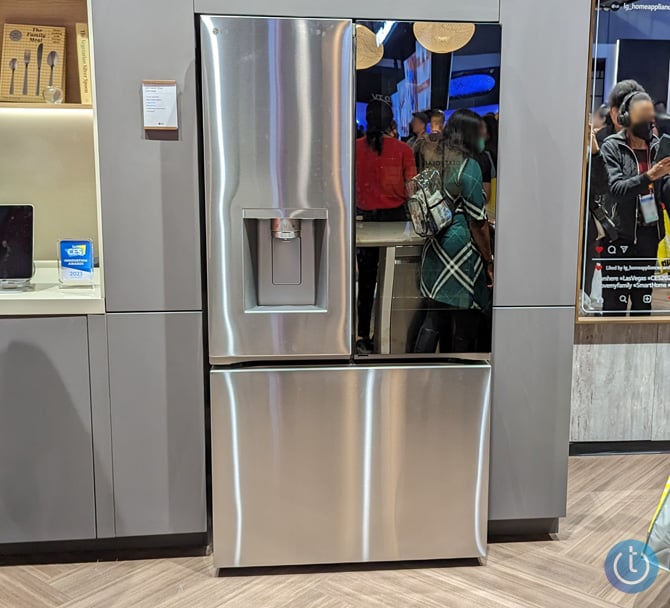 Not only is the Smart Mirror InstaView Counter-Depth MAX thin and pretty, but it can also create four different types of ice to keep your parties hearty: cubed, crushed, new mini-cubed, and slow-melting round Craft Ice. And UVnano tech helps keep the fridge's water dispenser system cleaner by reducing bacteria on the dispenser nozzle by 99.99%.
The Counter-Depth MAX is on sale for $1,799.00 (usually $2,499.00) on Lowes, the InstaView Counter-Depth MAX is on sale for $2,399.00 (usually $3,499.00) at Lowes, and the Smart Mirror InstaView Counter-Depth MAX is on sale for $4,099.00 in stores (find a local retailer on LG).
[Image credit: Techlicious]
Stewart Wolpin has been writing about consumer electronics for more than 35 years, including news, reviews, analysis and history, and has attended and covered nearly 50 Consumer Electronic Shows and around a dozen IFA shows in Berlin. For the Consumer Technology Association (CTA), he is an elector for and writes the official biographies of the annual CT Hall of Fame inductees, and is the keeper of the industry's official history.