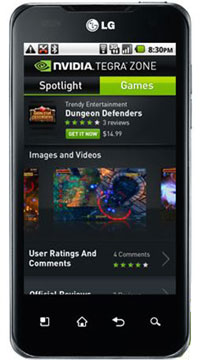 If you're an iPhone user you get apps from the iTunes App Store. And if you're an Android fan you turn to the Android Market, right? The answer is: not always.
While the official, Google controlled Market is the most popular way to get apps for your Android handset a number of other options are starting to sprout up. Amazon plans to launch an Android app store in the near future, and Gameloft has been selling its Android games direct to consumers for some time. Now the market for markets is about to get even more crowded with the launch of NVIDIA's Tegra Zone app.
Tegra Zone is a carefully curated repository for high-end 3D Android games that require the extra muscle of NVIDIA's Tegra 2 platform. The heart of Tegra 2 is a powerful dual-core processor and an advanced graphics chip specifically designed for running demanding games.
Selling apps through Tegra Zone will appeal to developers because it's smaller size will make it easier to cut through the noise and because it will allow them to sidestep Google's rather paltry 50MB size limit for apps. All the features you'd expect from an app market, such as ratings and comments, will be included.
There will also be social networking features for challenging friends and posting high-scores. Launch titles will include graphically intensive titles like 'Dungeon Defenders' and 'Monster Madness' as well as a more casual time waster in 'Fruit Ninja HD.' Now all we need is a launch date.