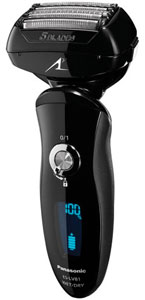 Panasonic ups the ante in the men's rechargeable electric shaver category with its first models to feature five blades, a first for shavers. More blades contribute to a closer shave, it is contended.
The new Arc5 shavers––models Panasonic ES-LV81-K
($599.95) and Panasonic ES-LV61-A
($499.95)––sit atop Panasonic's electric shaver range and use five stainless steel blades positioned at a 30-degree angle to the skin, as well as a newly developed "Lift-Tech Foil" that lifts and guides the hair closer to the blades. The blades and foil also are contained in a very large pivoting head, and altogether the combination reduces pressure on the skin by dispersing it over a larger contact area, for a more comfortable shave, Panasonic says.
Like Panasonic's earlier four-blade Multi-Flex shavers, these Arc5 models are also fully waterproof, so they can be used in the shower or with shaving cream.
A sonic vibration cleaning mode assists in removing hair from the blades while the shaver is rinsed under running water. But the higher-end ES-LV81-K comes with a cleaning and charging machine that eliminates the need for faucet cleaning. The machine runs the shaver's sonic cleaning mode while bathing the blades in an alcohol-free cleaning solution, and then dries the shaver.
Charging time is one hour, and Panasonic says a full charge will power the razor through 15 shaves (at a usage rate of three minutes per shave). In addition, the shaver's electric motor will continue to operate at full speed (an industry-fastest 14,000 cycles per minute) until the battery dies, Panasonic says.