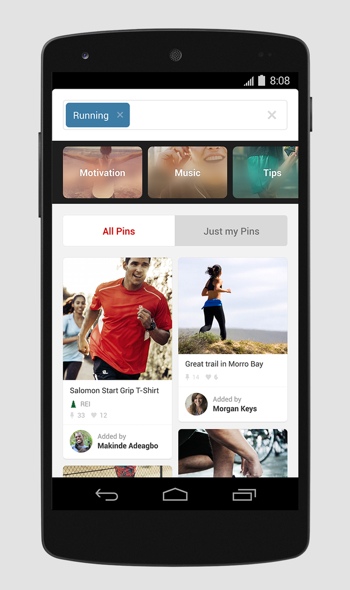 Social network Pinterest has launched a new feature called Guided Search designed to help you explore its pinned content, "even if you don't know exactly what you're looking for," the company announced on Thursday.
Search "dinner recipes" on Pinterest, for example, and the site will offer you a selection of popular guide words to help narrow your search, like "healthy," "easy" and "for kids." Tap the latter option and Guided Search will return a simple frozen fruit pops recipe pin, a kid-friendly cheese quesadilla recipe that kids can make themselves, and a pinned blog entry entitled "Easy Dinner Recipes for Kids." Pinterest will suggest popular search additions to your queries, or you can enter your own search terms.
The new system is designed to return the most popular related pins, so the social network's users essentially vet your search results for you. And since this is Pinterest, your search results will all come with great full-color pictures to provide the perfect amount of creative inspiration.
Pinterest's new Guided Search is currently available on both the iOS (available on the Apple App Store) and Android (available on Google Play) versions of the app. To learn more, read the official Pinterest blog or take the guided tour waiting in the app.