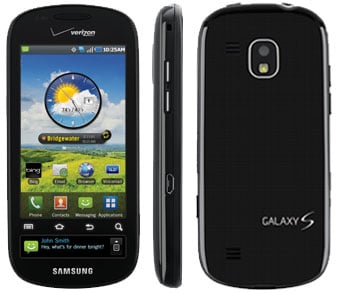 The Samsung Continuum is the first smartphone designed with a second "ticker" display that provides customized information in real time, including the time, news and social networking updates—even when the main display is off.
The 1.8-inch Super AMOLED ticker touchscreen is placed directly below the main 3.4-inch Super AMOLED touchscreen, which makes the Continuum slightly longer than other smartphones, but not awkwardly so. When you're using the phone, the ticker provides access to music playback controls and updates so you don't have to leave your main app. In standby, touching the bottom sides of the Continuum causes just the ticker display to light, providing real-time weather, social networking, text and e-mail updates.
Out of the box, the Continuum is loaded with Android 2.1, but the phone will get an update to 2.2 (Froyo), which should mean support for Flash web browsing. The phone has a 1GHz Hummingbird Cortex A8 Application Processor, 5-megapixel camera, Wi-Fi, Mobile hotspot and a pre-installed 8 GB microSD card.
The Samsung Continuum will be available for pre-order starting November 11, 2010 at VerizonWireless.com in Verizon Stores for $199.99 (after a $100 mail-in rebate) with a new two-year customer agreement and data package. The devices will be on store shelves beginning November 18, 2010.