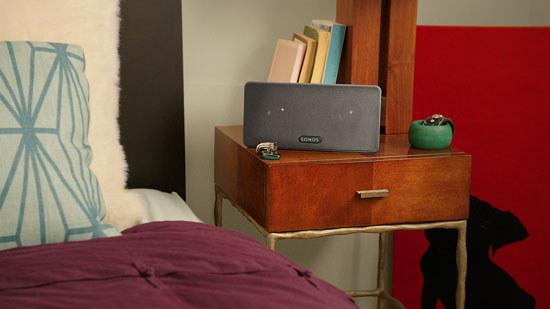 Sonos is known for its high-quality wireless digital music systems that anyone can get set up, whether their music lives on their computer, network attached storage or the Internet (think Spotify, Rhapsody and Pandora). Today, Sonos announced a new entry level product and price point, the $299 Play:3, a small all-in-one that combines a music streamer and speaker.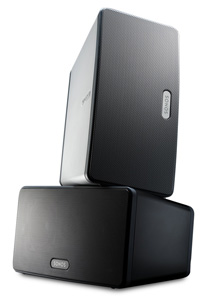 Measuring 5.2 x 10.5 x 6.3 inches, the Play:3 is much smaller than Sonos' other all-in-one, the 8.50 x 14.40 x 4.80-inch S5 ($399), making it a good fit for tight spaces like kitchen counters and bathrooms. For larger spaces a pair can produce stereo sound, with each playing a dedicated left or right channel. The speakers even have a sensor to tell whether they're positioned horizontally or vertically, so they can adjust their output accordingly.
Inside the Play:3 you'll find one tweeter, two 3-inch mid-range drivers and a passive, rear-firing bass radiator. Together they put out an impressive amount of sound. And while I wasn't able to spend a long time listening to the Play:3, a test track of female vocals cranked to maximum volume didn't show distortion.
The Play:3 plays out of the box if you can plug it directly into your home's router. If you want wireless streaming, you'll need the Bridge, whose price was just lowered from $99 to $49. And either way, you'll need a remote control or controller app to select your music and adjust volume. Free apps are available for iPhone, iPad, Android device or computer, or you can use the standalone Sonos Controller 200, which sells for $349.