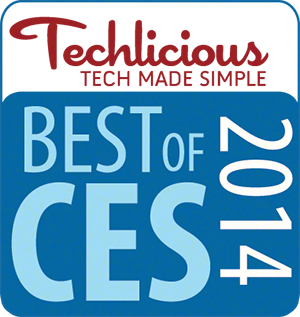 Every January, the largest gathering of the consumer electronics industry descends upon the city of Las Vegas for the International Consumer Electronics Show (CES), which boasts the newest, coolest technology for the coming year.
The team at Techlicious spent hours perusing the halls of the Las Vegas Convention Center searching for the most exciting new products of 2014. Each of the products has unique features or design that caught our eye among the tens of thousands of items on display. These are the nine which made our list for the Best of CES Awards 2014.
Sony 4K Handycam FDR-AX100
Up until now, creating content for 4K televisions and monitors has been almost completely in the hands of professionals because the high cost of 4K cameras put them out of reach for the average person. That's about to change thanks to the Sony AX100, a consumer-grade 4K Handycam. Sony stuffed the relatively light and compact AX100 full of high-end imaging and recording technology: a 29mm wide-angle ZEISS Vario-Sonnar T lens, optical image stabilization, and advanced audio recording and noise cancellation. It's still pricey at $2,000, though this is within a price range that will appeal to people who want to capture the very best family videos possible.
Price: $1,999.99
Available: March 2014
AR for Her: ZipStick
Running out of battery life on your smartphone isn't just an inconvenience, it can also be dangerous if you find yourself in an emergency situation. The ZipStick battery pack is designed with this and other safety considerations in mind. Not only will it charge a phone, it's also a flashlight and a 110dB personal siren/alarm. Small and compact enough to fit in a small bag or pocket, the ZipStick is an excellent all-in-one safety device that's easy and convenient to carry.
Price: $34.99
Available: Later this year.
Sensoria Fitness Socks
Fitness trackers are big at CES this year with companies from all over the tech landscape announcing gadgets that count steps, measure heart rate or helps correct posture, just to name a few. The Sensoria Smart Socks stand out because they take tracking to the next level. They're made from fabric infused with textile sensors that send signals to a Bluetooth-enabled anklet. The socks not only track steps taken, but also cadence, foot landing technique, and weight distribution. For runners and fitness walkers, this can help correct potential problems and prevent injury while also assisting in training and reaching goals.
Price: $149 (one pair + anklet) $199 (four pairs + anklet)
Available: March, 2014
Samsung Food ShowCase Refrigerator
There are two types of people in the world: those who open the refrigerator door and stare into it for minutes on end trying to decide what to eat and those who yell "Close the door!" To end this ongoing war, Samsung introduced the Food Showcase Refrigerator with a special two-door system and advanced organizational features. You can arrange food in the fridge according to zones based on type of food or condiment so items are easier to locate. A special inner door holds frequently-accessed items like drinks or snacks for kids and is see-through, so those of us who can't help but stand and stare into the fridge won't rack up dollars on the electricity bill while doing it. There aren't many appliances that can boast being energy efficient and promoters of household harmony.
Price: not released
Available: not released
Lenovo ThinkVision 28 4K2K Smart Display
Last year 4K TVs were the belle of the CES ball. This year 4K monitors that don't cost an arm and a leg are the new hotness. The ThinkVision 28 does more than just bring all the pixels to the yard, it combines the best features of a touchscreen monitor, TV, and all-in-one to make for one smart display. The 4K resolution and rich color palette were enough to get our attention, but Lenovo went two steps further in making this one of the most desirable devices we saw at CES. Multiple HDMI and Display Port inputs mean you can hook up your computer, cable/set-top box, and a game console or two and switch between them without having to touch the cables. Or, you can turn them all off and use the ThinkVision's built-in Android 4.4 operating system. You can use Android just as you would on a tablet, effectively turning the monitor into a high-end all-in-one with access to millions of touch-friendly apps.
Price: $1,199
Available: July 2014
Mophie Space Pack
Mophie's Juice Packs are among our favorite battery life extender products, especially for the iPhone where the case provides protection as well as longevity. Now we can add extra storage to that list. The Space Pack for iPhone 5/5S is available with 16GB or 32GB of storage easily accessed via a free app, dubbed "Space," which includes AirPlay and AirDrop integration for wireless sharing. The app also automatically organizes files by type, so all you have to do is add them to the Space Pack from either the iPhone or from your computer; no need to spend time manually sorting into folders. Even with this extra benefit, the case itself is still as streamlined, compact, and relatively light as we've come to expect from Mophie.
Price: $149.95 (16GB) and $179.95 (32GB)
Available: March 14, 2014
Samsung ATIV One7 2014 Edition
All-in-one PCs are at their best when they go beyond just being great computers and offer a wider range of functionality and features. Samsung's ATIV One 7 combines a Windows 8 touch system with a Bluetooth speaker dock and personal cloud media storage, making it one of the most versatile All-in-ones we've seen. Most all-in-ones can do double duty as media centers, particularly when they have bright, color-rich 24-inch touch displays and HDMI input for connecting cable boxes or game consoles as the ATIV does. Great speakers also help, and Samsung took things one step further by adding aptX Bluetooth functionality so owners can connect smartphones or tablets and stream high-quality audio wirelessly, even when the PC is off or sleeping. Samsung also improved upon personal cloud storage with Samsung Link, a service that gives you access to all the media and files stored on the 1TB drive without leaving the PC on. Whenever you need a file, Link can turn the ATIV One 7 on remotely and send it back to sleep once the transfer is done. With these extra features, Samsung is redefining what an all-in-one can be.
Price: not released
Available: not released
Moneaul Baby Monitor
You can never start tracking activity too early, at least according to the company behind this new kind of baby monitor developed with hearing-impaired parents in mind. The monitoring station listens for a baby's cry and alerts parents via LEDs on the wristband as to what their child needs. Moneual claims that the monitor can differentiate between types of crying (hunger, sleepy, needs a change) and flashes specific patterns based on that determination. A corresponding app for iPhone and Android keeps track of all this data over time so parents can see when their baby cried, why, and for how long. It may seem impossible that a gadget can interpret what a child needs just from crying, but Moneual says the tech is based on data collected from thousands of crying babies — our condolences go out to the researchers who got that job.
Price: No price yet
Available: First quarter 2014
Fugoo Bluetooth Speaker
Of the many hundreds of Bluetooth speakers on display at CES and beyond, the new Fugoo line caught our attention with two key features: very good audio quality and a singular design concept. The speakers have drivers on all four sides, so there is no one sweet spot, providing a more expansive audio experience. Plus, Fugoo's advanced audio equalizer and digital streaming technology keep music quality from degrading too much between your smartphone and the speaker. The base unit is impact, dust, and water resistant and is separate from the jacket/sleeve that covers it; this means you can easily switch the cover to change the color or texture, add additional rugged protection, or make it mountable. This versatility plus the great sound it produces make the Fugoo the best Bluetooth speaker we saw at CES.
Price: $199
Available: this month