We may earn commissions when you buy from links on our site. Why you can trust us.

The Best True-Wireless Earbuds
Wander around any urban center and you'll spot a surfeit of the white stick Apple AirPods sticking out of people's ears. They are the market leader in a new category of Bluetooth headphones dubbed "true wireless" because there is no cable connecting the earbuds behind your neck.
But AirPods ($159) are not the best true wireless earbuds choice for everyone. For one thing, while you can use them with Android phones, you lose all the Apple ecosystem benefits the AirPods become just another set of true wireless earbuds. AirPods are hard plastic and there are no silicon ear tips, so a comfortable firm fit is a problem – they kind of wobble inside and around your canal, and the sound shifts each time the buds shift position as you move, and it's nearly impossible to maintain any level of sound isolation. And, quite frankly, I don't think they sound that great even when they're in the right ear canal position.

Fortunately, AirPods' success has prompted nearly every headphone maker and audio company to jump in with their own true wireless earbuds, so you have a lot of AirPods-superior alternatives from which to choose. Here are our picks for the best true wireless earbuds.
Best Sounding: Sennheiser Momentum True Wireless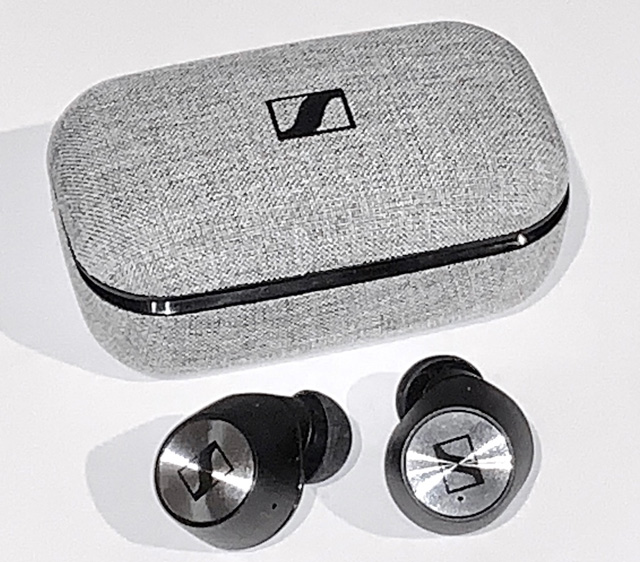 With its silvery-capped earbuds sitting in what appears to be a cloth-covered ring box, Sennheiser's initial true wireless earbuds entry exude luxury. Aside from their impressive aesthetics, these Sennheiser true wireless earbuds' sonics are cleaner and crisper than any Bluetooth buds I've wriggled into my ears, with a wide soundstage, sturdy midrange and just the right amount of blended bass. You get four rather than the usual three silicon ear tips to ensure the right fit for you, auto-pause when you take a bud out of your ear, the touch controls for pause/play, call answer and volume work as advertised, they're splash resistant, and the app includes an equalizer to mold the sound to your liking. On the downside, you get just 12 hours of total listing, four from the buds plus two re-charges, which is on the skimpy side; the "transparent" ambient sound function can only be activated within the app, and you charge the case via an included USB-C cable instead of the usual and more ubiquitous micro-USB, giving you something else to keep track of. For the platinum-eared crowd seeking wireless convenience, though, you'll hear every cent you spend on these Sennheisers.
Coolest feature/function: Luxurious sound and looks
Battery Life (bud/total with case; in hours): 4/12
Ear Tips: 4 silicon
Touch controls: volume, pause/play, call
Water/Splashproof: IPX4
Voice Assistant Access: Siri, Google Assistant
Colors: silver/black
Price: $299.95 on Sennheiser.com, check price on Amazon
Best for Exercising: Jabra Elite Sport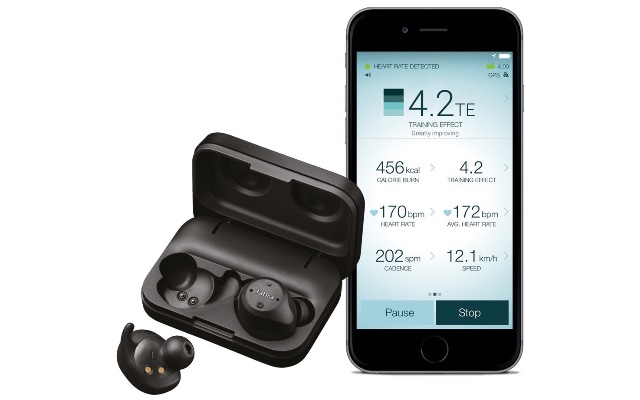 The Jabra Elite Sport is packed with lots of great biosensors including a heart rate monitor, step counter, rep counter, VO2 measurement and race time predictor. You also get workout tracking capabilities, personalized coaching and recovery advice via its accompanying Sport Life app, the waterproof and immersable the Jabra Elite Sport is the exercise-centric true wireless earbuds all other models are measured against – at least until we can check out the cheaper Plantronics BackBeat Fit 3100 ($149.99, check price on Amazon) and Bose SoundSport Free ($199.95, on sale for $169.99 on Bose.com, check price on Amazon). As a bonus, a right bud double-tap opens up the Sport's four external mics and lets you hear what's happening around you and lets you conduct conversations without inconveniently removing one or both buds. Operationally, instead of having to remember myriad gestures, there are small raised controls on each bud you can feel to control calls, pause/play and volume, and built-in wings keep the buds lodged comfortably but firmly in your lobes as you work out. If you're not into exercise but want the same great sound reproduction, a comfy fit and ambient noise Hear Through toggle, the non-sport version, the Jabra Elite 65t ($169.99m check price on Amazon), are $50 cheaper.
Coolest feature/function(s): Full range of exercise and biometric tracking
Battery Life (bud/total with case; in hours): 4.5/13.5
Ear Tips: 6 (3 silicon, 3 foam), 3 stability ear wings
Touch controls: volume, pause/play, call, "Hear Through" ambient mode
Water/Splashproof: IP67 dust, immersion waterproof
Voice Assistant Access: none
Colors: Black, Lime
App: Jabra Sport Life
Price: $219.99 on Jabra.com, check price on Amazon
Most Invisible Ear Buds: Earin M-2

Headphones often serve as a status symbol, hence the high number of Beat wearers you see struttin' on the streets. Earin figured there's status at the other end of the size spectrum, and produced what may be – at an inch long and barely a half-inch wide – the smallest in-ear true wireless earbuds extant. Once inserted into your canals, the slightly angled M-2's practically disappear except for a small black dot in the middle of your ear – just make sure they're correctly angled so your finger can reach the touch controls. Due to their small size, touch command is limited to pause/play and call controls, and, of course, the earbuds are more likely to be misplaced. Belying their size, however, the M-2's deliver a wide soundstage with sufficient bass, although they aren't quite as bright or airy as other true wireless earbuds. What I didn't like was insufficient included set-up instruction, which requires pairing each bud to your smartphone separately, then having to pair each bud again with the app. And the app-based Audience Transparency didn't seem to have much effect, regardless of where I set their volume and distance slide levels. But, no need to worry about which bud is left and which is right – they self-assign depending on which ear you insert each into. And the magnetized cork packaging is kinda cool.
Coolest feature/function(s): tiny buds, "intelligent" noise reduction
Battery Life (bud/total with case; in hours): 4/14
Ear Tips: 4 (3 foam, 1 silicon)
Touch controls: pause/play, calls, voice assistant
Water/Splashproof: none
Voice Assistant Access: Siri, Alexa, Google Assistant
Colors: black
App: Earin M-2
Price: $249.00 on Earin.com
Most Fashionable: Mobvoi TicPods Free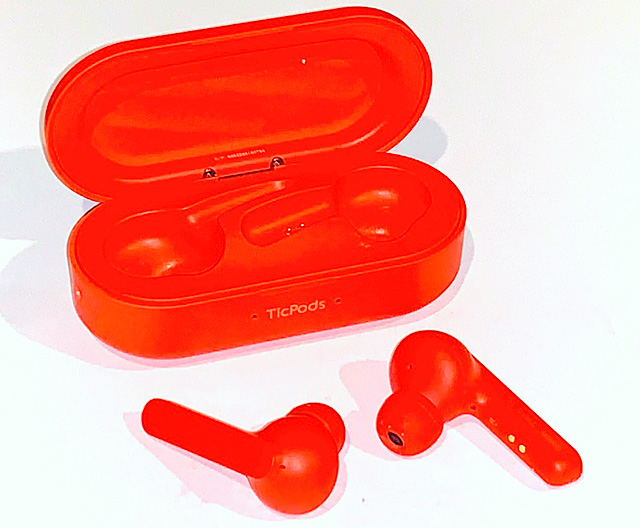 With their familiar stick design, people will think you're listening to some new Apple AirPods variation. But for $30 less than Apple's white sticks, TicPods Free aren't just a relatively cheap knock-off of the AirPods, but an improvement. For one thing, they come in not only white, put a really cool pastel red as well as navy blue. Functionally, you can finger slide up-and-down on either bud to raise or lower the volume, adjustments unavailable on AirPods. While TicPods lack AirPods' NFC Bluetooth pairing, merely opening the case puts the Mobvoi buds into pairing mode. Not only do TicPods then subsequently auto-pair with your phone, your music will also start to autoplay as soon as you wedge 'em into your ears (at least most of the time). With its choice of two ear tip sizes, TicPods create a better ear canal noise-isolation seal than AirPods hard plastic tip, and sound pretty good – better, or at least maintain a more consistent sound level, than the constantly shifting AirPods.
Coolest feature/function: Available in red and navy blue
Battery Life (bud/total with case; in hours):
Ear Tips: 2
Touch controls: volume, pause/play, call, voice assistant
Water/Splashproof: IPX5 (water, dust resistant)
Voice Assistant Access: Siri, Google Assistant
Colors: lava (red), navy blue, white
App: none
Price: $129.99 on Mobvoi.com, check price on Amazon
Best Bargain: Monoprice True Wireless Earphones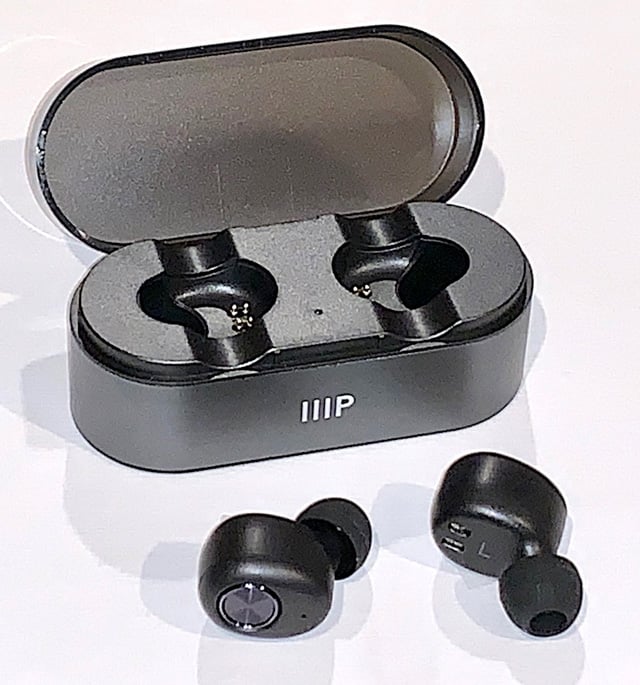 When you pay less than half the price than all other comparative products you've got to expect to get what you pay for. No one with discerning ears will confuse the muddy sonics produced by these Monoprice true wireless earbuds from the spic-and-span sounds from, say, the Bragi Dash Pro, the Jabra Elite models or the Sennheiser Momentum. But not everyone has platinum or golden ears – and that's not a knock. These Monoprice are perfectly fine with "good enough" sound, especially for kids or anyone else who doesn't want to worry about losing one or both. For convenience, the buds re-pair instantly to your phone once you remove them from their charging case, you get 15 hours of total listening between the buds and case, and the buds are small, light and comfortable.
Coolest feature/function: Just 50 bucks
Battery Life (bud/total with case; in hours): 3.5/15
Ear Tips: 3
Touch controls: volume, pause/play, call
Water/Splashproof: IPX4 (sweatproof)
Voice Assistant Access: none
Colors: black
App: none
Price: $49.99 on Monoprice.com, check price on Amazon
Best For Ambient Sound: Nuheara IQbuds Boost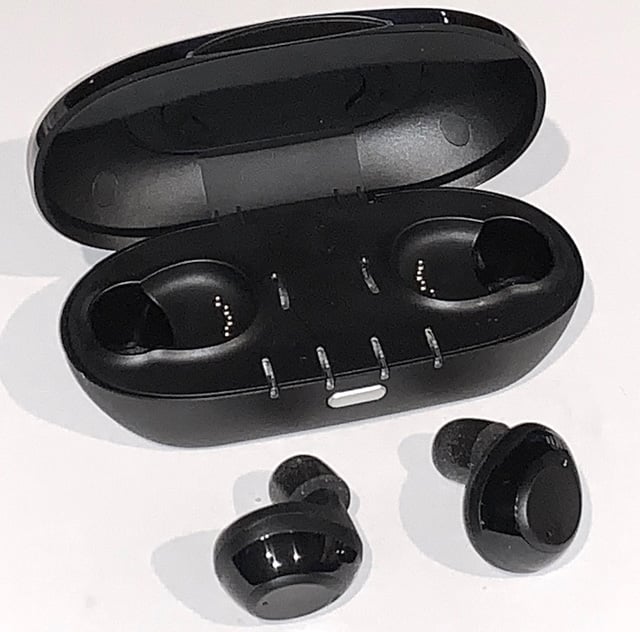 The Nuheara IQbuds Boost are the most sophisticated true wireless earbuds when it comes hearing what's going on around you, whether you're simultaneously listening to music or not. Setting-up the IQbuds Boost is a bit more extensive and time-consuming (around 15 minutes or so) than other true wireless earbuds – the app guides you through a series of hearing tests so IQbuds can create a unique hearing profile for you. After set up, you can then tap to hear ambient noise ("world"), choose from seven ambient "world" locations (street, office, restaurant, etc.). For each location, you can choose how loudly you hear the "world" and whether to focus on just the front 90 degrees or the whole 360-degree listening field, and set levels to optimize either for ambient sound or speech. With "world" off and the right size/shape earbuds (the app actually tells you if the size you've chose is correct), you can shut out most sound. With "world" mode on sans music, IQbuds Boost could actually enhance what your hear. For music listening, the IQbuds Boost offer plenty of volume, reproducing an open, bright soundstage with crisp highs, clean midrange and punchy lows.
Coolest feature/function: Wide range of hearing aid-like ambient sound settings; most tap/touch/gesture control options.
Battery Life (bud/total with case; in hours): 5/20 listening, 8/32 hearing processing
Ear Tips: 10 (4 round silicon, 4 oval silicon, 2 foam)
Touch controls: volume, pause/play, call, customize the on-bud touch controls, assigning up to three tap/touch combos per bud
Water/Splashproof: IPX7 waterproof
Voice Assistant Access: Siri, Google
Colors: black
App: IQbuds
Price: $499 on Nuheara.com, check price on Amazon
Best Battery Life: Rowkin Ascent Charge+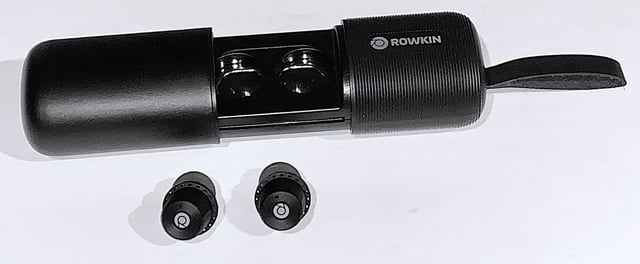 Talk about truly wireless, Rowkin's Ascent Charge+ don't even need a cable to charge the case and the buds inside – just drop the oblong tube onto a Qi charging pad, like the Rowkin Wave ($29.99 on Rowkin.com, check price on Amazon). A quick-charge USB-C cable is included in case you're old fashioned (or in a hurry). While the Ascent Charge+ battery case supplies 50 hours of total listening, it measures 4.5 inches long 1.75 inches wide, so it's doesn't exactly fit in your pants pocket. Rowkin pairs the left and right buds separately instead of both pairs as a single unit, as with most true wireless earbuds. That's so you can use one bud for hands-free calling. It also means you have to remove the right bud from the case first, so the two buds will automatically pair together with your phone (Note that the left bud confusingly shows "Not Connected" in the Bluetooth Settings menu even though both buds are actually connected). Plus, the buds don't auto-pause when one is removed. But once connected and the music is flowing, the smaller-than-usual buds output light, airy sound with clean highs and balanced bass. For added peace of mind, the app can locate your potentially lost buds.
Coolest feature/function(s): 50 hours total battery life, Qi wireless charging, Find My Earbuds
Battery Life (bud/total with case; in hours): 5/50
Ear Tips: 3
Touch controls: volume, pause/play, call
Water/Splashproof: N/A
Voice Assistant Access: none
Colors: black, slate, cobalt (coming soon)
App: Rowkin
Price: $159.99, on sale for $119.99 on Rowkin.com, check price on Amazon
Most Feature-Laden: Bragi Dash Pro by Starkey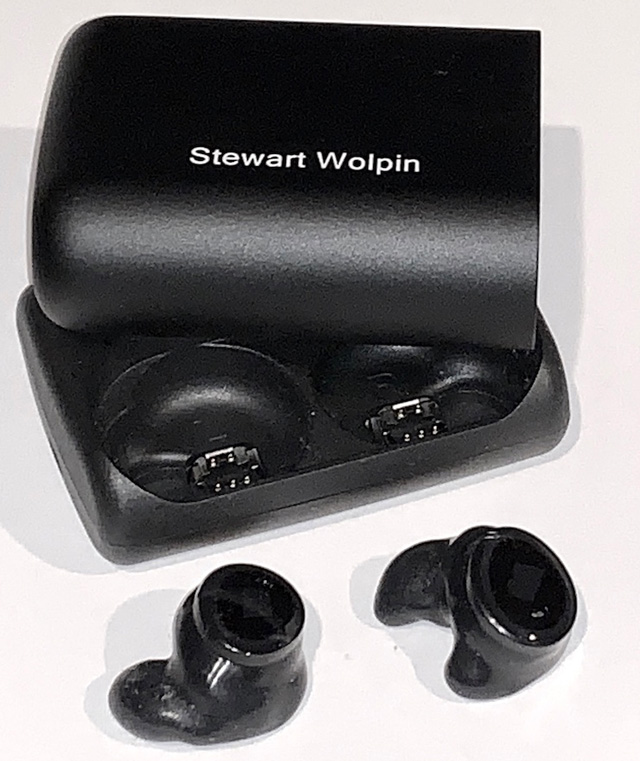 It was Bragi, not Apple, that invented the true wireless earbuds category, and there still hasn't been as feature-rich true wireless earbuds since this model first appeared in mid-2017. First and foremost, this Bragi edition is the only custom-fit true wireless earbuds available (other than the DIY Decibullz true wireless earbuds, currently on Indiegogo and not due until May 2019), so you get a guaranteed noise-isolating firm fit. These Bragi's are so custom, they even come with your name engraved on the case. In terms of functionality, with its long-list of bells and whistles for exercisers, travelers or just commuters, it might be easier to list what the Dash Pro can't do. Like its un-customized sibling, the Bragi's Dash Pro ($329, check price on Amazon), this custom model is not only an excellent sounding waterproof earbud with longer-than-average battery life, but it and its Bragi app senses and tracks your activities, and can perform real-time translations via the separate iTranslation app. Of course, remembering which of the more than two dozen different tap and slide gestures are on which each earpiece and activate which function is a constant issue – you may want to carry around a gesture cheat sheet.
Coolest feature/function(s): Custom fitted, 4GB/1,000-song memory, waterproof, activity sensing and tracking, ambient audio, real-time translation
Battery Life (bud/total with case; in hours): 5/30
Ear Tips: none
Touch controls: volume, pause/play, track forward/back, call, "Audio Transparency" ambient mode, activities controls, translation
Water/Splashproof: IPX7 immersion waterproof
Voice Assistant Access: Amazon Alexa
Colors: black
App: Bragi OS
Price: $599 on Bragi.com
What you should know before buying true wireless earbuds
Before you spend money on a pair of true wireless earbuds, there are the important things to consider.
Battery life: Most bud pairs last around 4-6 hours. The buds can be fully recharged three or four times in the battery-charger case they all come in before the case itself has to be recharged. Battery life listings in true wireless earbuds product specs include total listening battery life – the buds' own charge plus the number of recharged play times. It will take at least an hour, usually two, to fully recharge the buds in the case.
Earbud storage: Unless you put your earbuds on the case directly after you use them, the odds are high you'll lose one of the buds, and we've yet to run across a manufacturer who'll sell you just a left or right replacement. Most of these buds are cuff links/earrings small and slippery, requiring even tighter don't-lose-it focus.
Ease of Connection: Every pair of true wireless earbuds has its own Bluetooth pairing scheme, some easier, some harder. But this pairing is a one-time pain-in-the-bud. A more important feature is post-pairing auto-pair: once initially paired, the buds will then automatically re-pair with your smartphone as soon as they are removed from their case. Most true wireless earbuds auto-pair, and some even start music playing automatically without you having to do anything except stick 'em in your ear.
Multiple Ear Tips: AirPods' biggest drawback is their one-size-fits-all design approach. Nearly all other true wireless earbuds include a selection of different-sized silicon and/or foam ear tips, acknowledging that our individual ear canal sizes and shapes vary wildly.
Gesture Control: Since true wireless earbuds are tiny, you'll have to memorize a variety touch, multi-tap, tap/hold and/or slide gestures to control your buds to pause/play, skip track, answer/hang up a call, raise/lower volume, etc. Plus, each tap/slide gesture is usually assigned to a specific bud, left or right. Of course, you can always use your phone for these tasks.
Ambient Listening: If you need to hear or communicate with the outside world, you'll have to remove one or both buds. Many true wireless earbuds auto pause your music when you remove one or both buds and some buds include pass-through microphones – a tap sequence or the app opens up the mics to let you can hear what's going on without removing a bud.
Voice Assistant Access: Many buds can connect you to your phone's voice assistant, either Siri, Amazon Alexa and Google Assistant, or a combination of these, depending on what phone you own.
Some of this may all sound daunting as if I'm trying to talk you out of buying true wireless earbuds, but I'm not. I was cynical when I first tried the Bragi Dash Pro – the first true wireless earbuds. But now I'm hooked. I love not having to worry about cables getting twisted and tangled or caught in zippers, buttons or other external outcroppings, and the greater sense of listening freedom I get from their near non-existence. It's just me and my music for a few hours. But if you're not ready to go true wireless, check out our top picks for Bluetooth headphones under $50.
[Image credit: Stewart Wolpin/Techlicious, Jabra]
---
Discussion