Cut the Cord between Your TV and Your Gear
Techlicious editors independently review products. To help support our mission, we may earn affiliate commissions from links contained on this page.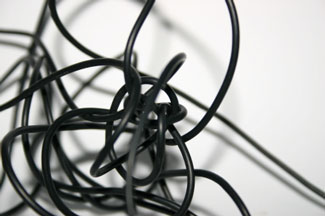 Whether you hang your flat panel TV on your wall or leave it freestanding on a piece of furniture like I do, its beauty becomes marred as soon as you plug in that first cable. And between my FiOS box, Blu-ray player and PlayStation 3, my sleek TV would be a mess if I plugged everything directly into it.
Instead, I plug everything into a receiver and then run one cable from the receiver to my TV. But I can get rid of even that cable with a wireless HDMI kit that mounts behind the TV.
There are two types of wireless HDMI, WirelessHD (WiHD) and Wireless Home Digital Interface (WHDI). Both require a box that transmits the signal from your HD gear to a receiver that attaches to your TV's HDMI input. Both have a range of about 30 feet under the best circumstances—an empty room with just the boxes and nothing in between. The reality will depend on the material that's standing between the boxes.
WHDI devices, like the Asus WiCast EW2000 ($188.99) and Brite-View HDelight
($139.99) can transmit through walls, so you can stash all of your gear in a cabinet, closet or even another room. Plus they're designed to be used with a computer: The transmitter can even draw power from your computer's USB port, which is certainly handy. These solutions only have one HDMI input, so they can only replace a single cable.
If want to bypass the receiver and hook up multiple devices to your wireless HDMI transmitter, try the Rocketfish 4-Port WirelessHD Kit ($299.99). It uses WiHD, which is not meant to pass through walls, so you'll have to keep your gear in the same room as your TV. It also supports 3D content, if you have a 3D TV.
Choosing to move your components away from your TV may mean placing them out of reach of your regular remote control. So test the new location with your remote. If it doesn't work, you can always use a remote control extender, like the Terk Leapfrog Remote Control Extender Kit ($25) to relay your commands.
Your TV can be beautiful again. It just requires a little clip here and there to get rid of those unsightly dangling cords.
Discussion
New Articles on Techlicious