The 12 Cases We Recommend for iPhone 13
Techlicious editors independently review products. To help support our mission, we may earn affiliate commissions from links contained on this page.
If you're upgrading to an iPhone 13, you're going to need a new phone case to protect your shiny, new investment. While the overall dimensions of the iPhone 13 are the same as the iPhone 12, the lens group for the camera is a bit bigger and will cause old iPhone 12 cases to not fit properly. If you like your old case, you will find many of the same cases that are popular for iPhone 12 models becoming available in iPhone 13 versions with new colors and slight design tweaks.
I consider my iPhone case an accessory, like shoes, and often swap it out depending on where I'm going and what I'm doing. Currently, I have four on rotation. Sometimes I want to make a fashion statement; other times, I want total protection from the elements.
I've been reviewing iPhone cases for more than ten years. And while I haven't been able to touch and feel all of the new iPhone 13 cases, I have used hundreds of cases and am very familiar with the build, style, feel, and level of protection available from a wide variety of manufacturers. Based on my experiences with similar cases, these are the iPhone 13 cases I recommend for a variety of scenarios and budgets.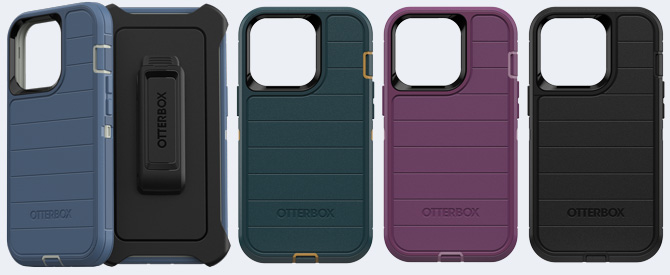 A rugged case for daily protection: OtterBox Defender Series Pro
If you want a phone case that can take a daily beating, I recommend the OtterBox Defender Series Pro. OtterBox cases consistently offer the best rugged protection with raised edges around the camera lenses and screen and covers to keep dust and dirt from getting into the ports. They're drop tested for falls and shock and rated for 5x as many drops as military standard (MIL-STD-810G 516.6). The case is infused with an additive that helps block microbial growth and, like most of the others on this list, is wireless charging compatible. While it's bulkier than other cases, it's also way more protective and comes with a holster that you can clip to your belt. The Defender Series Pro XT comes in Purple, Green, Blue, and Black.
For those that haven't upgraded to iPhone 13, you'll find the OtterBox Defender Series for a variety of iPhone models at a discount on Amazon.
Get the OtterBox Defender Series Pro for $64.95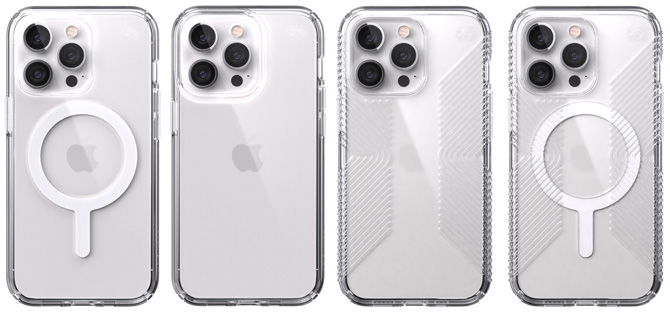 A clear case with good drop protection: Speck Presidio Perfect-Clear
The best clear case with the most protection comes from Speck, a case maker I've been using for years. The Presidio Perfect-Clear Compatible with MagSafe is a slim, attractive case that lets your iPhone's color shine through. It has raised edges for protection and drop protection up to 13 feet. It works with all Apple's MagSafe accessories.
Some people prefer the smooth material of the Presidio Perfect-Clear so it can easily slide into and out of your pocket. But if you like a grippier feel to your case, as I do, the Presidio Perfect-Clear with Grips Compatible with MagSafe is the one to get.
If you haven't upgraded yet, the Speck Presidio Perfect-Clear cases for iPhone 12 are available at a steep discount on Amazon.
Get the Presidio Perfect-Clear Compatible with MagSafe for $49.95
Get the Presidio Perfect-Clear With Grips Compatible with MagSafe for $54.95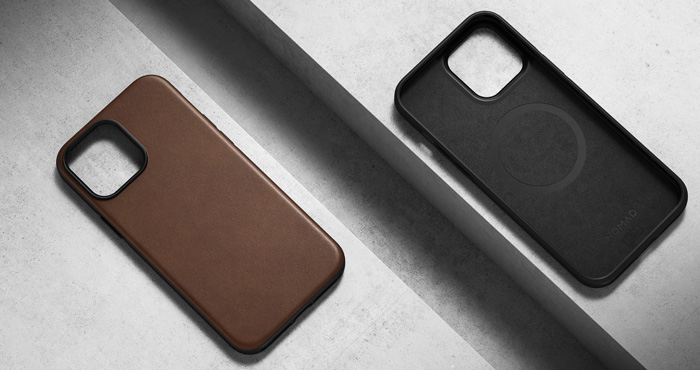 A leather case that improves with age: Nomad Modern Leather
For a sleek and sophisticated look, I like the Nomad Modern Leather Case, with beautiful leather from Horween Leather Company. My husband used one of these for over two years, and it was durable, protected well, and looked even better as the leather became more worn. The soft interior has air bumpers to absorb shock, and the raised bumper runs the full outline of the phone to protect the display. The case protects against drops up to 10 feet and comes in Brown, Black, or Natural.
The Modern Leather case works with MagSafe Accessories and is available in a handsome Folio version as well, with slots for credit cards and cash. Also new for iPhone 13, all Nomad cases feature a built-in NFC digital business card, so you can share your contact info with just a tap to another NFC-enabled device.
Get the Nomad Modern Leather Case for $59.95
Get the Nomad Modern Leather Folio Case for $79.95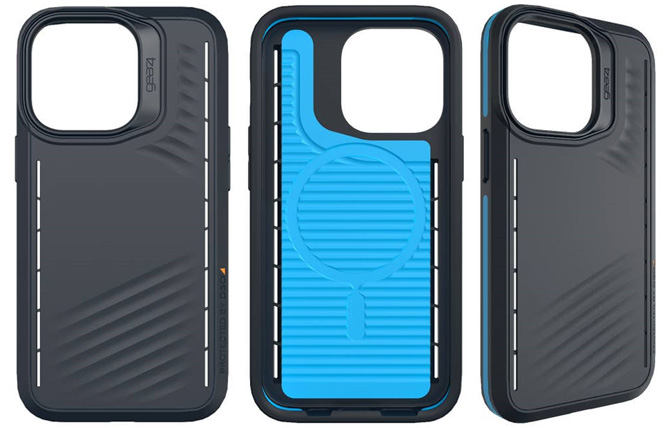 A well-ventilated case for gamers: Zagg Gear4 Vancouver Snap
Gamers have a unique challenge when choosing a case: heat. For them, I recommend the slim Zagg Gear4 Vancouver Snap, which has interior air channels and a venting system that helps protect your phone from overheating during long gaming sessions. The surface is textured for a secure grip and infused with an antimicrobial agent. Inside, the case is lined with the company's D3O shock-absorbing material to provide 13-foot drop protection. And, the case is MagSafe compatible.
Get the Zagg Gear4 Vancouver Snap for $59.99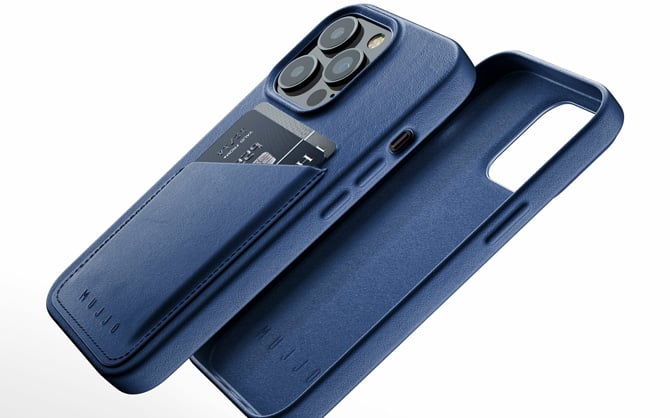 A fashion-forward leather wallet case: Mujjo Full Leather Wallet Case
My go-to wallet-style case for great looks as well as protection and convenience has been the Mujjo Full Leather Wallet Case. The full-grain leather looks and feels luxurious and only looks better with time and wear. It's available in Tan, Black, and Monaco Blue leather with a Japanese microfiber lining on the inside. The wallet slots on the back are thoughtfully designed with elegant stitching and room for credit cards and a driver's license.
The case has a raised bezel around the rear camera to protect from scratches and a protective bottom covering with openings for the speakers and charging port.
Get the Mujjo Full Leather Wallet Case for $49.90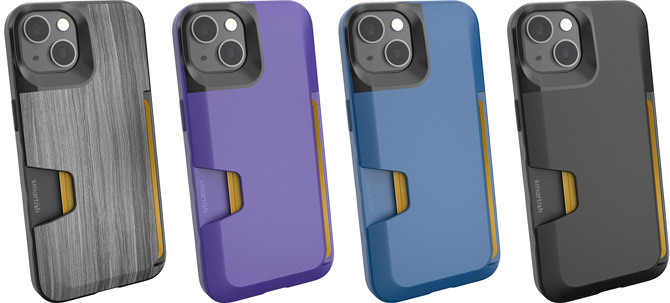 A wallet case for those on a tight budget: Smartish Wallet Slayer
If you're looking for a stylish wallet case with a less premium price tag, I recommend the Wallet Slayer. This highly-rated case from Smartish (the iPhone 12 and earlier models receive 4.6 or 4.7 stars on Amazon and Wirecutter recommends Wallet Slayer) comes in bright, fun colors, holds cards and cash on the back, and costs under $20.
It has protective air-pocket corners but is not MagSafe or wireless-charging compatible.
Get the Wallet Slayer case for $19.99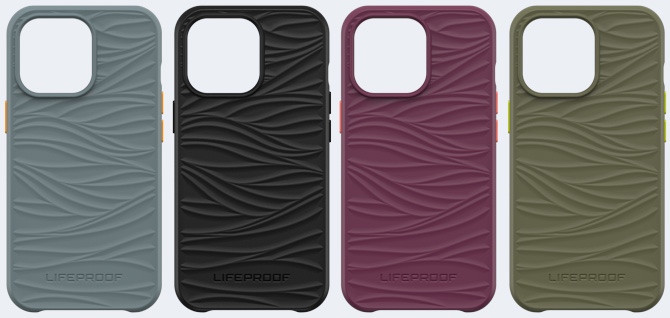 An eco-friendly case: LifeProof Wake
I've been a big fan of LifeProof's Wake case since it was introduced a few years ago. In fact, I am currently using this purple Wake on my iPhone 12.
The Wake case is made from over 85% ocean-based recycled plastic, so it makes me feel a bit less guilty about using several different cases. I love the thin design and the textured wave finish. It offers 6.6-foot drop protection and comes in a variety of colors – Black, Green, Grey with Orange buttons, and Purple with Pink buttons
Get the LifeProof Wake case for $39.99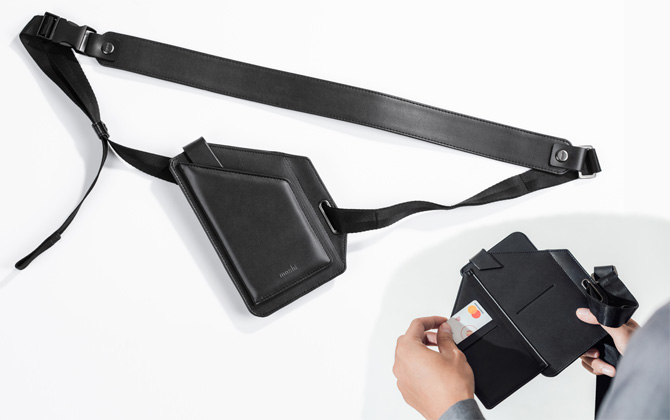 A purse-style holder for your iPhone: Moshi CrossBody Phone Holster
Wallet cases are great when you want to run out of the house with just a few credit cards and a license, but sometimes you want to go hands-free. Moshi's new Crossbody Phone Holster has an adjustable strap so you can carry your phone like a crossbody purse. An inside flap holds cards and cash safely, along with your phone, which is easily accessible from the top.
I've used plenty of Moshi cases and appreciate their attention to detail as well as style, and I'm looking forward to trying out this new design. In fact, I may try it out with my iPhone 12, as its universal design means it can hold any phone from 5.2 to 6.5 inches.
Get the Moshi Crossbody Phone Holster for $69.95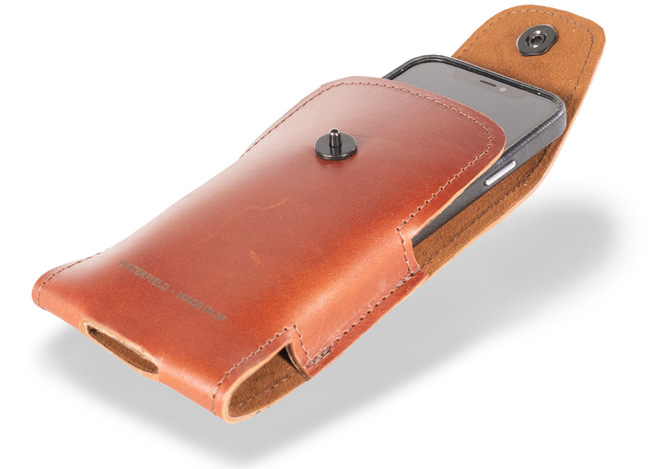 A wearable holder for your iPhone: WaterField Latigo Leather iPhone Holster
For men (or women) who want to go hands-free or just like to carry their phone on their belt, I recommend the WaterField Latigo Leather iPhone Holster. WaterField Designs makes beautifully constructed premium leather backpacks, bags, and other carrying cases, in addition to iPhone holders.
The new Latigo Leather Holster is made of their vegetable-tanned full-grain leather that's slightly thicker than a phone case but more pliable. The holster is attached to your belt, your backpack strap, or even your gym shorts with two powerful magnets to keep it in place. Your phone is secured inside the holster with a flap that has a self-finding magnetic closure. They've thought through details like leaving a cutout on the bottom to access the charging port and speakers and lined the inside with suede to protect from scratches. You can use a separate phone case with the holster, so if you normally use a bulkier case, WaterField recommends ordering a larger size holster.
The holster is available in Acorn, Dark Brown, and Black
Get the WaterField Latigo Leather iPhone Holster for $99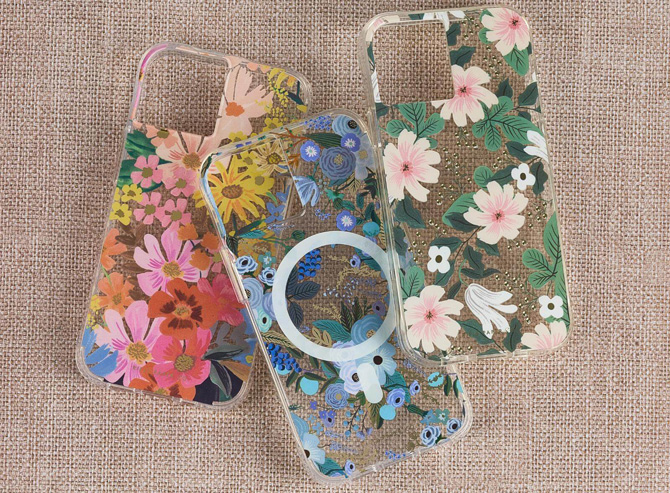 A flowery case that lets your iPhone show through: Case-Mate Rifle Paper Co.
For cases that look as good as they protect, you can't go wrong with Case-Mate's phone cases. Their Rifle Paper Co. line is an attractive clear case with flowery designs in a range of colors, so your phone's true color can show through. It's lightweight and has a slim profile for slipping into a purse or pants pocket, as well as 10-foot drop protection in case you miss. I've used a variety of these, and they never disappoint. The iPhone 13 cases have built-in MagSafe technology, so you always hit the sweet spot when using a wireless charger.
Get the Rifle Paper Co. cases for $45.00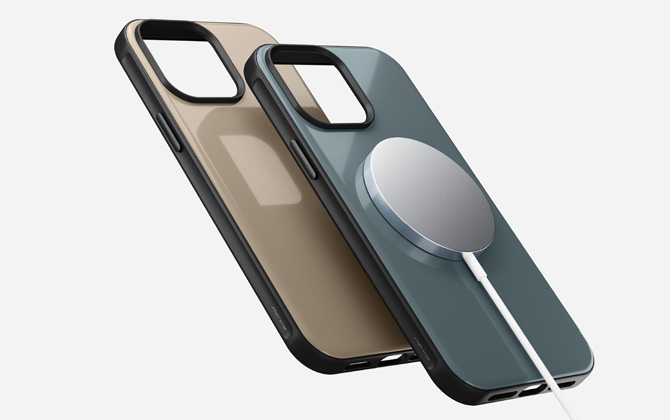 A fashionable sports case with grippy sides: Nomad Sport
Nomad, known for its leather cases, introduced a new line of Sport cases for the iPhone 13. They're made of scratch-resistant PET-coated polycarbonate with high grip bumpers, a microfiber interior, 6-foot drop protection, and MagSafe magnets. If they're anything at all like the previous Nomad cases, they're sturdy, protective, and sure to be a hit. Nomad Sports cases are available in Black, Dune, Space Grey, Marine Blue, and Ash Green
Get the Nomad Sports case for $39.95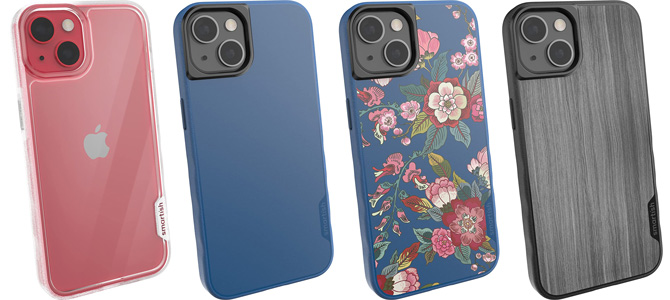 A budget-friendly case: Smartish Grimpmunk with MagSafe
Some people prefer to carry their phone au natural, but for those times when they want a bit of extra protection, the Gripmunk with MagSafe case is an affordable, thin case with just enough grip and protection. Corner air-pockets and a bezel front guard against drops and bumps, and the grippy texture helps keep the phone firmly in your hand. It's MagSafe compatible, comes in a wide variety of colors, and the Gripmunk for iPhone 12 gets 4.6 stars on Amazon, as well as earning praise from Wirecutter. For under $20, you can grab more than one.
Get the Smartish Gripmunk case for $19.99

[Image credit: OtterBox, Speck, Nomad, Zagg, Mujjo, LifeProof, Moshi, Waterfield, Case-Mate, Smartish]
Andrea Smith is an award-winning technology broadcast journalist, reporter, and producer. Andrea was the Technology Producer and an on-air Technology contributor at ABC News for over two decades before becoming the Lifestyle Channel Editor at Mashable, where she explored the ways in which real people, not just geeks, began using technology in their everyday lives.
Discussion