Once more, iPhone owners face their annual dilemma: to upgrade or not to upgrade to one of this year's four new iPhone 13 models – the Pro Max (starting at $1,099), the Pro ($999), the plain iPhone 13 ($799), or the Mini ($699). While there's no one must-have feature that will drive you to upgrade, there are ten good reasons to consider upgrading to an iPhone 13 from your current iPhone, even an iPhone 12. There are also five reasons NOT to trade up to an iPhone 13 and just wait a year until the iPhone 14 is announced.
As you read, keep in mind that if you want to be the first on your block to own one, you have two days to decide: pre-orders begin this Friday, with all models available next Friday, September 24.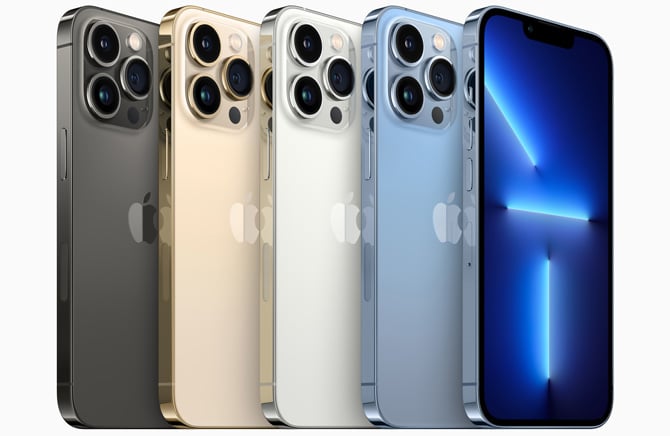 10 reasons to upgrade to iPhone 13
1. Longer battery life
All four iPhone 13 models add at least 1.5 hours of battery life. The two models with the largest screens, the plain iPhone 13 and the iPhone 13 Pro Max, each give you 2.5 hours more usage than last year's models.
2. Better 5G
If you own an iPhone 12, you already know the cellular connection speed and enhanced voice quality benefits that 5G brings. But the iPhone 13 has a new antenna array that connects to a wider variety of international 5G frequencies. So if you're a frequent flyer, iPhone 13 can now connect to 5G networks from more than 200 carriers in 60 different countries.
3. OLED display for all models
Those of you opting for a plain iPhone 13 or iPhone 13 Mini now get a Super Retina HDR OLED display, which means no more squinting or hand-shading to see your iPhone 13 screen in bright sunlight. According to Apple, the new OLED displays are 28% brighter than those on the iPhone 12, which means sunlight should only be a problem for those of us who burn too easily.
4. More powerful chip
Each year it seems Apple claims its latest iPhone chip is, by far, the most powerful. They're not wrong. But this year's Bionic A15 includes 15 billion transistors and can handle an unimaginable 15.8 trillion operations a second. According to Apple, its smartphone processors are the most powerful extant – 50% faster than any of its Android competitors. The A15 Bionic enables all of the wonders enumerated on this list and all the cool smart functions promised in iOS 15.
5. Cinema Mode video
You've seen films that create drama by first focusing on an object or face in the foreground then slowly shifts to focus ominously on something in the background. Apple brings the ability to shoot your own videos with this cool real-time "rack focus" effect, both automatically or manually – to all four iPhone models. You can even adjust the rack focus after you've shot your footage.
6. More storage
The two Pro iPhone 13 editions come in the usual 128, 256, and 512GB storage capacities, but you can now opt for a massive 1TB of memory, which will come in handy if you're a, well, pro user and record a lot of 4K video.
7. Tougher screen/more weather resistant
All four new iPhone 13s include a ceramic shield that makes the iPhone 13 far tougher to crack for those of us who are a bit klutzy. And now, even the plain iPhone 13 and iPhone 13 Mini include IPX6 water resistance.
8. 120Hz display
Digi-geeks have been hungering after this fast screen refresh technology for years, and it is now available on the two Pro iPhone 13 models. Apple's Super Retina XDR ProMotion OLED display has a 50% faster refresh rate than iPhone 12 Pro models and the regular iPhone 13 models, which means more detail, especially for objects in the distance, smoother scrolling, more contrast and sharpness, and other visual improvements. Whether or not you'll be able to detect an actual difference remains to be seen.
9. Better camera
Apple says it has completely redesigned the iPhone 13 camera. And while the individual improvements are marginal compared to the iPhone 12, the cumulative camera upgrades might be reason enough to rationalize opting for a new iPhone 13. On the two Pro models, you'll get a new macro mode with slow-motion, the ability to pre-set your camera to your own color and tone settings, and better, less grainy low-light results. The Pro models also have a 77mm telephoto lens with 3x optical zoom that gets you slightly closer than you could with the iPhone 12 Pro's 65mm lens and 2.5x optical zoom.
10. It's a new iPhone
If none of these reasons – individually or cumulatively – move you to upgrade, there's always the pure bragging rights of being the first in your group to own one of these new, shining tech objects of desire – especially the new Safire Blue version.
5 Reasons NOT to upgrade to an iPhone 13
1. You own an iPhone 12
Yes, there are plenty of reasons why the iPhone 13 is superior and cooler than last year's model, which you still haven't paid off. But for owners of an iPhone 12, you've already got 5G connectivity and plenty of cool features. And, you'll be able to upgrade to iOS 15 with all its new features. Plus, last year's models will now be much cheaper if you don't own an iPhone 12 and want 5G.
2. No Touch ID
Apple not including this fingerprint unlock option is infuriating. Apple brought back Touch ID on the power button of the new iPad Mini, so why not the iPhone 13? Continuing to force us to input that annoying six-digit code each time we want to wake up our iPhone in this face-masked age is just plain negligence. Or maybe it's a nefarious plan to get us to buy an Apple Watch, which you can set to unlock your iPhone when you're wearing it – no Face ID required.
3. Same size screens
Some folks want ever-larger display screens in their next smartphone, especially for playing games and watching movies or TV on the go. But the screens on this year's iPhone 13s are the same sizes – 6.7 inches on the Pro Max, 6.1 inches on the Pro and plain iPhone 13 – as last year's iPhone 12 models. If you want a larger screen on a pocketable Apple device, opt for the new iPad Mini (starting at a cheaper $499), available to order now to get next week. The new iPad Mini's got an 8.3-inch display, and you can get one with a cellular 5G connection, even if it isn't technically a phone.
4. No USB-C
Apple is slowly migrating to the more universally supported USB-C cable on its MacBooks and iPads – but not iPhone, which still requires that increasingly antiquated Lightning cable.
5. You've got triskaidekaphobia (fear of the number 13)
iPhone 13 runs on iOS 15 and is powered by the bionic A15 Bionic chip. Apple, you skipped iPhone 9 for some reason, so why couldn't you have also skipped the far more evil number 13 and gone right to number 15 to match your OS and processor numbering scheme?
[Image credit: Screenshot of Apple presentation via Techlicious, Apple]