We may earn commissions when you buy from links on our site. Why you can trust us.

Air Hogs Vectron Wave Puts the "Fun" in Flying Funnel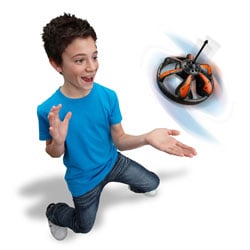 Spin Master has upped the radio control toy ante with the Air Hogs Vectron Wave hand-sized UFO. With simply the wave of your hand—or other handy body part—you can guide it up, down, forwards and backwards, right and left. There's no remote control required.
The Vectron Wave whirling funnel charges on its base and is equipped with a sensor that can recognize objects beneath it to automatically adjust its height to hover above them. So you could play catch with a partner using your entire body or anything else solid that you have around the house or yard.
The sheer coolness of this flying toy makes it easy for parents to stand in awe and jump in to play with it too. Although the joy is tempered by some users reporting long charging times relative to actual play time (could be up to 30 minutes of charging for around five minutes of fly time), which would be especially frustrating for younger, more impatient kids. The toy is marketed to children eight years old and up, though after I showed my husband the video I took at the Toy Fair (see below), he added the Vectron Wave to our son's birthday wish list for himself!
The hovering flying machine comes with one lithium polymer battery, and requires an additional six AA batteries to run. The Vectron Wave retails for $24.99 and is available through Toys R Us, Target and Amazon.
---
Discussion