Apple iPod Nano (Gen 6) Review
Techlicious editors independently review products. To help support our mission, we may earn affiliate commissions from links contained on this page.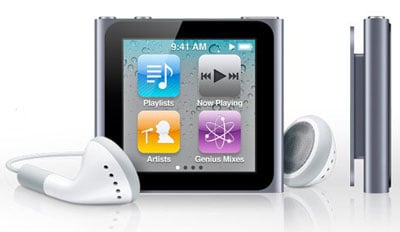 Now in its sixth generation, the Apple iPod nano is the smallest and lightest it has ever been, and quite possibly the best it has ever been. I've been playing with it for a week now, reveling in the 1.5-inch multi-touch touch-sensitive display and marveling at the user interface that makes this nano as easy and fun to use as its biggest sibling, the iPod touch.
But I've also scratched my head at some of its apparent quirks, including an on/off switch that doesn't really shut it off, and a seeming incompatibility with one pair of evidently standard earphones.
How it feels in the hand
Nearly square and ultra-thin (1.48"H x 1.61"W x 0.35"D including the built-in clip), this new nano easily fits within the borders of four postage stamps arranged as a square, with room to spare all around. It's also ultra-light, weighing only 0.74 ounces.
In total, it is 46 percent smaller and 42 percent lighter than the previous (fifth) generation nano it replaces.
All of which means that concealing the new nano is a simple matter of closing your fist around it. The rounded edges will remind you that you're holding it, but place it in a pocket without headphones and the nano becomes practically indiscernible.
Of course, the built-in clip also allows you to attach the nano to the outside of your clothing––where you and everyone else are liable to notice it.
Display and Interface
Unlike all previous iPod nanos, the sixth-generation nano is controlled using the same sort of touch-sensitive display as the iPod touch. Swiping left or right with a finger navigates forward and back among four screen pages loaded with four icons per screen. Tapping an icon launches the function (the nano doesn't run apps). Once a function has been launched, the same swiping and tapping actions are used to navigate within its menu of sub-functions, such as picking a song to play or changing stations in the built-in FM radio.
As with the iPod touch, it's possible to rearrange the main function icons, moving them from one screen page to another or to different positions on a page––tailoring the user interface to suit your personal preferences. Turning two fingers clockwise or counter-clockwise on the display will re-orient the display, one 90-angle at a time, in the same direction.
But whereas the iPod touch can be loaded with new applications purchased from the Apple iTunes store––expanding its functions––the nano cannot. It will only ever do what Apple has chosen to build into it.
FM radio and voice memo
One thing Apple has built into only this line of iPods is an FM radio. Its icon is always visible, but it is accessible only with headphones attached. I particularly liked the FM radio's "live pause" function that allowed me to pause a radio broadcast and later resume it from that already passed moment when I was ready to listen again. The radio also features a "rewind" function––allowing the listener to repeat a portion of a live broadcast he wants to hear again––and the limit on this goes back in time as far as 15 minutes. A "fast forward" function skips ahead in a paused or rewound broadcast to catch up with the live feed.
The radio also can scan for local stations and auto-populate a menu of these, and a list of "favorite" stations can be created and quickly accessed with taps of "back" and "forward" arrows on the screen.
An icon giving access to a voice memo recorder function appears only when the nano is connected to either earphones with a built-in microphone or to an iPod nano-compatible microphone, or after a voice memo has been recorded.
However, in my admittedly unscientific test, this only worked for me half the time: The icon appeared as it should when I connected a set of Bose QuietComfort 3 headphones equipped with the optional "Mobile Communications Kit" microphone adapter, yet the icon did not appear when I connected a set of V-Moda Vibe Duo earphones equipped with a built-in microphone. A call to Apple's technical support phone line yielded no explanation for this discrepancy, and Apple's public relations department is looking into it.
Fitness and time functions
Under the nano's Fitness icon there's a pedometer that utilizes the built-in accelerometer to keep track of your steps and calculate your calories burned. The nano also serves as a stopwatch and timer.
Video
Not any more. With the sixth-generation nano, Apple did away with the ability to play video, a feature that had been in the previous three generations of nano. If you're looking for a pure music player, this may not matter to you. But I know people whose nanos served as cheap, sturdy mobile video devices for their kids—that benefit is gone.
Battery Life
On the top right of the nano is a sleep/wake switch that turns the display on or off. But it does not turn the device itself on or off. So, even with the display dark, the nano continues to drain the battery. Even so, the battery will provide 24 hours of music playback from a full charge, according to Apple. The battery can be charged to 80 percent of its capacity in 1.5 hours or fully in 3 hours.
Colors, storage, pricing and availability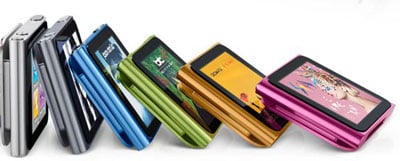 The sixth generation iPod nano, made of anodized aluminum, is available in seven colors: silver, graphite, blue, green, orange, pink and red. The last is a [PRODUCT] RED Special Edition available only at Apple Stores, and a portion of revenue from it supports the Global Fund to fight AIDS in Africa.
Two models are available in each of the colors: One with 8GB of storage capacity, priced at $149, and another with 16GB priced at $179.
Should you buy it?
If you're looking for a lightweight and simple to use digital music player, and the loss of video doesn't matter to you, the sixth generation iPod nano is exactly what you need.
For iPod fans who can live without the display, the strictly music and much lower-priced ($49 for 2GB) iPod Shuffle may be the better choice.
Discussion