We may earn commissions when you buy from links on our site. Why you can trust us.

Columbia Bugathermo Techlite USB-Chargeable Heated Boots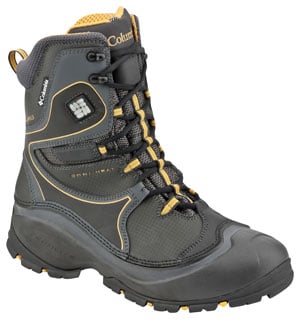 My favorite thing about driving in winter is not the traction control that prevents me from spinning wheels when the light turns green, nor even the four-wheel-drive that keeps my car planted to the road. No, it's the heated seats warming my back and bottom straight through to my bones. Now, sportswear maker Columbia has taken that toasty feeling to feet with the Bugathermo Techlite ($350), a new pair of electronic heated boots powered by removable rechargeable lithium batteries.
One battery per boot provides at least two hours of heating on a single charge, with a choice of three temperature modes: low, medium and high. A full re-charge of the batteries takes two hours and can be accomplished either by attaching each to a computer's USB drive with supplied cables or with the supplied AC charger. The batteries can be recharged either outside or inside the boots (where they reside in a covered pocket above the medial ankle).
Switching on the heat is easily accomplished even while wearing bulky winter gloves thanks to the large on/off rubber button on the upper boot. Pressing it for three seconds starts it up in high temperature mode (heating to 140-degrees Fahrenheit) and pressing it once or twice more toggles through the medium (122-degrees F) and low heat 113-degrees F) modes.
Colored LED lights on the button indicate which mode the boot is in: red, amber and green for high, medium and low, respectively. There's also a stealth setting that fades off these indicator lights, which are very bright, after 30 seconds. (At full brightness, I was able to see the lights glowing through a pair of blue jeans.)
The heat starts up quickly and is uniformly maintained for hours. Columbia claims battery life of as much as two, three and four hours in high, medium and low modes, respectively, depending on outside temperatures.
I didn't get an opportunity to test them in sub-freezing weather outdoors, but I did try them indoors, and the results were exactly as promised: just over two hours of heat in high mode and just over four hours in low mode before the batteries died.
For all-day winter adventures it would be nice to get many more hours of heating, and you would with Columbia's other electronic heated boots, the Bugathermo ($325-$350), which were introduced last year. They're powered by higher-capacity built-in––not removable––rechargeable batteries that take between three and four hours to charge but provide up to eight hours of heating in the low temperature mode, up to six hours in medium, or up to four hours in high. And, the Bugathermo boots are available for women, also.
However, when the Bugathermo's internal battery wears-out, so goes its heater. For that reason, I think the better choice is the Bugathermo Techlite, and carrying a set of pre-charged replacement batteries if you need all-day warmth. These are expected to be available soon, at a price that remains to be determined.
Yet, even with their heating elements not powered on, the Bugathermo Techlite (and the Bugathermo) boots are warm. Their 200 gram Thinsulate insulation is rated to withstand outside temperatures as low as 25 degrees below zero (Fahrenheit). Additionally, Columbia's new Omni-Heat reflective lining material inside is said to boost heat retention 20 percent on average when the wearer is cool and dry, while also dissipating excess heat and perspiration moisture; it uses a metallic reflective material applied in a dot-matrix pattern on a moisture-wicking, air-permeable base layer.
I only wish Columbia had taken one extra step to make these boots even more winter-friendly: jettisoned the difficult-to-tie-snug shoe laces and replaced them with my favorite tech-y alternative, the Boa Lacing System.
---
Discussion