Hands on with the COOKOO Watch
Techlicious editors independently review products. To help support our mission, we may earn affiliate commissions from links contained on this page.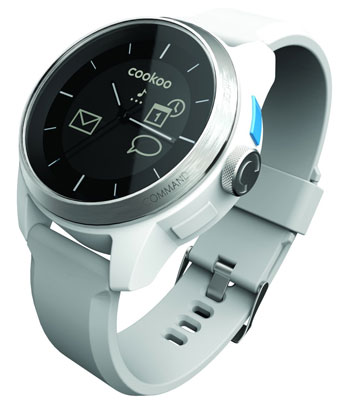 If the mere thought of missing a text message makes your heart skip a beat, then the innovative COOKOO watch is for you. It's a Bluetooth-enabled device that's an analog watch, but when paired to your iPhone 4S or iPhone 5 (sorry Android and Windows Phone users), can notify you of new texts, email or Facebook status updates directly through your watch.
The first thing you notice about the COOKOO watch is the creative box design. Clearly some thought went into the packaging – they even suggest reusing the box as a bird house when you're done with it. Now getting the box open was another story. It actually took a few minutes to figure out exactly how to do it (hint: you can either peel off or cut the label), not as obvious as most packaging. Once I had the watch out of the box, I was able to pair it with my iPhone 5 within a few minutes.
The COOKOO has some worthy features, including a phone call notification feature. While you may think that's silly, considering I have my cell phone tethered to me nearly 24/7, the reality is there are plenty of times I've never heard it ring, and missed plenty of text messages until hours, even days, later.
There's also a "Find my Phone" feature that makes your phone sound like a Cookoo clock and an alert system that lets you know when you've walked out of range from your iPhone/iPad. Both are definitely selling points for the watch.
The COOKOO has other cool features, like the ability to use it as a remote control to take pictures using your iOS device. Position your iPhone with a great view and snap away with your watch. You can also get calendar reminders use it as an alarm clock.
I'm still not convinced that I want to use my watch to check into Facebook, but it could come in handy when I don't have the opportunity to pull my phone out of my tote or pocket to do it.
The COOKOO watch looks pretty basic, but it's water-resistant, shock-resistant and surprisingly useful for those that want to be uber-connected.
The COOKOO comes in five colors (pink, white, silver, green and blue) and retails for $129.99 either on connectedevices.com or directly on the AT&T Store in either white or silver - it's important to note that the COOKOO watch is compatible with devices sold at AT&T.
Subscribe to the Techlicious Daily Email!
Get great tips on what to buy and how to get more out of the products you already own.
Discussion