We may earn commissions when you buy from links on our site. Why you can trust us.
iPhone Apps for Movie Buffs
Do you love going out to the movies or curling up for hours with a stack of DVDs or Blu-rays? If so, then you'll love these movie apps for your iPhone that let you research your favorite films, buy tickets and, thanks to some great new instant-view features, even watch films on your iPhone.
For Movie Times and Ticketing

Movies by Flixster
Free
Now in version 4, the Flixster iPhone app is one of the most popular ways to find movies in theatrical release and buy tickets. Begun as a social media site for movie buffs, the corresponding app is a GPS-driven location scout right in your pocket. The latest version includes Rotten Tomatoes ratings, the percentage of "fresh" or "rotten" critical reviews the film's received in the popular media. A shiny red tomato or green splat icon tells you instantly which way the critical tides have turned and whether or not this film is worth your money or your time. You can filter your searches using your iPhone's GPS, the user-generated Flixster rating system or the Rotten Tomatometer.
Flixster delivers a lot of options. Combining aspects of movie database sites like IMDb (see below), Flixster also links to cast members' personal stats, publicity stills and headshots—all nice when you want the distraction (Jon Hamm anyone?) but ultimately a time-waster. If you're simply looking to search show times and watch a few trailer previews, you're better off with a pared-down app like Fandango. But if you want to find a restaurant, movie and after-hours club all within walking distance of each other, you're in luck. Flixster uses Microsoft Bing to serve up surprisingly diverse options.

Fandango
Free
Fandango sticks to the basics—finding movie show times at nearby theaters and selling tickets—and subsequently delivers useful information faster. Like Flixster, the app uses your iPhone's GPS to find the closest theater or film, even when you're far from home. I particularly like Fandango's easy-to-find directions feature, which I've used countless times on vacation with my family. Just dropped your son or daughter off at camp and want to unwind at the movies? This app will get you there, fast.

Moviefone
Free
A bit clunkier than Fandango and Flixster, Moviefone combines GPS functions (and directions via MapQuest), trailers, celebrity bios and industry news stories pulled from Moviefone's blog, Inside Movies. The extras are nice when you have time to read them, but if swifter, intuitive navigation and cleaner overall design matter more to you, stick with the first two.

Movies Now 2
$0.99
This app is for those who want to see a movie, any movie, within the next few minutes to next few hours. Do you have a short window of opportunity while the baby is with the sitter? With rolling clock numbers like those found on leader boards at sports tournaments and in train stations, Movies Now! lists nearby films in descending order of show times, beginning with those just minutes away from the curtain. Unfortunately, it doesn't do much good to know that a film starting in three minutes is 20 minutes drive from your house. For that reason, city dwellers will find Movies Now! infinitely more rewarding. Although this app lets you search for show times in other ways, the "Now!" feature loses value the bigger your family is or the more diverse their tastes in films.
For Movie Buffs

IMDb
Free
IMDb stands for Internet Movie Database and is the most comprehensive listing of movie casts, crews and related material online. I regularly use my IMDbPro subscription at work, so if I've seen a new film after hours, I find myself scanning this app on my iPhone to check out the filmogaphies of cast members or see what other films the director or cinematographer have done. IMDb keeps track of your search history, like a Web browser does, so you can return to previous searches. The app also lists movie show times and general broadcast and cable TV schedules for that day. If you missed your favorite show, the handy "Recaps" feature will get you up to speed for those heated water cooler discussions.

TCM (Turner Classic Movies)
$2.99
As a classic film buff, I love discovering new and old favorites on TV's Turner Classic Movies, like Hitchcock's lesser-known Shadow of a Doubt. This app lets me know when to set the DVR, say, for a 3 am airing of Mildred Pierce, or when to start negotiating for control of the remote. Articles on the TCM blog, which are pulled via a news feed into the app, are always entertaining and often scholarly examinations of the studio system and film history in general. A photo section includes rarely seen collections of lobby cards, mini posters once used to promote films in theaters across the world.
Home Viewing

iPhlix (Netflix Queue Manager)
$2.99
This app is essential for anyone with a Netflix subscription, letting you manage both your queue and the "Instant" view films on your list. The interface is much more graphically appealing than the standard queue view on Netflix's Web site and features familiar iPhone icons to guide you through your title or actor search. Filter for DVD or Blu-ray delivery or click on the "Instant" tab to find out which streaming movies are available.
The latest version (3.2) lets you refresh your list by tapping or shaking your iPhone. If your queue is long like mine, turn your iPhone upside down and the bottom of your list magically appears at the top of your screen (still in its original order). I've settled many recent, um, discussions with my husband this way when we couldn't agree on which movie to queue up next. Let your iPhone suggest something new.
The only things missing in the iPhlix app are movie previews–and, of course, the ability to actually watch the films.
Incidentally, Netflix never released its own iPhone app but did launch a free iPad app in April, aiming first for a device that can deliver an optimal instant-viewing experience. Dashbuster, a queue-managing app for Blockbuster subscribers, will also be adding a Netflix queue manager to its features in a future release.

mSpot
Free
mSpot is the only app let's you instantly rent and stream full-length features films, including many new releases. One really nice feature with mSpot is that you can start watching a movie on your iPhone, say while you're traveling, and then finish watching from where you left off on your computer when you get home.
Note that while they app is free, movie rentals start at $2.99, with newer titles priced at $3.99.
---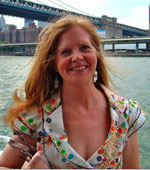 Beth Marchant is the co-editor of the award-winning portal StudioDaily.com, where she writes about cutting-edge production and post-production technology for professional filmmakers. She has spoken about digital video and the emerging 3D market at the National Association of Broadcasters convention and L.A.'s Film Finance Forum and co-hosts StudioDaily's monthly Webinar series. Her articles and photographs have also appeared in Yankee, Harvard Magazine, and on the syndicated Gannett News Service. Winner of an Academy of American Poets prize, Beth continues to write poetry whenever she can find the time. She lives in Croton-on-Hudson, N.Y., with her husband and daughter. Find her on Twitter @bethmarchant and @StudioDaily.
Discussion