The Midea U-Shaped Window AC Quietly Delivers Superior Cooling
Techlicious editors independently review products. To help support our mission, we may earn affiliate commissions from links contained on this page.
As we sweat through a record-hot summer, room air conditioners are not only desired but a potential lifesaver. Unfortunately, even the quietest window AC unit can fill a room with a loud continuous hum on the level of an airplane engine, making the cooling cure nearly as bad as the sweltering disease.
The Midea U 8,000 BTU window AC ($399), however, thanks to a radically different U-shaped design, blows cold air in a whisper, and is, by far, the quietest window AC I've ever owned. My 8,000 Midea edition is 10-15 dB quieter than even a 5,000 BTU AC unit in our apartment, and at its lowest auto eco mode literally keeps your room as quiet as a library.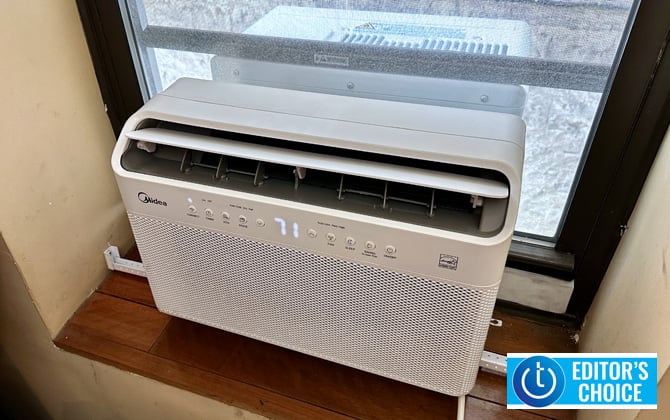 Equipped with WiFi, the Midea also comes with an intuitive smartphone app that makes automated and remote operation super simple, and its physical remote control is equipped with an LCD screen that displays full operational status. With a variety of included weather seals, the Midea is designed to sit permanently in your window – but, as a result, it requires some handyman skills, time, and patience to properly install.
Best of all, the Midea U is less than $400 – with discounts, I got it from Amazon for $349 – and it comes with a window support bracket; the 10,000 BTU Media U is $449 before discounts, the 12,000 Midea U $499. By comparison, standard 8,000 BTU units usually can be found for around $300, depending on timing and discounts, but are far noisier, which makes the Midea price premium totally worth it.
+ Pros

– Cons

Ultra quiet
Excellent WiFi/app control
Year-round weather sealing
Less than $400

Complicated installation
Confusing remote control
No auto left/right air flow louver swivel
Ergonomics/Installation
Most obviously, the Midea U does not look like a typical window AC unit. (There are visually identical U-shaped models from Mr. Cool and Perfect Aire, which are not made by Midea.) There are upside-down U-shaped units from GE and others, but these only fit sill-less windows. Midea claims to have re-invented the AC, and they're right.
Midea's U-shape means you can almost completely close your double-hung windows between AC's two halves, which offers numerous advantages. First and foremost, that annoying hum from its DC inverter condenser and fan is now outside and behind your nearly closed window, which is why the Midea U is so quiet. Because your window can now be nearly closed behind the front section, it's easier to seal the little remaining open space against the cold in winter, which means you should be able to just leave the Midea U in your window year-round with minimal additional insulation. Finally, you can easily open your window to let in fresh air when it's cool enough outside to do so.
Achieving these sound muffling and weather insulation advantages, however, requires a bit more work than the normal shoving the AC unit in your window, spreading those flimsy accordion flaps to close the gap between the AC unit's sides and the window jambs, and closing your window on top of it.
The Midea U weighs 55.55 pounds – around average for 8,000 BTU units – but at nearly 20 inches deep, it's much bulkier, so you better either have a strong back or a Media recommended second pair of hands. Its front measures a normal 21.9 wide by 13.26 inches tall, so it will fit windows up to 36 inches wide, but extends 9 inches into your room, about twice that of other normal box-shaped AC units.
To make sure the Midea stays sealed in your window against winter's cold and doesn't produce any vibrational noise, the installation is…well…complicated, necessitating the careful installation of not only the included window bracket but varying and sundry pieces of weather sealing. In the manual, the installation instructions run 10 illustrated pages; fortunately, a QR code in the manual links you to helpful video instructions.
I consider myself handy, but I took one look at all those lengthy and precise instructions and made a single stupid attempt at lifting the Midea by myself – then immediately called my super to install it. It took him an hour-plus to do so. If you similarly opt for third-party installation, supervise it to make sure the weather stripping is placed, and placed correctly.
For some reason, an extruding lift lip on the bottom of my storm window and perhaps a wider-than-normal double-hung window construction meant there wasn't enough space between the Midea's two sections to fully pull down both the glass and the screen panes.
Operation
Instead of often confusing touch controls, the Midea is equipped with old-fashioned physical round buttons on its front display, including controls for temperature up/down, mode (Auto, Cool, Dry, Fan), Fan Speed (Fan, Low, Medium, High, Auto), along with an Eco energy save mode, an LED on/off to keep distracting display lights off in your bedroom, and Sound, which turns off the action "beep" confirmation.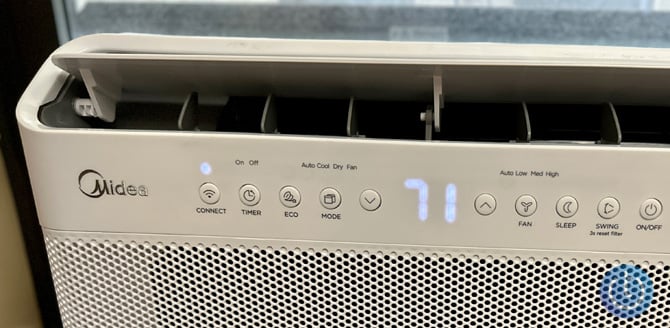 The Midea RF remote – you don't have to point it at the AC – is as fully functional and easily laid out as the front unit's panel and includes a 2x1-inch orange backlit LCD that provides a full visual status view. But controls seem to lag if they worked at all – the remote seemed to operate according to its own unknowable logic.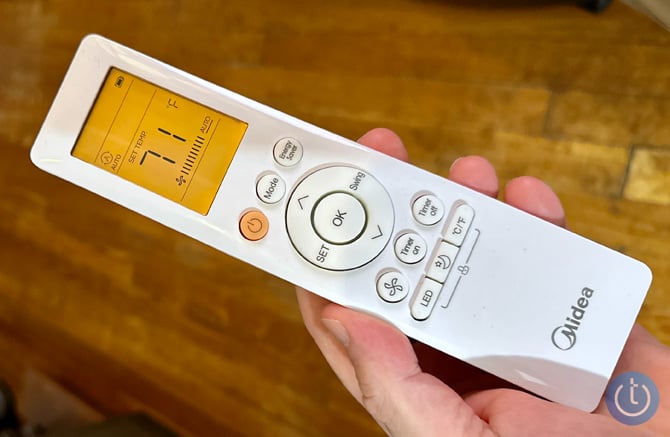 You also get a few unique features. A Swing control, for instance, makes the upper louver wave up and down for, I guess, variable airflow. When the unit is turned off, the louver closes, creating an additional cold weather seal. Oddly, adjustable twin left-right directional louvers don't auto sweep. A Sleep button raises the temperature by 2 degrees Fahrenheit in 30 minutes, then another 2 degrees in another 30 minutes, then, after 7 hours, returns to the original temperature.
You also get the usual Timer button that will automatically switch the unit on at a set time in the future in 30-minute increments for up to 10 hours, in hour intervals up to 24 hours. While I often used this timer (or "delay") function on previous "dumb" ACs, you likely won't need to since the handy scheduling and remote operation options in the Midea smartphone app render the Timer moot.
Given the remote control's operational quirkiness, you'll find the Midea smartphone app far easier to use. You get access to all the aforementioned on-unit and remote control functions, at home or away – I had no trouble turning on and/or changing the settings from the road – along with some additional features. Scheduling lets you set the unit to turn on at specific times on specific days with specific settings; for instance, I set the Midea U, located in our living room, to go on 8:30 AM on weekdays in Eco and Auto mode. I would have loved a setting that turned the unit on automatically when the room hit a certain temperature. But this is quibbling, suggested only since the Midea app offers so many other set-it-and-forget-it auto settings.
Performance
The Midea U is so quiet I often have to double check to see if it's on. At its highest, loudest setting, the Midea only registered around 43dB at 15 feet away, just a smidge louder than a library, while my other 8,000 BTU unit registered 57 dB at 15 feet at its loudest, about the same amount of sound as normal human conversation, and 53 dB at its lowest eco/auto setting. The Midea U was even quieter than my office 5,000 BTU unit, which checked in at 47dB in eco/auto.
Differences in decibel levels are, like Richter scale earthquake measurements, logarithmic – for instance, 60dB is half as loud as 70 dB and 40 dB is just an eighth as loud as 70 dB. In the real world, I found the stark noise difference between our older 8,000 BTU AC and the Midea U shocking.
Once your room reaches your desired cool comfort level at its highest settings, you can switch the Midea U to Eco and Auto modes and set a desired maintained temperature. But unlike other AC units that annoyingly and loud switch on and off to maintain a set temperature, the Midea maintains a constant, quiet cooling airflow. This ability to quietly maintain a set temperature, combined with the auto on Schedule, the only time we need to interface with the Midea when we're home is to turn it off.
With the older 8,000 BTU AC on in the living room, my wife and I had to jack up the volume on the TV, and, eventually, we would just decide to be warm rather than deafen ourselves. With the Midea U, we don't have to touch the TV volume. I can only imagine the difference the Midea U would make in a bedroom, but I can almost guarantee you'd get a better and more comfortably cool summer night's sleep than you would with any other window AC.
With its efficient timing, auto settings, and DC inverter technology, Midea claims the U achieves more than a 35% energy savings compared to other traditional units, and that it's the first window AC to obtain the Energy Star Most Efficient 2022 Certification.
The bottom line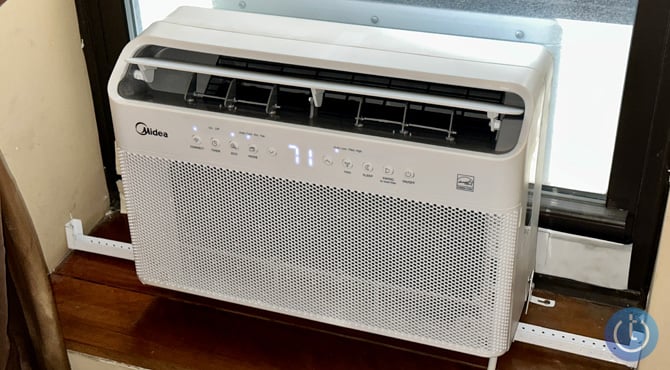 Yes, the 8,000 Midea U air conditioner is slightly pricier than standard box-shaped models, but it's unlikely you will find a unit as quiet and easy to use. Plus, it includes the window support bracket, which itself separately would cost you anywhere from $25 to $75. The initial Midea U installation is a bit more complex and time-consuming, but if properly installed with weather stripping, you can just leave it in your window when the weather cools, perhaps requiring only minimal additional insulation.
In short, the Midea U ($399) is not only the quietest AC unit I've ever owned, but it's also the easiest and most convenient to use. I wouldn't be surprised if other AC makers adopt its noise-muffling U-shaped design, given it's far superior performance and convenience.


[Image credit: Stewart Wolpin/Techlicious]
Stewart Wolpin has been writing about consumer electronics for more than 35 years, including news, reviews, analysis and history, and has attended and covered nearly 50 Consumer Electronic Shows and around a dozen IFA shows in Berlin. For the Consumer Technology Association (CTA), he is an elector for and writes the official biographies of the annual CT Hall of Fame inductees, and is the keeper of the industry's official history.
Discussion